For the first time, the Season Finale of Survivor was not followed by a "Live" Reunion Show, and instead was pre-taped four hours earlier. The reasons for this were clear for anyone who has been following Season 39, "The Island of the Idols," as this has been – by far – the most controversial season in the show's nearly 20 year history. In a way that seemed fitting for this season, the Finale was almost preempted and overshadowed by outside news much bigger than the game, but it did air as scheduled, bringing this tough season to a close.
In true Survivor fashion, the negatives of this season were looked at as learning moments for us all, and Jeff Probst did his damnedest to turn this season's problems into a positive. But despite all of the controversies – and potential lawsuits – swirling around this season, there was still some game to be played, and for the sake of those innocent players who didn't sign up for all of this mess and who would rather not let the controversies define them, let us talk game, shall we?
As I do at the beginning of every recap, please heed the following: Remember that this recap assumes that you have already seen this week's episode of Survivor: Island of the Idols. If you have not and don't want to be spoiled, please come back later! It's important to add that while we WILL hit on all of the important developments of the episode, this is not a linear "blow-by-blow" recap. It is more of a discussion and reaction of what we just witnessed together.
CLICK THE CONTINUE READING BUTTON FOR MORE, AND THIS IS YOUR LAST *SPOILER* WARNING!
We'll address the elephant in the room in a bit, but let's start off by giving a hearty congratulations to our newest Sole Survivor, Tommy Sheehan, the winner of Season 39, The Island of the Idols. Tommy, the 4th Grade Teacher from Long Beach, New York, Outplayed, Outwitted and Outlasted his competition and won the game with a final vote of 8-2-0 over Runner-up Dean Kowalski and Noura Salman. Tommy played a masterful social game in that he made close bonds with nearly every other player out there, and proved the old saying that "information is power." Ironically, he was the only one of the Final Five to NOT have gotten first-hand advice from Boston Rob and Sandra at the Island of the Idols, but apparently he didn't need any outside advice. This wholesome dude did do some sneaky things, but in the end his game was respected way more than late-bloomer Dean or wild-card Noura…enough to get eight votes to win (only Elizabeth and Aaron – two athletes – voted for Dean and his "fourth-quarter comeback" analogies).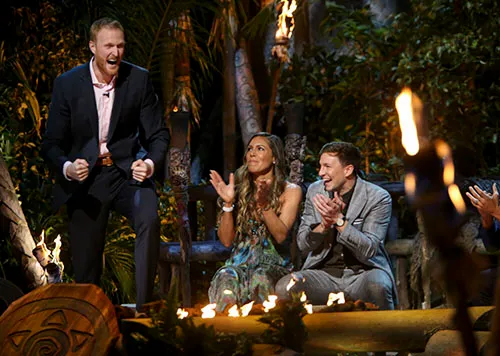 Tommy never won an challenge, never had an advantage but was pretty much in the loop the whole way through except for a key vote where Dean ended up saving him. Tommy only received two votes against (both during the Tribal where Missy went home), and then lost two votes at the Final Vote, making him just four total votes shy of the coveted "Survivor Perfect Game," a fete that only three players (J.T. Thomas, John Cochran and Jeremy Collins) have ever achieved. Or in other words, Tommy was an "on-the-sly" very impressive winner, even if his season will forever be marred and overlooked due to how agonizing it was to watch week in and week out. And I say "agonizing" not just in reference to the controversies surrounding the "unwanted touching," but also to the horrendous and mind-boggling game-play that reared its ugly head at different times throughout this season.
This season also receives low marks for its main twist: The "Island of the Idols" twist featuring Boston Rob and Sandra was, by all measures, a real dud. The "lessons" that were taught there were mostly obvious to anyone who has ever watched the show before. The eventual winner never went there, and won the game without these Idols' wisdom. Half of the episodes, Rob and Sandra were forgotten altogether, and when their segment did occur – especially early on in the season – it felt like a distraction and a missed opportunity for the show, where they could have had us spending some more time with its contestants that were actually vying for the million dollars.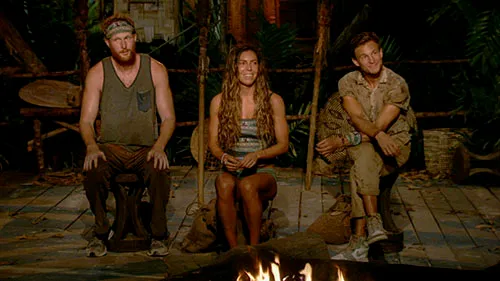 But with all the bad, there was actually a lot of good within the game. There were some very likable players (Elaine, Janet) and memorable ones (Noura, Missy). For all the poor decision-making this season, Season 39 continued the tradition from recent seasons, where the level of overall play continued to reach all-time highs. These players made mistakes, no doubt, but they were at least playing the game up on a high-wire. This culminated in what seemed to me to be one of the best Final Tribal Councils in recent memory, where the jury truly seemed focused on picking a good winner and not on their own personal bitterness…they also seemed to have a deep respect and a deep understanding for the nuances of the game, which felt refreshing.
Dean sure came on strong at the end, and gave quite the Final Tribal Council performance. He's been a slick-talker the whole season (once he finally appeared and spoke after being literally missing from nearly the entire first months-worth of episodes), and I grew really impressed with how cool and calm he was able to remain under pressure. Just as I was shaking my head at how Noura could possibly fall for his BS at their Reward, I found myself eventually drinking the "DK Chillin'" Kool-Aid all the same by the end.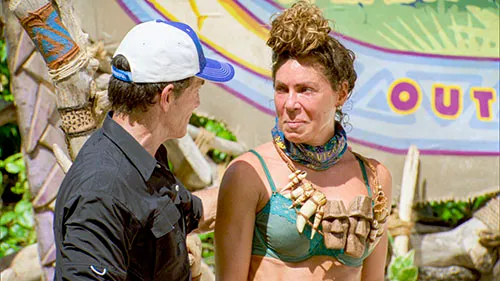 Even Noura made a case for me in the end. She was the type of player I knew was destined to not win, and she was identified early on as a perfect person to sit next to at the end. But my gosh, Noura grew on me too. Her three individual Immunity wins was more than any other player this season, and she is not wrong when she said that she played a unique game that can only be described as "Noura." She would have been a fun and surprising winner, no? It was all wishful dreaming on my part, as Noura didn't receive a single vote in the end and probably was never really in serious consideration.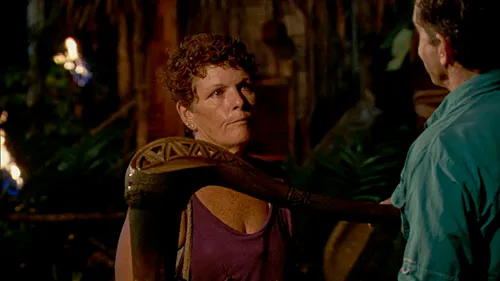 I'd be remiss if I didn't acknowledge "Mama" Janet, the fan-favorite who very well should have and could have won this game, save for a well-played Idol Nullifyer…only the second one ever to be introduced into the game and a very polarizing twist. The reason I don't like it – other than it did in Janet, whom I was rooting for – is that there really is no counter-strategy…it's a bit too powerful, especially when it's able to played so late in the game. In any other season, with an Idol in her possession at Final Five and being a master fire-maker, Janet was a sure-thing for Final Tribal. This has got to be one of the most heart-breaking endings to a player's game, and it couldn't have happened to a sweeter person.
Also kudos to Lauren, another great and memorable player whose exit was more of a traditional backstab (by Noura), but was just as painful to watch play out as Janet's. She fought to the bitter end, and also had a great stake at winning the game, and she damn-near overcame the odds and won the fire-making challenge. Tommy did her dirty in the end, so Lauren's game was perfect except for the fact that the two people she trusted the most are then ones that did her in.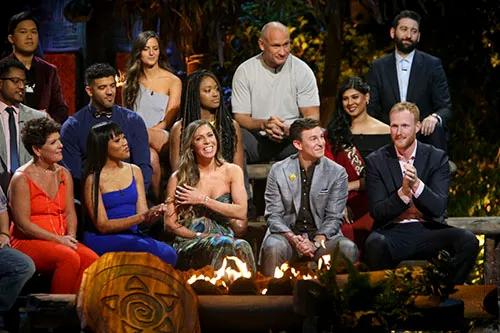 The game, in some ways tonight, seemed like a precursor for what everybody was really waiting for: Was Jeff Probst going to address the Kellee/Dan situation? We had to wait until almost the 150-minute mark of the 180-minutes of Survivor to hear Kellee speak, but when she finally did, we learned a lot more than we previously knew about what production did wrong, and what it could have done right…there was barely a mention of Dan and he of course wasn't in attendance, so "his side" of the events are yet to be publicly revealed. But Kellee said it best when she told us that her hopes for this season were not that it would be defined by these sexual harassment controversies, but that it would be "defined by change," and would hopefully act as a pivot point to better things moving forward.
So what are those "better things"? Well first, CBS, Survivor and Jeff Probst have instituted several new changes moving forward, that not only make the producers more aware, but that also make the process easier for the players to report unwanted activity occurring within the game. Further, they plan on adding in additional layers to their pre-game "prep" of all contestants, where they will be schooled on appropriate behaviors and personal space. As part of this education, players will also be told that it will be forbidden to use anything dealing with this topic in the game as strategy or in any way. Counselors and extra staff will be on hand as support. CBS and Jeff Probst vow to make positive changes, and they started with a public apology to Kellee at the top of his interview with her, with Probst telling her plainly, "You were right."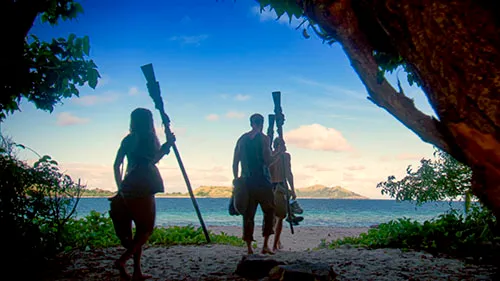 Kellee admitted that she felt the weight and pressure of the moment, and it probably wasn't the best setting…in many ways the whole segment with Kellee felt like it wasn't very substantive and that it was just a play by Probst and CBS to save face and turn the page. Kellee did admit that she felt she was not "supported or believed" by production, but stopped short of calling out the show for any further wrong-doing.
What we're left with as fans is still a big mess that needs sorting out. There was no mention of the report that Dan inappropriately touched a member of production on a boat, the incident that allegedly is what got him kicked off the show. There was only a brief reference to how Missy and Elizabeth used this controversy as a strategy in the game. Dan was barely mentioned, even though his presence loomed large. When it comes to the actual incidents, there was very little that was addressed or explained, all pointing to the reality that this whole situation is probably being dealt with in the courts…where none of the included parties are really able to comment. So I too hope that the show can recover and move on, but there's still a lot of cleaning up to do, and despite CBS's best efforts, this season will not be easily swept under the rug.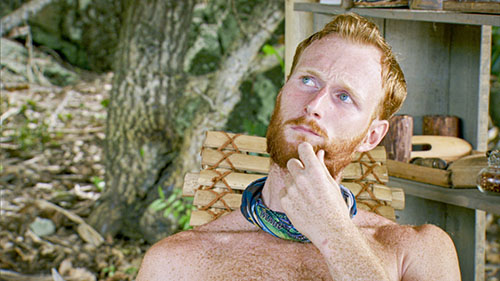 I've tried my best to try to separate this season from Dan Spilo, but the two are intertwined, and that's why ultimately this season feels like a huge bummer that I'm quite honestly just looking forward to moving past and getting over. I'm not even going to put out my traditional "Most Memorable Seasons of Survivor" list…just know that I full-heartedly and without reservations rank this season as 39th out of 39 seasons.
As for my typical "All-Time Winners" list? With Season 40 being publicly announced as the long-awaited "all winners season," I think I might wait until February to let the dust settle on this one…so you may have to wait until February to see where Tommy ranks among the all-time Survivor greats.
We've hit on the major issue of the season, but what else did we learn from the Reunion Show? Here's a summary:
Tommy refers to himself as a "kingpin" and says his game was based on gathering information…a sure-fire strategy that seems to be key to most every winner's game.
Noura, on her life philosophy: "If you follow the herd, you'll never be heard." I love that. And I love Noura.
Jack was inexplicably missing from the Reunion Show…no word or explanation was given.
The annoying Sia has once again infiltrated the Reunion Show (it pays to be a friend of Probst), and it sounds like her "Sia gift" will now be a staple of every Reunion Show to come. Oy vey. This time around, she gifts $100,000 to both Elaine and Janet, but only $15,000 to Jamal. What's up with that? There's also no rhyme or reason given as to how or why she is selecting these players, and the whole thing just sort of bothers me…am I alone in this?
Season 40: Winners At War. This season couldn't have come at a better time. How do you follow up a rough season like the one we just experienced? By giving fans the season they've been dreaming about for years. "Winners At War" was shot in Fiji last Summer, and features 20 returning winners of Survivor, competing for not one, but a TWO million dollar prize. The "Edge of Extinction" twist will return, meaning that players who get voted out are never really gone…which probably means yet another season where there is no weekly exit press (personal bummer). There is also a new "currency" twist in the game, that was hinted at but not fully revealed.
My initial reaction to the 20 winners in the cast? It seems like an absolute downer to me that original winner, Richard Hatch, wasn't included, but coming off of this season (and remembering that Hatch was involved in that terrible "touching" incident with Sue Hawk during a challenge on All-Stars), it was probably best to avoid him altogether. And no Cochran? How can their be a "best of" winners season without Cochran? Not surprising, but I would have loved to have seen Survivor: Thailand winner, Brian Heidik (one of the winners that I personally feel was the best). And husband and wife winners Boston Rob and Amber in the same game? I mean, that's cool and all, but do either of them have any real chance, like really?
We will definitely have much, much more coverage as we get closer to Survivor's 40th season, "Winners At War," which will premiere on February 12th, 2020.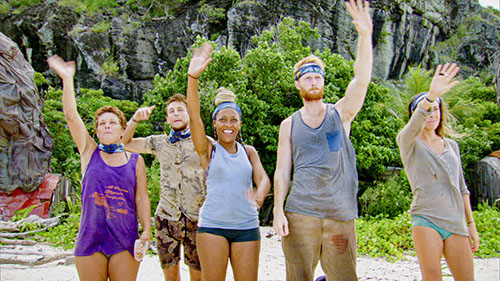 That's a wrap from me on this season! A big thanks to all of those that follow these pages and my other work, and I look forward to hearing your thoughts on this season, on the upcoming Season 40 and on Survivor as a whole in the comments below! I truly love this show and this game, and I love interacting with other Survivor fans like you. So thank you, and don't worry, I'll be back in February reset, reloaded and ready for Winners at War!
To close, I leave you with this season's final installment of the artwork from two-time Survivor legend, Erik Reichenbach. Please check it out and if you like his work, you can find even more of it on his website, Dabudoodles.com.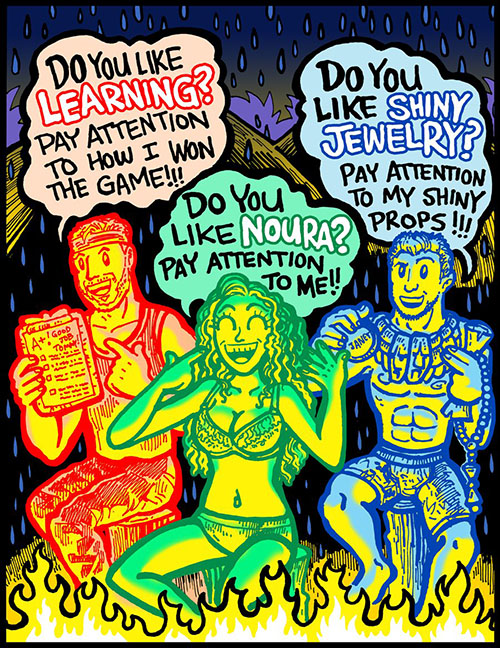 Quick Note! I appreciate that you are reading this recap! Those that have followed me also know that I am also a RottenTomatoes-approved film critic, and I encourage you to check out my weekly movie reviews including my recent reviews of STAR WARS: THE RISE OF SKYWALKER and CATS, as I am the film critic and Executive Producer of the TV show, "Movie Show Plus," the #1-rated local program in the Detroit-market (episodes are also available online at the website, www.MovieShowPlus.com.) As always, the easiest way to get all of my Survivor coverage and movie reviews is to follow me on Twitter – @tomsantilli – or on Facebook.
TELL US – WHAT DID YOU THINK OF THE FINALE? WAS THE CONTROVERSY HANDLED APPROPRIATELY BY JEFF PROBST? AND WILL YOU BE WATCHING SEASON 40 IN FEBRUARY?
[Photo Credit: CBS/Monty Brinton/Robert Voets/Timothy Kuratek/Jeffrey Neira/Michele Crowe/David M. Russell]