Last night's episode of Married to Medicine featured part one the explosive three-part reunion. If you thought this season had its share of drama, the conclusion is no different. These ladies came to set the record straight on a variety of topics.
Jackie Walters gives Buffie Purselle the apology she deserved the entire season. Several Married to Medicine cast members clash and share more on the fallout of their friendships. There is also an exciting announcement revealed. Let's get straight into the Married to Medicine recap!
Several of the ladies came to SLAY with their outfits. Others, well, not so much. I will leave it up to you to decide who falls in which group. It's clear before the ladies take the stage that they have a lot to talk about. The set this year is actually a duplication of Toya Bush-Harris's two-story closet.
Shockingly, for the first time, Simone isn't on good terms with Jackie. The two didn't share a dressing room this season. Even Andy Cohen is shocked to find out that tidbit of information.
Quad Webb-Lunceford speaks about her divorce and admits she is no longer in touch with Greg Lunceford. Simone Whitmore reveals that Greg has a "very attractive girlfriend." Quad claims she isn't surprised because he had a very attractive wife. Hmm…I guess that is debatable, Quad's attitude makes her quite unattractive. Regardless, Quad doesn't mind that Cecil Whitmore and Greg have remained good friends.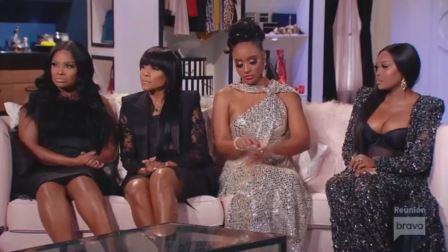 The break down in Simone and Quad's relationship is discussed. After a fan writes in that Quad acts like she's better than the rest of the cast, Quad says she was mistreated at the crab boil. Simone and Toya say that Quad is once again bringing up the past. Heavenly Kimes tells Toya to shut up. Simone has tried to make things right with Quad multiple times and has decided to stop trying. Quad apologizes for being dismissive and Simone accepts it.
When Contessa Metcalfe's criticism of Toya's spending is discussed, Toya says it doesn't bother her. Contessa attempts to deny talking about her finances this season.  Andy has to correct her and play footage. Of course, Contessa tries to downplay it to save face. Regardless of whatever issues Toya and Eugene have had in the past, they have proven they could turn things around. Hopefully, it lasts.
Everyone agrees Toya's new dream home is beautiful. Toya confirms the home was $2.1 million. Toya's miscarriage is also discussed and Jackie shares her own experience. Toya reveals that Eugene Harris doesn't believe she is no longer interested in being pregnant. She adds he has been failing to "pull out."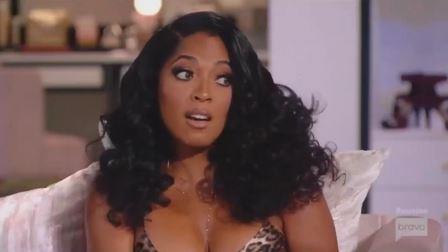 Heavenly's "buying a house is not an accomplishment" comment is brought up. She says she's not jealous of Toya and doesn't understand why Toya thinks she's a hater. Andy shadily points out that Heavenly didn't add a third level to her closet until Toya began working on her closet. A blind man can see that Heavenly is jealous.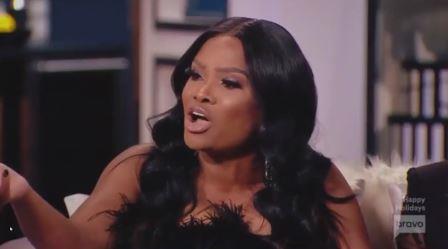 Of course, the infertile comment is discussed. Jackie says she never thought that she would hurt Buffie by saying that. She was so into her speech, she didn't think about it before saying it. That doesn't explain her reaction when Buffie told her she was hurt. Jackie was completely heartless.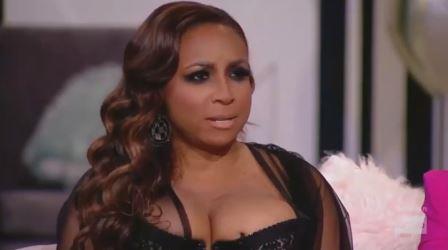 When Andy points out that Jackie apologized multiple times, Heavenly calls Buffie a liar. Buffie takes a shot at Heavenly's dentures and Heavenly responds by calling her fat. Simone and Toya call out Heavenly and thinks she is feeling herself since she got surgery. Heavenly thinks Buffie needs to stop playing the victim.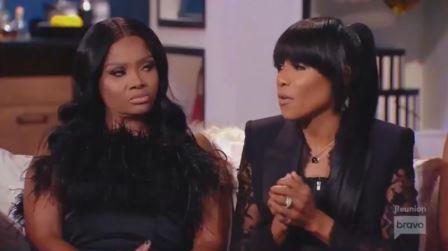 Jackie admits she was wrong to share Buffie's infertility story without asking her. She says she didn't mean anything malicious. She just wanted to connect everyone to her book. She'll do whatever she can to help Buffie become a mother. I think Jackie just realized she looked like a horrible person and is trying to regain her image. Buffie accepts her apology and wants to spend some time with Jackie away from the group.
Buffie reveals that she and David Purselle have decided to find a surrogate. They already have five embryos. She struggled with the thought of a surrogate at first because she wanted to carry her own baby. But she feels differently now after seeing other women's journeys. Jackie wants to help and says she's opening her own surrogacy practice. But Buffie has already found a doctor. Later on, Jackie pulls Buffie to the side to give her a hug.
 TELL US –WHO DO YOU THINK HAD THE BEST REUNION LOOK? DO YOU THINK JACKIE IS SINCERE IN HERE APOLOGY TO BUFFIE? IS HEAVENLY JEALOUS OF TOYA? DO YOU THINK QUAD TRULY IS OKAY WITH SIMONE'S FRIENDSHIP WITH GREG? ARE YOU SURPRISED SIMONE AND JACKIE AREN'T ON GOOD TERMS?
[Photo Credit: Bravo]