Whew chile, if you thought part one of the Married to Medicine three part reunion series was full of drama, you haven't seen part two. Things get hot in the kitchen when two ex-best friends finally go head to head. This is the moment many of us have been waiting for all season.
Things get crazy when Heavenly Kimes and Simone Whitmore go at it about past beefs.  The men also get a chance to express their views on this season. Sigh! I need a cocktail after watching all of this cray in one episode. Let's get straight into the recap!
Jackie Walters  and Simone finally address the elephant in the room, their friendship. Both women acknowledge they aren't as close as they used to be. Hmm…  I wonder if the new Jackie we saw this season has something to do with that. Simone feels like Heavenly is partly to blame for that. Simone is still upset about the comments Heavenly made about her husband, Cecil Whitmore. She says that she can no longer be friends with Heavenly after crossing those boundaries. That's right girl, stand by your man! It's about time someone finally put Hellishly in her place. I am sick of that fully loaded weapon, she calls a mouth, at this point. Heavenly and Simone begin to argue and insults are traded back and forth.  Heavenly still maintains Cecil started the issue by tweeting about her first.
Simone is emotional about her relationship with Jackie. She says Jackie's friendship with Heavenly doesn't bother her. But I don't think anyone on that stage is buying that. I think she is upset her good friend didn't have her back. Jackie has changed dramatically since becoming closer to Heavenly and Quad. She may want to  re-evaluate some of the alliances she has chosen. Jackie and Simone both seem to miss one another and hug it out.  Jackie would rather leave the show than lose friendships.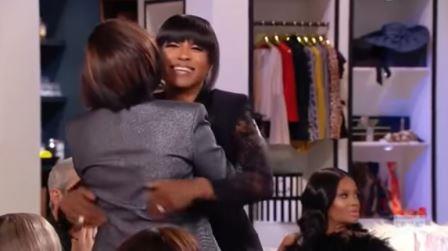 Now for the moment many of us have been waiting for all season. Mariah and Quad finally address one another. When the drug accusations are addressed, Quad alleges Mariah took a "planned drug test." She also claims she saw Mariah do drugs 8 years ago. Insert side eye here. Mariah brings up an interview Quad did accusing her of coming to film the show high. Toya Bush-Harris, Simone, and  Buffie Purselle   say they have never seen Mariah high.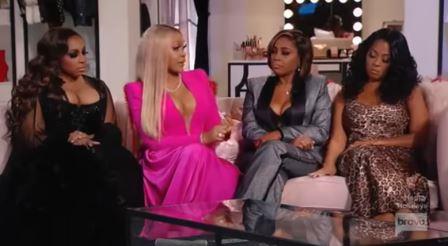 Mariah admits she held Jackie to a higher standard and was hurt she repeated an unfounded accusation on her podcast. Jackie finally says publicly she has never known Mariah to be on drugs. I think this is all that Mariah wanted from the women all along.  As messy as Mariah can be, I don't believe she is a drug user. That type of allegation can ruin someone's life and reputation. Of course, Quad gets angry and threatens she doesn't want to expose Mariah, but will if she has to. I am so sick of Quad I don't know what to do!
Quad addresses her allegedly sleeping with Lake's ex-husband. Mariah makes a good point when she asks why Quad never addressed Lake about it all season. She also shadily includes there is a police report and court documents that can be found. Can someone bring in the receipts! Quad suggests she take polygraph test, and Mariah agrees. These two turn the whole scene into a screaming match. When Andy Cohen  asks if anyone believes any of the accusations, it's clear none of the women believe either side. At this point, Andy and the viewers just want to move on.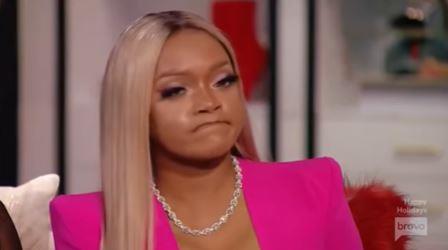 Andy switches gears and talks to the husbands. Cecil still hangs out with Greg Lunceford. Apparently, Greg still has nothing but nice things to say about Quad, despite their divorce. I wonder why? I felt like Quad tried her best to make his life a living hell. I am happy they both finally moved on.  Quad breaks down in tears when she hears Greg may wish things had gone differently.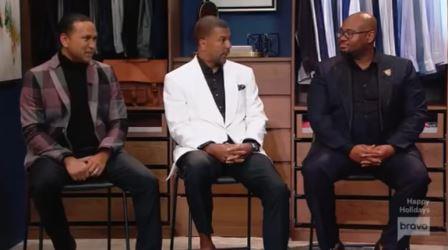 The men discuss their night at the strip club. Damon Kimes says he didn't like the dancer on him because he doesn't like attention. Chile, please it looked like he was having a great time to me. I think he didn't like the response he received from his jealous wife. However, Damon didn't like seeing his wife picked up by a nude model at Toya's Sip and Paint.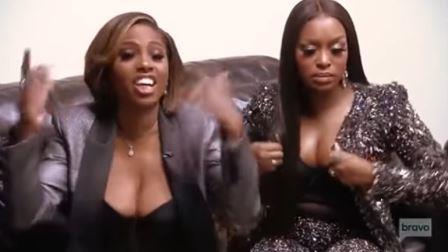 Things go all the way downhill when the men are asked about the ladies calling some of the husbands "bitches" this season . Backstage Heavenly and Simone get into a curse word laced shouting match again. Heavenly has to be taken away by Contessa in an attempt to diffuse the situation. Its funny Heavenly can go so hard about someone else's husband, but would go crazy if someone mentions hers.Damon may not be as nice as he seems. There is no way he can be with a woman like Heavenly and not have some similar tendencies.
TELL US –DO YOU THINK JACKIE AND SIMONE WILL BECOME CLOSE FRIENDS AGAIN? DO YOU BELIEVE MARIAH OR QUAD? SHOULD HEAVENLY STOP SPEAKING ABOUT CECIL?
[Photo Credit: Bravo]