During the coronavirus pandemic, the world has really learned what and who is essential. Our healthcare workers. Our grocery store clerks. Our transit workers. These are the people that are keeping our world going during this crazy time we're living in. They have become our everyday heroes.
But it seems Southern Charm star Kathryn Dennis has a different definition of essential. The mother of two recently caught some heat for posing with her friends on Instagram, sparking a debate as to why she is not practicing social distancing. But things went from bad to worse when she shared her most recent activities to her Instagram stories.
Bravo's The Daily Dish reported that Kathryn paid a visit to her plastic surgeon earlier this week. Yes, you read that correctly. Instead of staying home, Kathryn decided that now was the perfect time to stop in for some fillers. Kathryn shared some before pictures and videos to her Instagram story. Her doctor then explained what she would be working on.
"Today, we're gonna be accenting [Kathryn's] cheekbones," the doctor explained, pre-injections. "It looks really pretty in pictures when you have that really angular shape of your cheekbones. That Kate Moss 1990s model [look] that was so popular back in the day, we're going to try to replicate that."
Oh my god. There's just so much to unpack here. First of all, I didn't know that medi-spas that perform cosmetic procedures were considered "essential." Secondly, I really have no idea why Kathryn's priority right now is her cheekbones and looking like Kate Moss. Kathryn has been through a lot. She's come a long way. But honestly, all I can do is shake my head. Either Kathryn isn't taking the pandemic seriously, or she just needs to get her priorities straight.
Kathryn then went on to share an "after" picture of her more chiseled cheekbones. Look, I'm all for doing things to make you feel good about yourself. Self-care is important. We have all been stuck inside for almost two months now. We could all probably stand to get a spray tan and a manicure. But I think this is way over the top, especially with two kids at home. I always try to root for Kathryn, especially considering everything she's been through. I seriously hope she gets her priorities straight, which right now, means staying home.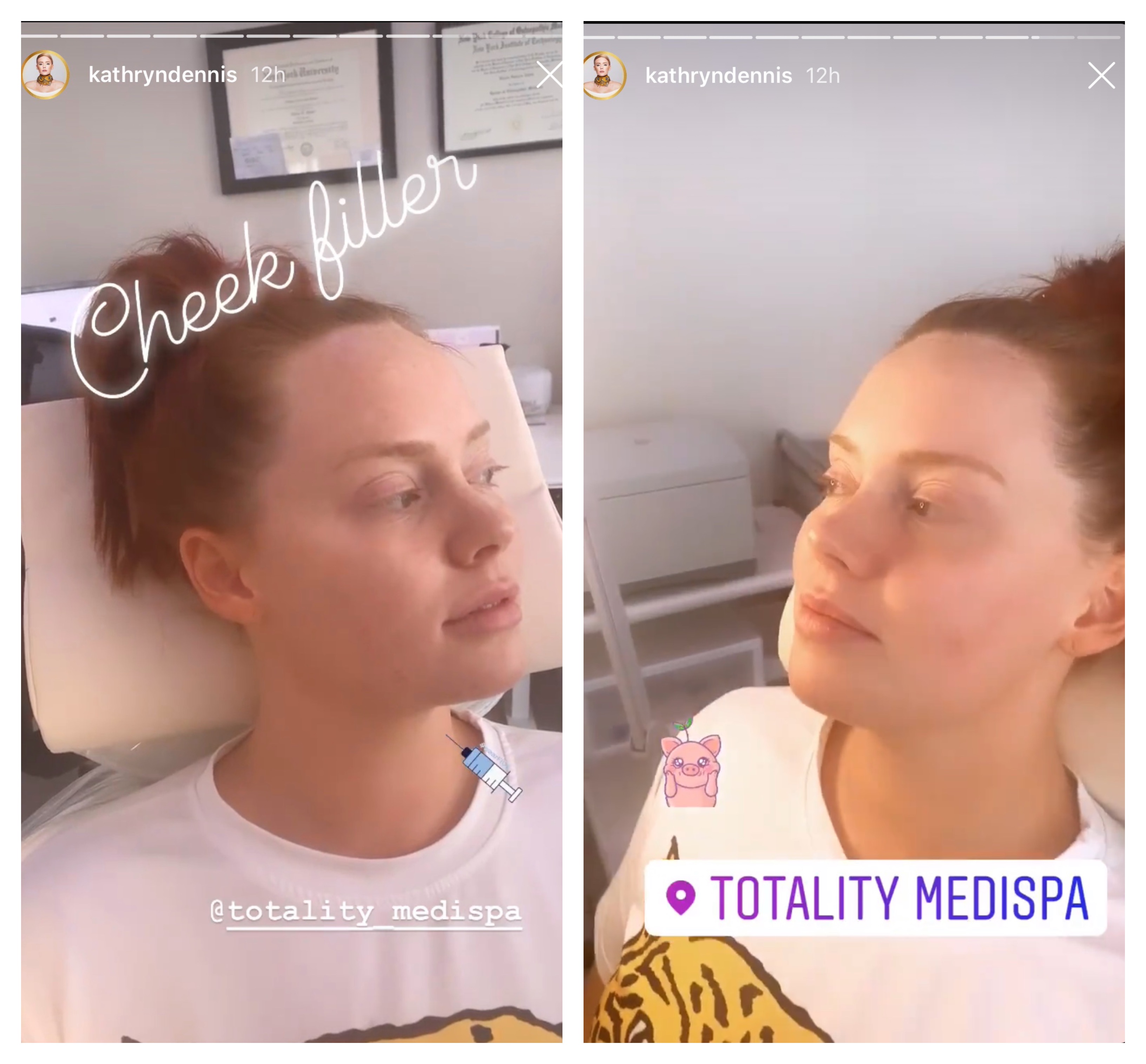 TELL US- DO YOU THINK IT'S RIDICULOUS THAT KATHRYN GOT FILLERS DURING A PANDEMIC? DO YOU THINK KATHRYN TAKES CORONAVIRUS SERIOUSLY?
[Photo Credit: Bravo]