While Kelly Dodd had a shaky start on Real Housewives of Orange County, she provided fans with plenty of moments that motivated us to root for her. However, it's just tough to do that lately with all of her coronavirus-related commentary. She said that coronavirus is God's way of thinning the herd. She also "joked" that people are going to die anyway. And then there was that gathering with her RHOC co-stars Shannon Beador, Emily Simpson, and Braunwyn Windham-Burke. They wore face masks, one that ironically said "6 feet apart." However, they got in such close proximity to each other for some selfies. They did not seem to be taking the shelter in place order seriously. At all.
Additionally, Kelly has been traveling back and forth from California to New York City, where her fiance Rick Leventhal lives. As an outsider, it's hard not to have opinions about Kelly's comments and behavior in relation to the coronavirus. Now, she has even more to say.
Kelly posted, and then deleted a "joke" about the coronavirus pandemic. She posted a meme with the text "Give me liberty or give me death!!! Unless there's a virus with a 99% recovery rate in which case strip me of my freedoms, my job, my constitutional rights, and put me under house arrest."
Oh, girl, no. This is not acceptable. That's why she deleted it. Then, she took to Twitter with a questionable an apology. She tweeted, "I'm so sorry if I offended anyone regarding the Coronavirus. Like millions of Americans I'm frustrated and longing for the way things were but I absolutely empathize with those who've lost loved ones.." Which time, Kelly? There are a few instances to choose from.
A "fan" told Kelly, "You put your foot in it again. But superficial sorry makes it all better." In response, she claimed, "Nope, not trying to make it better but definitely realized I was being insensitive after reading some comments that hit close to home."
Another person, tweeted, "Stop saying offensive things then. This is the second time you've been offensive regarding Covid." Well, this is actually far from the second time. But this person is right. Kelly does need to stop saying and doing offensive things in relation to a pandemic. Even Kelly responded, "You're right."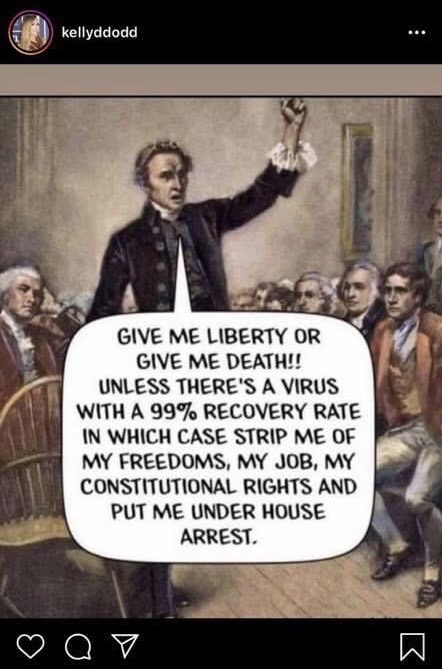 TELL US- WHAT DO YOU THINK ABOUT THE MEME KELLY POSTED? WHAT ABOUT HER SUBSEQUENT APOLOGIES? IS SHE ACTUALLY SORRY? OR IS SHE JUST TRYING TO CALM THE BACKLASH?
[Photo Credit: Bravo]