If anyone thought things were going to get better for these couples, they didn't see last night's episode of 90 Day Fiance: Happily Ever After. In fact, it seems like things are going rapidly downhill, for most. Some are on the verge of a divorce, while others are realizing they may not know their partners as well as they thought.  I don't think anyone is surprised that most of these relationships are doomed.
Eric Nichols worries about Larissa Dos Santos Lima's surgery. Karine Staehle looks into leaving the US. Chaos ensues at Angela Deem and Michael Ilesanmi 's joint bachelor/bachelorette party. Kalani Faagata questions the future of her marriage. Colt Johnson makes a scandalous revelation. Andrei Castravet's shady past is finally revealed. Let's get straight into the recap!
Colt (Las Vegas, Nevada) &

his mom Debbie

ex-wife Larissa (Brazil)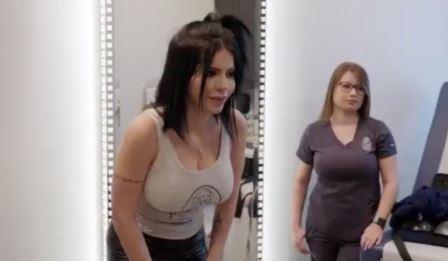 Larissa speaks to a doctor about the boobs and nose of her dreams. Hopefully she doesn't end up on the next season of Botched after this surgery. I always say Larissa wants to look like a blow up doll. Who knew that was actually her goal! She wants her new chest to be big, high and most of all fake.  The natural look is definitely far from her mind when she suggests a triple d cup size. Sigh! The doctor manages to talk her down a size, so she doesn't tip over when she walks. This woman has her priorities all wrong. After the consultation, Eric worries the surgery may not be worth the risk after hearing about all of the possible complications.
Larissa and Eric go to a lingerie store to pick out some new pieces to wear after her surgery. While there, she reveals that she intends to get more cosmetic surgery done in the future. Sigh! Larissa will look like one of those people who is addicted to plastic surgery very soon.  I don't think she needs any of these corrections. But if Eric is dumb enough to finance a whole new body, then good for her.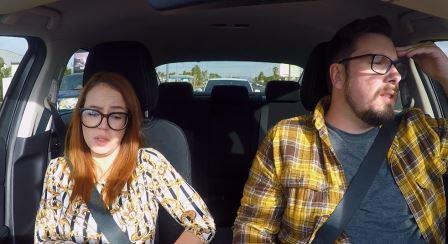 Colt meets with Jess Caroline with the intention of confessing his secrets, but she ends up confronting him instead. Apparently, Colt has been sending naughty pictures and videos to at least 8 women since he left Brazil. To avoid further public humiliation, he makes the mistake of taking Jess to his house. For some reason, Colt believes Debbie Johnson will be a shield for him, but she only manages to make things more awkward. Jess can no longer keep up the facade and outs him in front of his mother, before he banishes her upstairs. Chile, please! I wish Colt would send me to my room, in my own house. As if things couldn't get any worse, Colt discloses that Vanessa Guerra is also living in house. Why did this have to happen at the very end of the episode?  I can't wait to see what type of revenge Jess has planned.
Paul (Louisville, Kentucky) & Karine (Brazil)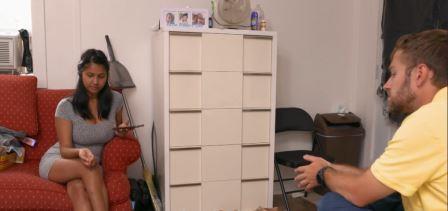 Karine is fed up with Paul Staehle after he has failed to find a job in the past two months. In an effort to find out her options, she visits an immigration attorney. She wants to know if there are consequences of returning to Brazil with her child alone. The lawyer advises her to try to get on good terms with Paul before leaving, so that he doesn't take any legal actions against her. The lawyer clearly doesn't know Paul. There is no way he is letting his family leave without a fight.
When Paul returns home he is shocked to learn Karine not only left the house, but went to speak with a lawyer. She explains that she just wants time with her family and son. Paul, of course, doesn't trust Karine to take their child back to Brazil alone. She claims that she would never try to keep him from his son, but it falls on deaf ears. I trust neither Paul nor Karine. They both seem shady in different ways.
Angela (Hazlehurst, Georgia) and Michael (Nigeria)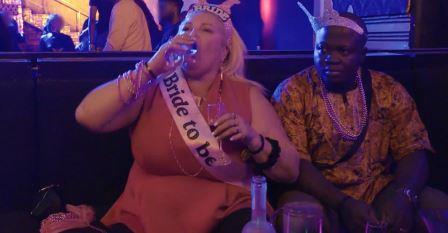 While picking out flowers for the wedding, Angela becomes emotional thinking about her family not being able to attend. In honor of them, she chooses to get an ugly bouquet that features all of their birth stone colors. Luckily Angela's best friend Jojo is arriving to Nigeria soon. Maybe Jojo can help her make better decorating decisions.
Angela demands to join Michael and his friends during their bachelor party. When they arrive at the club, she is shocked by all of the young scantily clad women. When Angela sees Michael watching a woman twerk on stage, the Hulk comes out. After screaming in his face, yet again, she storms out of the club with him in tow. SMH! She then turns him glimpsing at a woman in booty shorts into him being a cheater. WTH! Angela is nuts. Michael literally can't do anything. Angela is so jealous and insecure, it's ridiculous. Once again the wedding is off! Hopefully this time, it stays off. Michael deserves much better than an overbearing 54 year old woman that treats him like her child.
Kalani (Orange County, CA) and Asuelu (Samoa)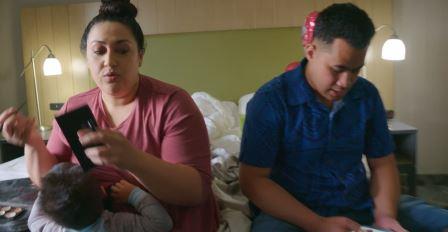 After spending all night talking about possibly leaving Asuelu Pulaa with her sister, Kalani is shocked she is alone after a huge fight. Really? Asuelu has his issues, but the last thing he needed after discovering his family cares more about money, than him is Kalani threatening to leave him. She calls her mom to vent her frustrations. At least her mother seems level headed. She reminds Kalani she had similar issues with her father and cautions her against just giving up. These two need counseling ASAP. Kalani constantly vents to her family and makes Asuelu feel like it's him against all of them. I know he isn't perfect, but she knew this before marrying and having 2 children with him. If they have any hope of sustaining their marriage, they need to learn how to communicate. I think this can be achieved with the help of a third party that is NOT in Kalani's family.
Asuelu returns to his family from his sister's house, as if nothing ever happened. He brings flowers and balloons to celebrate Valentine's Day, despite his wife's angry disposition. Kalani wants to discuss their issues regardless of holiday. When they begin to talk, Asuelu explains that he doesn't like that her family is so involved in their problems. I agree! At the very least, Kalani should stop talking about their problems within earshot of her husband. Asuelu pleads with Kalani to end the conversation because it's upsetting to him. Kalani is so frustrated that she tells producers she doesn't want to be married anymore. Sigh!
Elizabeth (Tampa, FL) & Andrei (Moldova)
Elizabeth and Andrei's family go on a family outing to the Moldovan countryside together. Andrei is actually on his best behavior during the day. Later, Andrei's best friend, Marcel meets with Elizabeth's family. It's evident this conversation is only a fact finding mission. Marcel reveals that Andrei was forced to leave Moldova, after working as a police officer. When prodded for more information, Marcel begins to shut down. Andrei is clearly hiding something. The question is what and will that information ever truly come to light.
TELL US: WHAT DO YOU THINK JESS WILL DO AFTER FINDING OUT ABOUT VANESSA MOVING INTO COLT'S HOUSE? IS LARISSA GOING OVERBOARD WITH PLASTIC SURGERY? SHOULD KALANI STOP TELLING HER FAMILY EVERYTHING? WHAT DO YOU THINK ANDREI IS HIDING?
[Photo Credit: TLC]