In part two of the 90 Day Fiance: Happily Ever After Tell All, the couples return with more revelations and drama. Colt Johnson clashes with his exes. Kalani Faagata questions if her marriage can be saved. Tania Maduro criticizes Syngin Colchester 's drinking. Michael Ilesanmi wants Skyla's egg.
If you thought there was drama in part 1, you haven't seen anything yet. The shit show continues! The quarantine has amplified everyone's issues, because no one seems happy. There is everything from shouting, walk outs and threats on this episode. Let's get straight into the 90 Day Fiance Happily Ever After recap!
Kalani (Orange County, CA) and Asuelu (Samoa)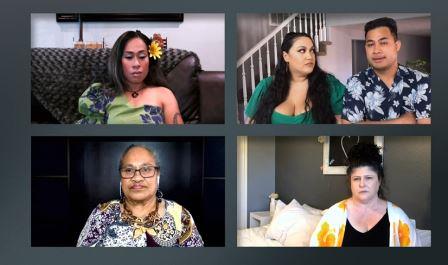 Asuelu Pulaa is on the verge of tears, as he explains how hurt he was that his mother said she didn't like his kids or his wife. When his sister Tammy interjects with the excuse their mother was just mad, he replies "I don't care." The host tries to get some insight as to why Tammy got so upset that she threatened to fight Kalani.
Instead of getting an answer, Tammy doubles down on her comments and threatens Kolini as well. As if things weren't heated enough, Debbie Johnson tells Tammy and her mother to move back to Samoa, if they can't afford to live in America. SMH! Next, Angela strong arms her way into the argument to go toe to toe with Tammy, who she calls a bully. I need a drink already!
Surprisingly, Asuelu's mother is the voice of reason and apologizes for her behavior. She wants her son and daughter to make peace and stop arguing about the money. Kalani seems unphased as she eats a large bucket of popcorn. It's apparent that although Asuelu is back in their home, she is still unsure of the future of their marriage. She is fed up with her husband's behavior.
Asuelu sits void of emotion while his wife and in-laws continue to berate him.  He then storms off camera, while Kalani takes the camera to search for him, to no avail. Sigh! This is just a sad situation.  Unless they both don't learn to compromise and stop their families from interfering in their marriage, they are doomed.  I find it insane that Debbie and Andrei Castravet have so much to say about this couple's problems, when they both have just as many issues.
Colt (Las Vegas, Nevada) &

his mom Debbie

ex-wife Larissa (Brazil)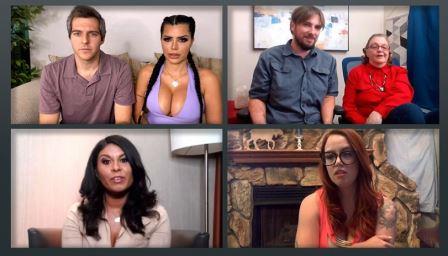 The woman who has been accused of involving herself in two of Colt's relationships, Vanessa Guerra joins the reunion to set things straight.  Colt claims that he didn't cheat with Vanessa, they were just friends. Insert side eye here. Later, Colt admits he began talking to Vanessa while he was married. He also confesses he only had a "summer fling" with Jess Caroline because Vanessa didn't want to be in a relationship with him. Umm… Colt, didn't you ask Jess's dad for her hand in marriage?
He clearly just used Jess for a 90 Day Fiance storyline because Vanessa was unavailable. After some prodding, Colt finally admits he did  cheat on Jess with Vanessa. Did he really think that everyone didn't already know that? Jess claims Colt likes to play with women's emotions. When Vanessa attempts to speak, Larissa shuts her down, shouting "Shut up-e, you're a slut and a bitch."
Larissa recounts the night she got arrested for the second time, claiming she found a text from a woman she believes to be Vanessa. The message read "I'm done waiting." When Vanessa is asked does she love Colt, she states only as a best friend because she doesn't trust him. Isn't that ironic? Colt and Vanessa are both liars. I don't believe anything either of them says.
After having had enough of the other women shouting obscenities, Vanessa walks out.  Good! After everyone takes a break, Colt tries to have a conversation with Jess. Sorry, too little, too late. Jess is still furious he ruined her chances at a shiny new green card. Things get weird when Colt shouts "I love to F#%$!" when Larissa says Eric is better in bed. I guess Colt doesn't want his ex-wife ruining his circus act image, now that he has an Only Fans account too.
Tania (Colchester, Connecticut) and Syngin (South Africa)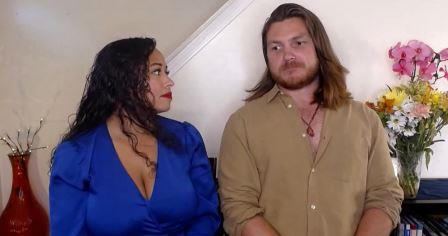 Next up on the hot seat is Tania on Syngin. Tania sums up the bulk of their issues as them having different views on the future. She also mentions Syngin's excessive drinking as a problem, despite saying he isn't an alcoholic. Tania then alludes to a situation that happened the other day as an example, but refuses to say anything more. Everyone, including me is confused.
Syngin is asked if he would give up drinking to save his marriage and his answer is no. If it comes down to that, Syngin will just find a woman who doesn't think it's an issue.  When Colt asks for clarification, Syngin explains he loves his wife more than beer, but he is going to continue to stick to his guns. Ugh… I wish Tania would just tell us what he is doing that makes her believe he has a problem.  On camera he doesn't seem inebriated and he has a job, so this whole thing is very perplexing.
Two of Syngin's friends, Andrew and James join the conversation to give their opinion. Andrew says the issues started when Tania began living with them in South Africa. Andrew thinks the real issue is they got married way too fast. Syngin admits that if they hadn't gotten married, they would have broken up by now. Wow!
At least Tania and Syngin are being honest about the struggles they face. They are willing to give things another year to see if there is any improvement, before making any lasting decisions. It seems like neither of them want to be together but they don't want to be apart. Honestly, I don't think things will last at this rate.
Angela (Hazlehurst, Georgia) and Michael (Nigeria)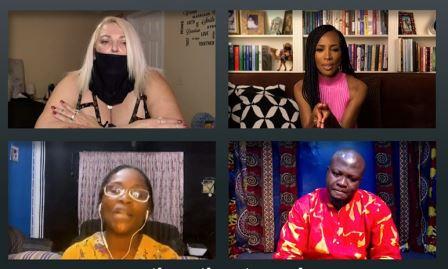 Angela's jealousy is fueled when Michael says he wants a surrogate to carry a child for them. She refuses claiming she would have to worry about Michael being attracted to her. Huh? Angela's insecurity is blinding. Both are still hoping Angela's daughter Skyla will be willing to not only give them an egg, but carry the baby as well. Things aren't that simple considering Skyla wants no parts of their plans. But neither Angela nor Michael are taking no for an answer as they continue to pressure her.
Angela then completely changes her tune when she begins to question if Michael only wants to have a baby to solidify his chances for a  green card. He gets so frustrated he starts yelling that she dared to reconsider trying to have a child. Sigh! Both Angela and Michal lied to each other. Michael never was going to accept not having a child. Angela was never going to exhaust all options to have a child, at her age.
All hell breaks loose when Michael's aunt, Lydia joins the conversation from Nigeria. Angela becomes enraged when Michael and Lydia suggest that he could just have a baby with another woman. Whew! Angela looks ready for war! Tune in tomorrow, for the full showdown in Part 3 of the 90 Day Fiance: Happily Ever After Tell All episode.
TELL US: WILL KALANI AND ASUELU MEND THEIR MARRIAGE? DID COLT USE JESS FOR A STORYLINE FOR THE SEASON? IS ANGELA SENDING MIXED MESSAGES ABOUT WANTING TO HAVE A CHILD? WHAT DID YOU THINK OF PART 2 OF THE 90 DAY FIANCE HAPPILY EVER AFTER, TELL ALL?
[Photo Credit: TLC]