Part three of the 90 Day Fiance: Happily Ever After Tell All continues with more drama and even more surprises.  Jess Caroline reveals a new relationship. Eric Nichols is confronted with his past. Tania Maduro and Syngin Colchester disagree on their future. Michael Ilesanmi is shocked to learn Angela Deem's plans for the near future.
Typically the last installment of the reunion is an unnecessary wrap up of the previous Tell All. But this episode definitely was worth watching. There were quite a few surprises and shade that was thrown out there. 90 Day Fiance is the gift that keeps on giving. These people never cease to amaze me. Let's get straight into the 90 Day Fiancé Happily Ever After recap!
Angela (Hazlehurst, Georgia) and Michael (Nigeria)

The beast has been unleashed! Michael made the fatal mistake of suggesting having a baby with another woman and the Angela we love to hate came out to play. All I can say is whatever pain she was in because of her tooth went out the window. Angela was screaming and holding her mask to her mouth at the same time. Then Aunt Lydia enters attempting to shame her for not being submissive.  Once Angela leaves the room, Michael tries to change his tune. Insert side eye here. Michael, you know you were entertaining the idea of having a baby with someone else. We all heard what you said!
Things get tense when Angela accuses Michael of being one way around her and another around his family. In her opinion, he is only the "bold, alpha, African man" when his family tells him to be. Aunt Lydia believes all women should be respectful and submissive to their husbands. I guess she missed the previous seasons where Angela emasculated Michael on a regular basis. There isn't anything about Angela that says meek. Lydia and Angela begin to argue about their cultural differences and who is technically an elder. Sigh! This is a mess. Did Michael think Angela was going to magically change after they got married? Did he forget all the times she emasculated him public and private? There is no way in hell that she is going to do anything other than what she WANTS to do. He might as well accept that right now, if he wants to stay married to her. If I had my way, he would have sent out a bat signal and ran for his life a long time ago.
Angela reveals shocking news to Michael! Unbeknownst to her husband, she has decided to have weight loss surgery very soon. Needless to say, he is not happy. He pleads with her not to go through with it, shouting, "I like big things." I can't even imagine a skinny version of Angela. But I have a feeling we will be seeing more of her very soon.
Tania (Colchester, Connecticut) and Syngin (South Africa)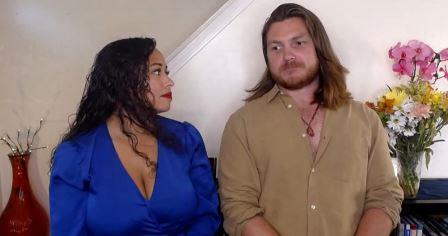 Did Tania and Syngin have any important conversations before they got married or did they just have sex? Honestly, I need to know!  I find it weird they still are arguing about everything from kids, a house, to where they will live long term. I don't know how they are going to be able to sustain their marriage, if they can't agree on any decisions.
Colt (Las Vegas, Nevada) &

his mom Debbie

ex-wife Larissa (Brazil)
Despite a season filled with break ups and makeups, Larissa Dos Santos Lima  and Eric are still together. Let's see how long that lasts! The woman that Eric was accused of sharing intimate details about him and Larissa's sexual encounters joins the discussion. I don't even know why this lady, Natalie who looks like an extra from the movie Twilight even showed up. This was just embarrassing.   As soon as she opened her mouth, Larissa and Eric pounced on her like wounded prey.  When she is finally able to speak, she only said Eric spoke negatively about Larissa, but never gives any actual details. When she leaves, the conversation shifts to why Eric agreed to meet Colt Johnson. Clearly they both met to add Larissa's name to their burn book like two catty mean girls. According to Larissa as a good catholic, she believes in the power of forgiveness so she was able to get past what he did. Whatever! I think what she meant to say "I was lonely and needed someone willing to pay for my plastic surgeries."

After suffering through sex and a relationship with Colt, Jess has moved on in a big way! She is now married to a man who could literally run circles around Colt. Shockingly, it was Larissa who is the reason that Jess and her new husband, Brian met.  They admit that they had to rush their nuptials, so Jess could stay in the U.S. I am not surprised, Jess seemed very determined to get a green card. At least this guy seems like he is more bearable than her last relationship.
TELL US: WILL TANIA AND SYNGIN STAY MARRIED? WHAT DID YOU THINK OF JESS' NEW HUSBAND? DO YOU THINK MICHAEL WILL EVER GET HIS BABY? WHAT DO YOU THINK OF ANGELA ANNOUCING SHE IS GOING TO HAVE WEIGHT LOSS SURGERY? WHAT DID YOU THINK OF PART 3 OF THE 90 DAY FIANCE HAPPILY EVER AFTER TELL ALL?
[Photo Credit: TLC]