Note to Andy Cohen: Mary Cosby does not want to do a shotski. Do not book her for Watch What Happens Live on a Wednesday night. Because she will not now nor ever do a shotski. Or on second thought, maybe do? Because it would sure be fun to watch. However, Mary's aversion to a cornerstone of the Bravo Clubhouse isn't even close to the biggest takeaway from this week's Real Housewives of Salt Lake City. Far, far from it, in fact. I've digressed. There's still the Jen Shah of it all to dissect and examine first.
Last week, we left the rest of the 'Wives having just arrived Vail. Reeling from the news of the indictment against their cast mate. They had swapped stories of bizarre, threatening text messages they'd received from random numbers using verbiage suspiciously similar to Jen's. A stolen handbag at Meredith Marks' store in Park City here. An abandoned Uber ride there. The number of inconsistencies and moments of strange behavior were…staggering. And now Lisa Barlow was just shy of intimating that Jen may have been meeting up with someone who…"wasn't her family." But that's all she'll say about that.
Understandably, all of the women are feeling blindsided, betrayed, and like they don't even know their so-called "friend" at all. Well, not all of them, exactly. Mary claims this is always exactly who she thought Jen to be. Meanwhile, Heather Gay is all the way on the other side of the spectrum, saying she'll be the one making trips to visit Jen in prison if she's convicted. At that display of (unwarranted?) empathy for someone who's allegedly preyed on hundreds of elderly people, Meredith loses her cool and lays down the hammer. She does not want anything to do with Jennifer Shah moving forward. Don't bring her around herself, her family, her store, her home, or any group events where Meredith is invited.
As the newcomer to the group, Jennie Nguyen is lost. She doesn't understand why Meredith's drawing such a hard line in the Utah snow. So Meredith drops another bomb: last year she hired a private investigator when Brooks Marks started receiving threatening messages last season. (Sound familiar?) And while the P.I. couldn't say with exact certainty due to use of burner phones, VPN scramblers, Google Voice numbers and encrypted messaging, he was fairly sure the campaign of harassment all pointed back to Jen. (Meredith also pointed out on the RHOSLC After Show that the use of encrypted messaging mirrors the method laid out in the indictment against Jen…) However, rather than take this as the chilling wake-up call to how insidious her new pal could possibly be, Jennie openly wonders if she has to watch her back around Meredith instead.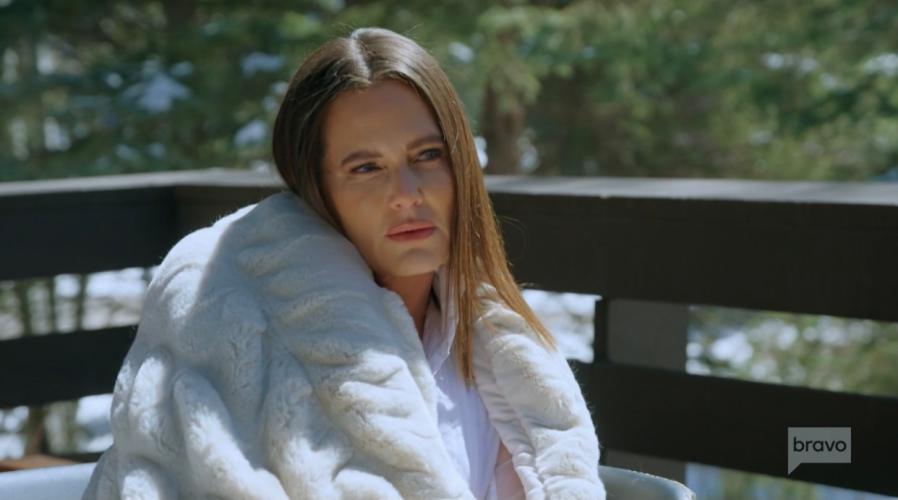 The next morning arrives and the 'Wives are all suffering from an emotional hangover. But we still have other storylines to push forward. Still in their pajamas, Meredith pulls Lisa outside to the balcony for a private chat between besties. The former is still feeling uneasy about the vague warning she received from Cameron Williams at the Fresh Wolf event about Mary and her church. Mixed with everything Whitney Rose told her during the Italian cooking class, Meredith's starting to feel guilty for engaging in all this chatter behind Mary's back. And she wants to get to the bottom of all the gossip by going straight to the source.
Turns out Meredith gets her chance sooner than thinks as the ladies split up for a day of winter fun. While Heather, Whitney, and Jennie opt to try out dog sledding, Lisa, Meredith, and Mary explore downtown Vail for an afternoon shopping and ice skating. With the latter in full ice skating regalia a la Nancy Kerrigan and Tanya Harding circa the 1994 Winter Olympics. On the way from the dog sledding expedition, Heather and Whitney waste no time slamming Lisa to her bestie. They question the Vida tequila mogul's reaction to Jen's arrest, but Jennie insists she's never seen anything but a good side to Lisa. She even defends Lisa's reticence to say certain things to the group because, to her, Lisa only deals in facts. So she won't throw out conjecture about something or someone if she's not 100 percent certain.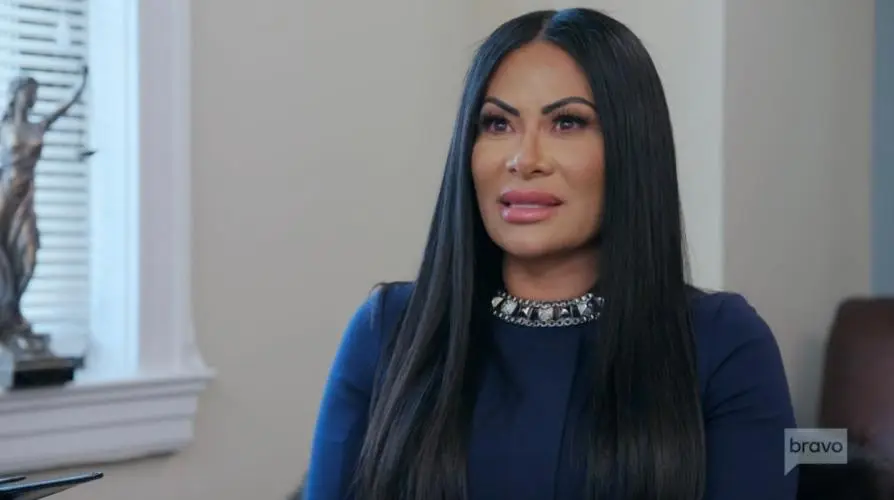 Back in Salt Lake, Jen's back to filming the day after her arrest. Which is frankly shocking when you really think about it. She even debuts a colorful new confessional look as she vows she's innocent of the crimes she's been charged with. Debriefing with her lawyer, Jen breaks down in crocodile tears about how these apparently false charges are affecting Sharrieff Shah and the boys. She also doubles down on the story that someone told her Coach was in the hospital when they called from his number. And that she was totally confused about what was going on when she was pulled over and arrested on the side of the road. Interestingly, Bravo also chose to cut Jen's line from the trailer about hiring Kim Kardashian for her legal team. Maybe they've realized that now, umm, isn't the time to be flippant?
On the second night in Vail, the other 'Wives are throwing a raclette party courtesy of Heather's memories from her Mormon mission in the South of France. And the dress code for the evening is…Swedish Christmas hooker eleganza! Yodel down that runway, girlies. The only person arriving to dinner with a bad attitude is Mary, who very clearly doesn't want to be there, doesn't want to do shots, and doesn't want to be wearing a Bavarian milkmaid's outfit in the freezing cold. When Whitney whips out her shotski, she's even less enthused. In fact, she's more like exhausted by everything the younger 'Wife is constantly doing, in her eyes, for attention.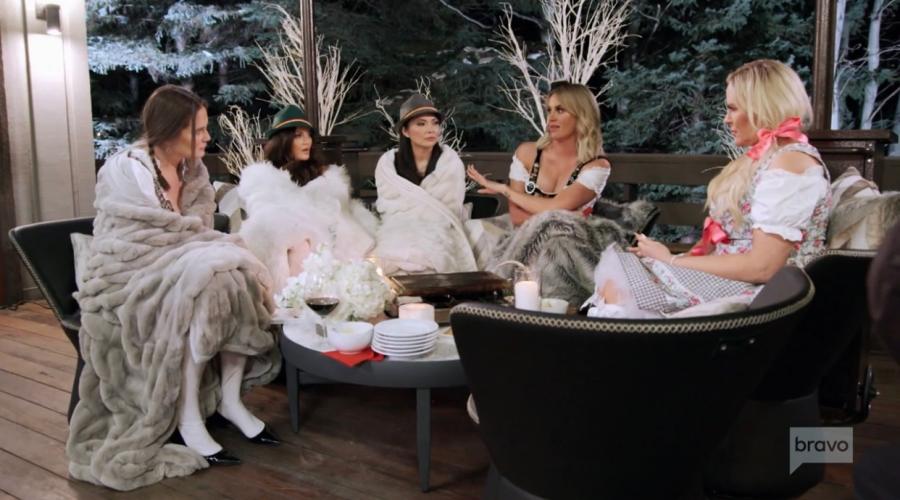 Over a dessert of Meredith's famous dietetic s'mores, Whitney tries to confront Mary about the bad blood that's been brewing between them since they were back in Utah. But Mary refuses to take part in any kind of conversation, much less resolution. Instead, she shuts her eyes like she's sleeping before using the excuse that Whitney's drunk and won't remember anything the next day. But Whitney sees her former friend's dismissal as simply more proof that it's not a reciprocal friendship. She cares about Mary more than Mary cares about her. She's now been more or less excommunicated from the First Lady's inner circle.
Mary retires for the evening in a huff. Leaving the perfect opening for the other women to lay the rumors about her church out on the proverbial raclette grill. A hurt Whitney once again throws out that she's "protected" Mary from all the gossip she's heard about the church — including that the congregation worships Mary as God. The other 'Wives then jump in, demanding that Lisa tell the group what Cameron meant when he warned Meredith to be careful around Mary. However, Lisa points out that her friends need to know she'll keep their confidences, and that includes Cameron's experience as a member of Faith Temple Pentecostal Church.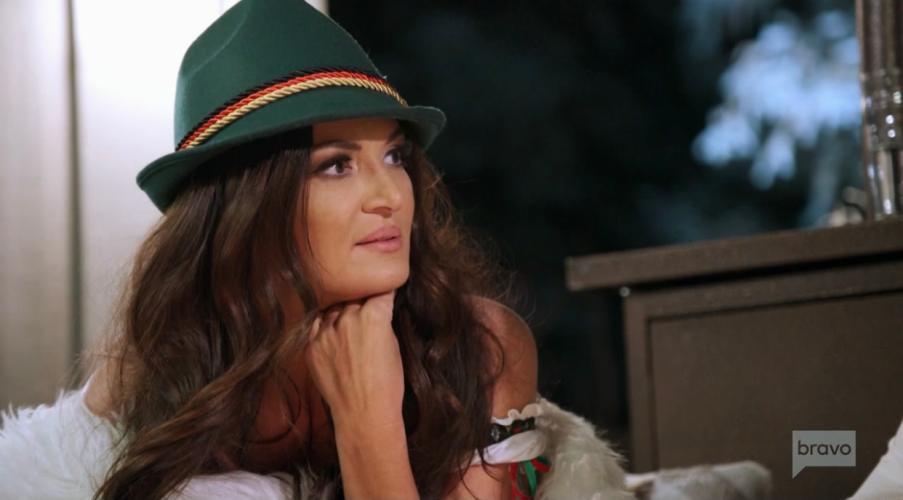 Heather cuts to the heart of the issue: should the 'Wives be concerned that they have (yet another?) friend who's taking advantage of people? This time with an entire congregation whom she's in a position of spiritual and moral power over? Will this become a Jen Shah 2.0 situation? The women just want concrete examples. Not vague hints or innuendo. Meredith reveals she discussed the chatter swirling with Mary during ice skating. And Mary's response was that all churches come with naysayers, detractors, and disgruntled ex-members. Right? However, Lisa believes what Cameron has told her privately, and says it involves "extreme religious trauma." Need an example? Cameron mortgaged his house and gave Mary $300,000. Boom. I already can't wait for the $300,000 fallout to that bombshell in two weeks…
TELL US – DO YOU BELIEVE JEN WAS BEHIND THE THREATS MEREDITH'S P.I. INVESTIGATED? WHAT DID YOU THINK OF JEN'S SCENE WITH HER LAWYER? ARE YOU TEAM MARY OR TEAM WHITNEY? DO YOU BELIEVE LISA'S BOMBSHELL ABOUT MARY TAKING $300,000 FROM CAMERON?
[Photo Credit: Bravo]