Kandi Burruss is the queen of the spin-offs. She might seem boring sometimes on Real Housewives of Atlanta, but she has a hit with her new series. It's already the perfect blend of drama and humor. Seeing Kandi in her boss woman mode is always inspiring to watch. However, this time she's forced to deal with her OLG family and a questionable staff.
Everybody loves Patrick Dallas. Well, at least that's what he wants us to think. He's Aunt Bertha's grandson, so I sense some nepotism at play here. He wants to be the next Kandi, which is a huge role to aspire to be. She's such a force in business.
Hey look it's another cousin! Kandi's godson Melvin Jones is the cook at OLG, and it sounds like he gets a pass because of who he is. Kandi's the one who lets these people get away with whatever they want. However, Todd Tucker's trying to steer the ship in the right direction and fix everything.
Patrick's in charge of the parking lot which is an odd role to be assigned at a restaurant of this size. Patrick has a girl named Safari, and she's a knockout. Stunning. He has a promiscuous past, so you have to wonder if he's ready for the real thing with Safari.
I think I already love Dom'unique Variety. She's more genuine so far than Shawndreca Robinson. She doesn't come across like she's going out of her way to create moments for the camera. It's much more natural.
Dom is entirely infatuated with Brandon Black. Every word coming from his mouth is gospel to her. He knows just the right thing to say to capture her attention and steal her heard. She's putty in his hands.
Dom doesn't want to be at OLG. This isn't her passion. She's grateful for the opportunity, but she's wanting to dance on tour for celebrities. Working at Kandi's restaurant isn't even remotely close to her professional endgame.
Brandon Black's teetering a fine line because he's a manager, and she's an employee. He's not worried about the difference in roles at the company. He also tries to kiss her which was cringe because she rejected it. She doesn't kiss on the first date, and that rule made things uncomfortable to watch. AWKWARD.
Production is so shady though for showing the origin story of Kandi and Todd. They want out of their way to pull past clips of showing them working together and meeting like that. It's not like Todd worked with her for long though. They didn't even connect until basically his last day on the job. It's not the same.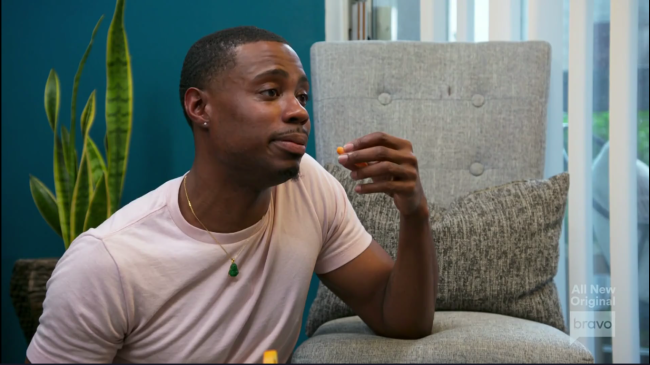 Even though she plays up for the cameras, Shawndreca's fabulous. She's already making this new series worth watching. She's a scene-stealer, and if she's present, you know something fire is going down.
Shawndreca and Dom show up at Torin Mitchell's place, and he's not the best house. The food display looks like it's being left out for parakeets. That being said, he's trying to get back in with the staff at OLG. He's an OG of the restaurant, so coming back makes sense for this back to the roots reboot they're doing.
Torin's new and improved and ready to reclaim his spot at OLG. Shawndreca wants Torin to get the lowdown on Philip Frempong, and he's not interested. He's only interested in listening to the person who is writing his checks. If he goes into OLG with that attitude at Philip, he might as well walks his ass back home.
Dom alludes to dating someone new, but she won't tell them yet. What was the point of bringing it up at all then? You can't just drop a bomb on everyone like that and then not claim it? I might find her annoying. We'll see.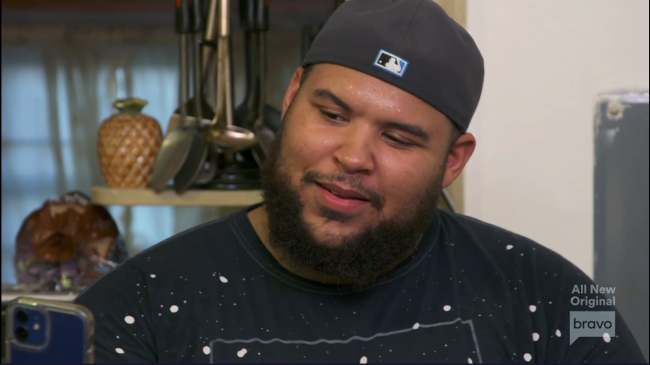 Melvin drops by Aunt Bertha's place to check in with her. OLG consumes a lot of his time, but he's still big on family. It's refreshing to see someone who puts that much heart and soul into their family. From the sounds of it, he's also an incredible cook. Melvin's an asset to OLG.
Kandi and Todd call Melvin, and Todd throws some shade at Melvin. Besides that, the family is a little bit fractured. Kandi's planning an intervention to get her cousin Kim to return to OLG. For once I'm on Mama Joyce's side with this one.
Kim tried to get fellow employees to walk out when she quit. Who does that? If you want to leave that's fine. However, don't try and tank the entire business because you don't want to be there anymore. That's not how families should treat each other.
Brian Redmond's back at OLG, and the old ladies LOVE him. They're obsessed with him, and it's easy to see why. He's calm, cool, and fabulous. Shawndreca's anticipating Philip and Brian bumping heads. I think anyone who even remotely questions Philip ends up on the receiving end of a verbal beatdown.
Philip's not playing with Brian because he's heard about his past. Brian tended to do whatever he wanted at OLG, and you can see glimpses of that.
Brian's being open about his battle with drinking which surfaced in the early COVID-19 days. I'm also living for his catchphrase of "hold your mule". He's hilarious.
Shawndreca's planning a night out for the entire staff, but Philip's not attending. Shocker. Imagine Philip wanting to do anything fun.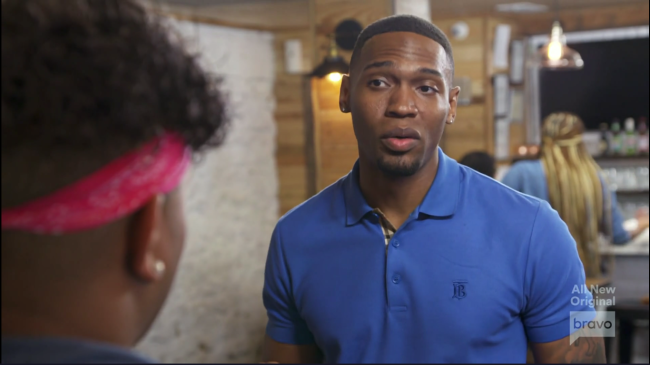 I had no idea Philip was gay, but shoutout to him! I guess that takes out my theory of a possible future romance between him and Shawndreca. OOPSY.
Philip's bothered by the pushback of workers like Shawndreca and Brian. They're making his OLG journey far more difficult than he likely expected. He also notes that this isn't his final career destination. This is a pit stop on his journey toward opening his restaurant.
Shawndreca's night out consists of her, Dom, Torin, Brian, and Brandon showing up after. He's late which is already not going to end up being a good look. Patrick shows up too, and like Brian, he's not drinking. Shawndreca has a past with Brian, but she's happily engaged to someone else now.
Nobody is feeling Philip. Nobody. Everyone's trashing him, and not giving him a chance. This is going to blow up at some point.
Patrick's triggered by all of the negative talk by the group about OLG. He's loyal to Kandi, so he's not standing for any of this. For now, he's sitting quietly and taking it all in. However, I wouldn't expect him to keep quiet forever. That's another situation that could blow up at any given moment.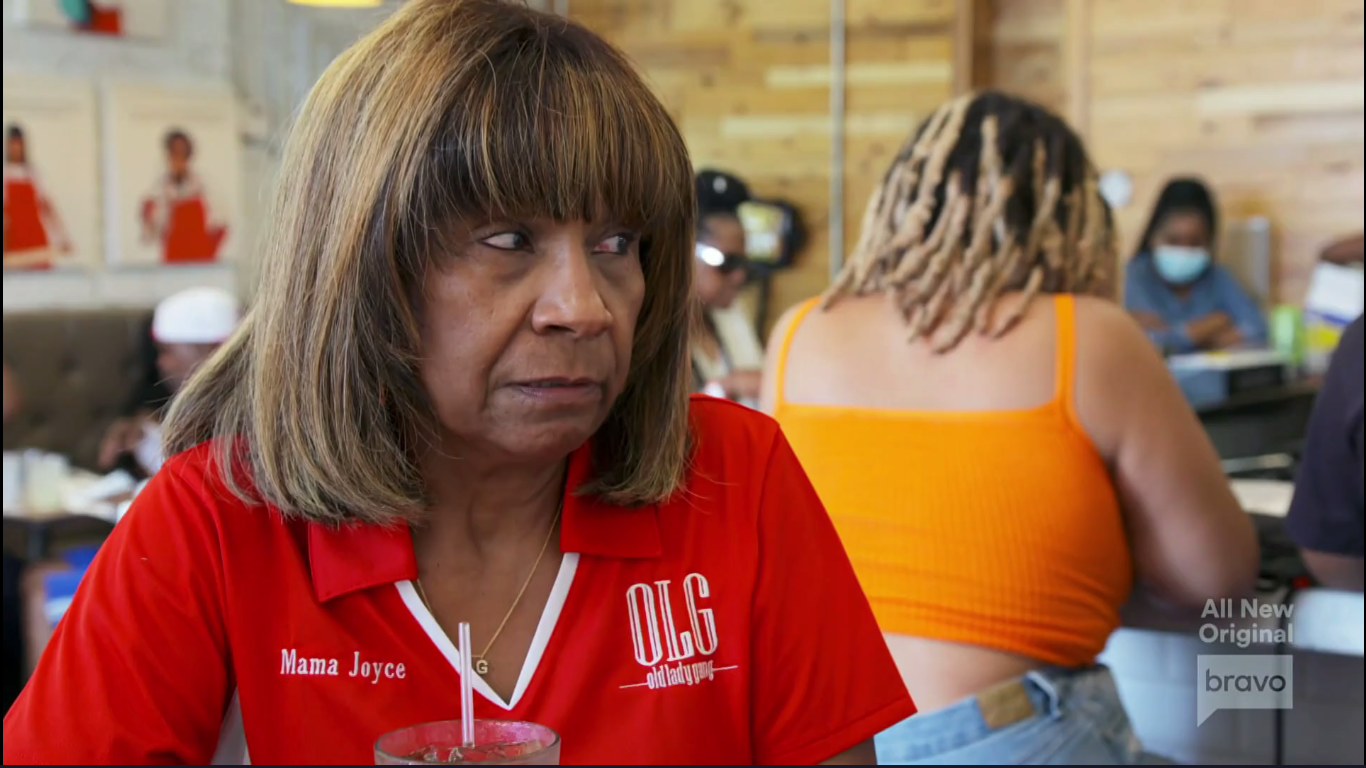 Kandi's family intervention is the worst idea ever. These aren't the type of people who are going to listen to reason and agree to compromise. If they're anything like Mama Joyce, they'll blow up quickly as well.
Kim's accusing Joyce of saying it was her kitchen, but she's met with an expletive-filled rant. She's firing off every cuss word you can imagine and denying the allegation. Even Aunt Nora is standing up and screaming and threatening to attack Kim. HOLY SHIT.
These old-ass women are always ready to throw down, and I'm thoroughly entertained. Why are women pushing 100 out here trying to MMA fight each other? My heart is weak!
Any shot of Kim returning to OLG is out of the realm of possibility now. There's too much animosity for that to end well. But at least they were able to come together in the end over some chicken wings. I'd drop any issues I was harboring for some chicken wings too. Most relatable moment of the episode so far.
Patrick is playing the role of the bone carrier for this group of friends. He didn't waste time going straight to Kandi about everyone trashing OLG, the pay, and the food. We stan her messy godson.
DonJuan Clark has mixed feelings about Torin returning to OLG. He rubbed him wrong with the way he left the business the first time. It looks like they're ready to move on and forgo the past.
Torin introduces himself to Phillip, and this already feels like it's going south. Philip makes everything about being high in the chain of command. He looks for issues with everything.
Philip won't discuss any of his experiences with Torin which is annoying. However, Philip thinks Torin came into this conversation with the idea of checking him. If that's what he's doing, it might be working because he seems rattled.
TELL US – IS PHILIP A GOOD BOSS? WHO IS YOUR FAVORITE CAST MEMBER SO FAR? TEAM OLG OR TEAM KIM? ARE YOU ENJOYING THIS SEASON OF KANDI AND THE GANG?
[Photo Credit: Bravo]