Things are starting to make sense on this season of Below Deck Mediterranean. Or, at least, we're getting some answers that merely open a pandora's box of more questions. And it all hinges on the bizarre dynamic happening between Natasha Webb and Chef Dave White. Whom we have now established were in a weird sort of secret relationship before coming aboard M/Y Home. One that seems to be largely controlled by what the chief stew wants. Dave explains via confessional that it was Natasha who said she wanted "time" before admitting everything to the crew and Bravo's cameras. And came up with the inane parameters to wait a week before spilling the beans.
But the thing is, Dave forced the issue. And now they're both talking about it in their confessionals. So I don't know what Natasha's actually trying to do here other than keep Dave on a leash. She put him in her cabin to keep him close. She flashes a smile to get what she wants from him. And clearly feels like she has the power to ignore him when she'd rather flirt with, say, Jason Gaskell. Which leads us to…
Power Move or Pissing Match?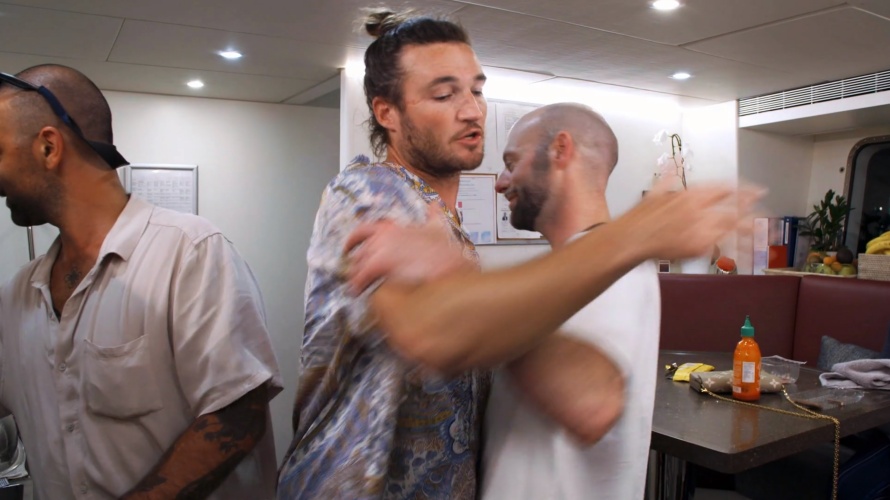 The crew's first night out is fraught with underlying tension. Again because of whatever's going on between Dave and Natasha. She gets upset when she finds out he told the table he wants more from their relationship. And starts worrying that he's a ticking time bomb. So her solution is to punish him by completely avoiding and ignoring him all night. This happens on her terms, chef, not yours, remember? Dave obviously notices the mutual interest brewing between his secret girlfriend and Jason. And by the time they get back to the boat, she won't even look his way. So he decides to poke the bear by drunkenly antagonizing the junior deckhand.
The pestering is really over nothing. But it just about leads to a blow-up in the crew mess until Jason retreats to his cabin to avoid throwing hands with Dave. And the strategy doesn't get the desired response out of Natasha either. Once Dave tells her about his altercation with "[her] boyfriend," she once again presses the abort button and sneaks off to sleep in the guest cabin for the night while he's in the shower. The chef ends the night alone in his bunk, sobbing quietly with his back to the camera. This is already a mess.
Secrets in the Shower
The next morning, the tension between Dave and Natasha is palpable. He tries to apologize for acting like a fool. But she feeds him the line that she needs to focus on herself. And he comes thisclose to breaking their agreement by pointing out on camera that they can't even talk about the "real reason" for the awkwardness. Oops. His attempt at apologizing to Jason doesn't go much better, either. But at least for now, the two are able to shake hands and move on. After all, the second charter is just hours away from beginning.
But that doesn't stop Dave from attempting to clear the air with Natasha just one more time. He asks if they can talk. She suggests meeting in their cabin. But when he arrives, she's already in the shower. And what was supposed to be a five minute chat turns into a half hour tryst in the shower. Is this strategic on Natasha's part so the cameras can't capture their conversation? Is she just placating Dave with an early morning hookup? Either way, by the time she leaves the bathroom, she's fully clothed and Dave's the one in the shower. That's certainly one way to get around production eavesdropping on secrets you're trying to keep off-camera.
A Deck in Disarray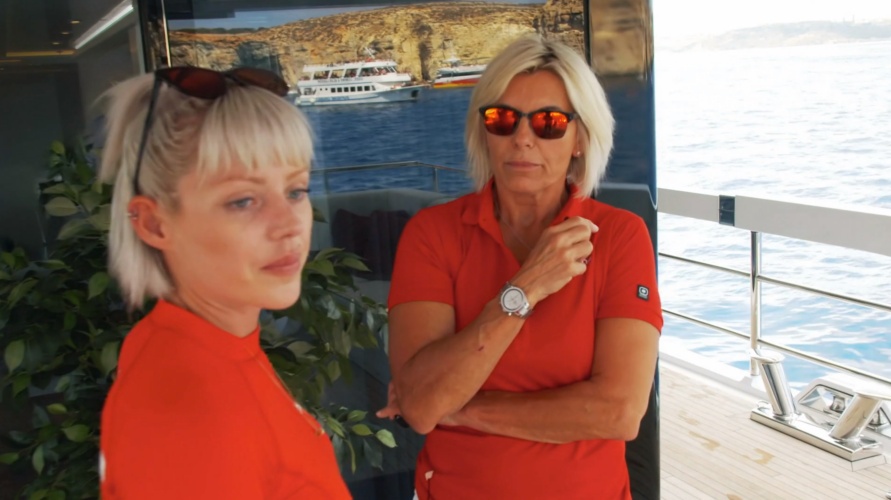 Raygan Tyler's leadership, or lack thereof, also remains a huge problem this week. First, she spends all morning in bed with a hangover. Leaving Jason, Storm Smith, and Mzi Dempers without any clear direction on what needs to get done. By the time she drags herself to the preference sheet meeting, Captain Sandy Yawn is visibly displeased. And even more so when the beleaguered bosun tries to blame her absence on food poisoning. No, sweetie. That's called a hangover. You were dancing like one of those inflatable men in front of a car dealership last night. And you couldn't possibly look more unprofessional right now.
The drama continues when it comes time to get all the water toys out for the guests. Which, by the way, was one of the top priorities on their preference sheet. But Raygan's "do whatever you want" approach only creates chaos on the swim platform. To the point where Captain Sandy has to come down and help get things organized and in the water. The batteries in the sea bobs are dead. The inflatables take forever to be blown up. The passerelle sits idly on the swim platform when it should be the very first thing in the water. Of course, all this is happening as the guests sit. And wait. And wait. To start enjoying their chartered yacht vacation.
Raygan, You in Danger, Girl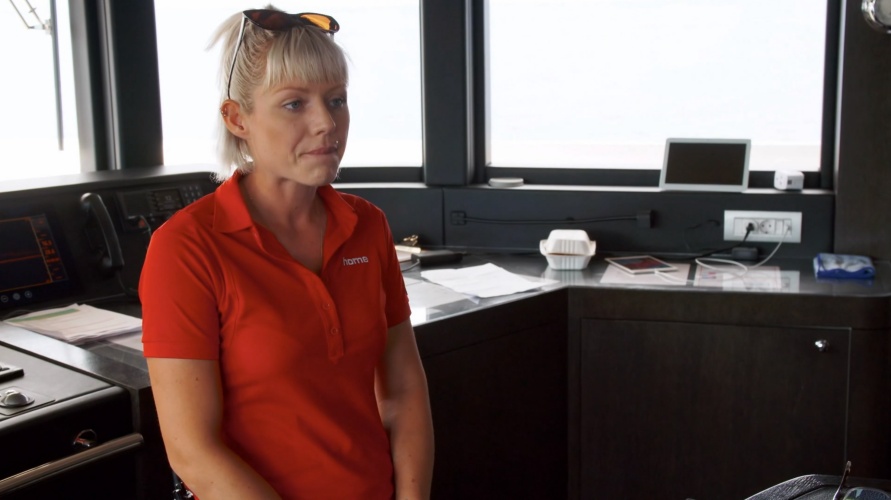 Later that night while Dave is serving the guests twice-cooked octopus, Captain Sandy pulls Mzi aside to get his take on how the deck is operating. And to paraphrase a certain Bravolebrity, "Not well, Captain." The returning deckhand gives his honest assessment that the problems are his fault. Nor are they Jason's or Storm's. It's all Raygan.
The next morning, Captain Sandy calls the bosun to the wheelhouse for what initially sounds like a pep talk. But Raygan doesn't seem to grasp what dire straits she's already in. Honey, this isn't just yachting, it's reality TV. It's sink or swim. And you don't even seem to be able to float. Captain Sandy wants to support her, but the more Raygan digs a hole for herself, the less likely it'll be that she gets out of it.
TELL US – DO YOU THINK NATASHA IS MANIPULATING DAVE? DID HE HAVE A RIGHT TO BE ANGRY WITH HER ON THEIR NIGHT OUT? WAS THE SHOWER SCENE STRATEGIC ON NATASHA'S PART? HOW MUCH LONGER WILL RAYGAN LAST?
[Photo Credit: Bravo]