Season 4 of Real Housewives of Salt Lake City is full of ambiguity, especially since Jen Shah landed behind bars. The cast, as a group, seems a little lost. Cousins/Bad Weather duo Whitney Rose and Heather Gay keep beating the dead horse that somehow started with Lisa Barlow and Utah Jazz tickets. Meredith Marks' switch-up to being Jen's No. 2 supporter is also worth an eyebrow raise. Hey, at least Mary Cosby is coming back for Season 4. That's sure to be a sight to behold.
Now that Jen is no longer the center RHOSLC snowflake holder, the ladies can finally collectively go on an international vacation. It's undoubtedly one of the strangest silver linings in Real Housewives' history. There has been online chatter about the cast embarking on a vacation to Bermuda. Despite the excitement over being able to dust off their passports, the vacation is rumored to be anything but peaceful.
A few RHOSLC "insiders" spoke to Page Six about what's allegedly going down on the island. The Bravo producers were apparently scheming about igniting the mounting tension between new friends Whitney and Lisa. "The women recently got into it with each other, and their conflict is expected to bleed into the Bermuda trip," the source said. While the bone collector remained anonymous, it does seem like it's in Heather's best interest to move on from her infamous black eye. Oh, and the disaster that ensued on the cousins' Real Housewives Ultimate Girls Trip experience.
Meredith and Heather could be the catalyst of chaos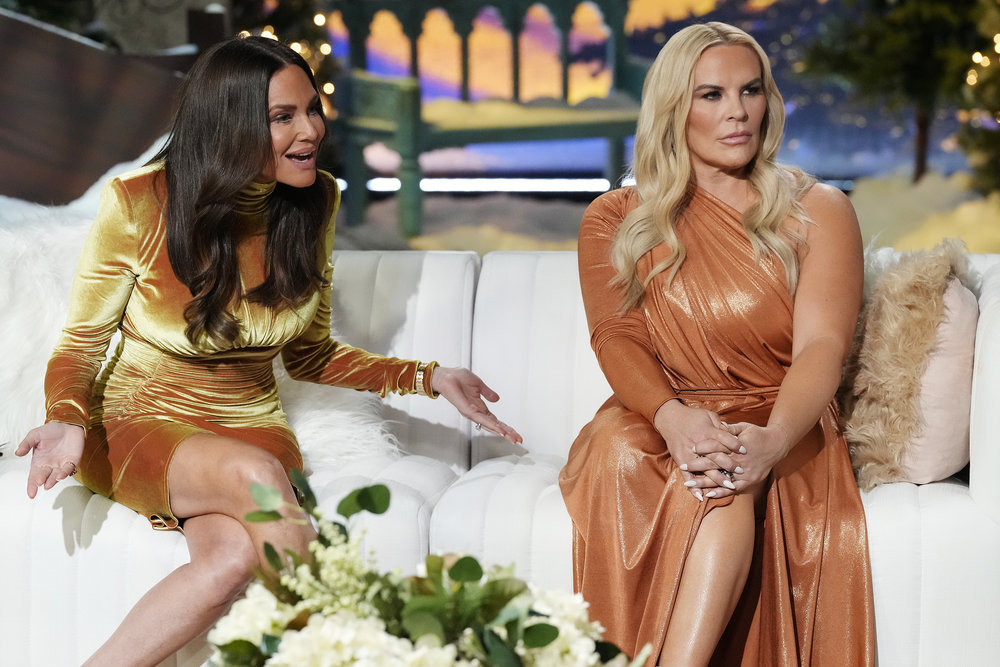 The source continued to say that the issues between Lisa and Whitney are "layered," but it comes down to distrust. OK, these two new friends need a whole healing journey to fix this. Page Six did its due diligence in collecting the tea as it spoke to a second person that elaborated on the source of the feud.
According to the second anonymous source, the fight might involve Meredith and Heather. Lisa and Meredith have apparently resolved their issues, and Whitney doesn't like that. "The new dynamic between Lisa and Meredith could be creating space for Lisa to reevaluate her relationship with Whitney," the person said. Alright, whatever that means. They did clarify that Meredith and Lisa aren't friends, but have a "cordial relationship." The Ice Queen sounds like she's starting to melt. Maybe those long bubble baths are doing Meredith some good.
The second source added that Heather and Lisa are developing a bit of a friendship. "Lisa is also getting along more with Heather, which might be to blame for some of the tension with Whitney," the person said. It's interesting how both of these anonymous "sources" are talking in such hypotheticals. It sounds like a lot of people are playing producer in this universe, which seems to be the downfall of RHOSLC as a show. Let us see organic drama — the veteran Bravo fans are too well-versed to be fooled by phoniness.
TELL US – WHY DO YOU THINK LISA AND WHITNEY ARE FIGHTING? WHAT ARE YOU EXCITED TO SEE IN REAL HOUSEWIVES OF SALT LAKE CITY SEASON 4?