It seems a whole episode of the Summer House reunion could be dedicated to Paige DeSorbo's issues with Lindsay Hubbard. The interesting thing is the two ladies rarely fight on camera, but so much goes on behind the scenes. During most episodes, Paige holds court lounging in bed. Whatever gossip goes on during that pillow talk time doesn't often take root. So when they go toe to toe at the reunion, it's just reality TV magic.
Allegedly, and according only to Paige who claims that the publicist and her fiancé, Carl Radke, "spin" things and go on "press tours." The fashion contributor didn't disappoint at the first part of the reunion when she made a series of accusations, regarding Lindsay's behavior towards people that "can't do anything for them." She may not have receipts, but she's coming with juicy gossip.
Paige makes claims with no receipts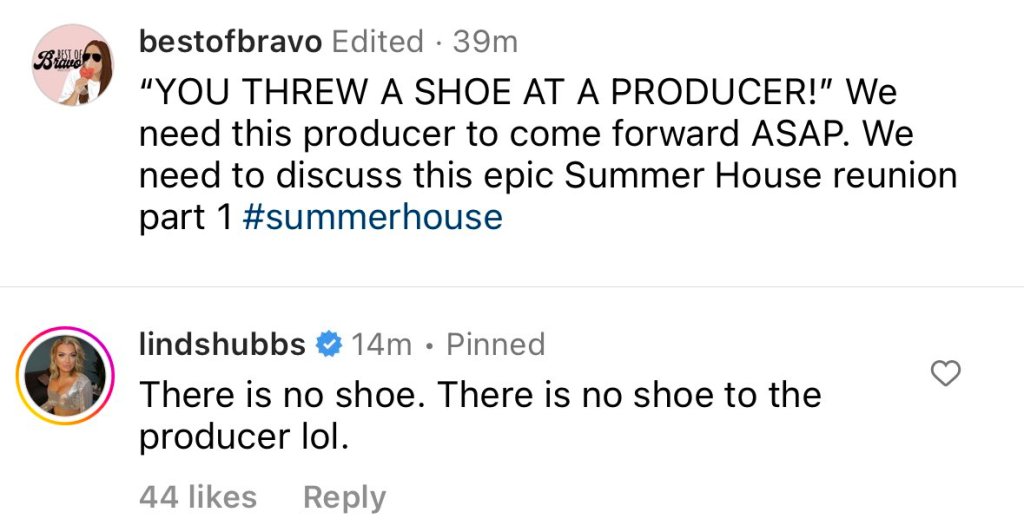 In one perfectly timed comeback, Paige claimed that Bravo executive producer Andy Cohen had to check her behavior at BravoCon. She then claimed that Lindsay threw a shoe at a Summer House producer. Ciara Miller jumped in at that point to confirm what her bestie was saying. Lindsay did not respond to the latter accusation. Presumably, Andy would clarify whether he did indeed check the publicist for her tone towards his employees. Maybe that's to come in Part 2.
Bravo gossip Instagram account @bestofbravo jumped on this claim in an effort for confirmation. "YOU THREW A SHOE AT A PRODUCER!" We need this producer to come forward ASAP. We need to discuss this epic Summer House reunion part 1."
Lindsay posted a response denying the accusations. She wrote, "there is no shoe. There is no shoe to the producer lol." Currently, there are over 50 comments responding to her post. It's a mixed bag of believers and non-believers.
Certainly, Andy has all the answers. Will he address this on social media? Or let Paige fans keep her accusations circulating?
The Summer House Season 7 reunion continues Mondays at 9/8c on Bravo.
TELL US- DO YOU THINK LINDSAY THREW A SHOE AT A PRODUCER? WHAT DO YOU THINK OF PAIGE AND LINDSAY'S INTERACTION DURING THE SEASON VERSUS ON THE REUNION? SHOULD PAIGE MAKE ACCUSATIONS WITHOUT PROOF?