It's hard to believe it's been over a decade since Real Housewives of Beverly Hills premiered on Bravo. In the last 10 years, the show has given fans so much. From the girls' trips to the dinner party meltdowns, it's hard to ignore the show's impact on pop culture. Ahead of Season 13, let us take a look back at RHOBH history. Here are some of the most memorable RHOBH episodes.
Let the Games Begin (Season 2, Episode 6)
In the Season 2 episode, "Let the Games Begin," Dana Wilkey decided to throw a game night in an attempt to solidify her place within the group. But the event didn't go well. The night kicked off with some seriously awkward tension between Kyle Richards and newcomer Brandi Glanville, and only got worse from there.
Kim Richards spent most of the night in the bathroom, which concerned Kyle and caught the attention of Brandi. Later in the night, a full-on fight broke out between Brandi and the Richards sisters after Brandi accused Kim of being wasted.
There was yelling, finger-pointing, and the whole thing was totally awkward, making it one of the most memorable RHOBH episodes.
Unforgivable (Season 1, Episode 13)
Kyle and Kim Richards' fight in the back of the limo in the Season 1 finale, "Unforgivable," has to be one of the most iconic Real Housewives fights ever.
The two were at each other's throats a lot that season but it came to a head in the final episode. Kim accused Kyle of stealing her house and Kyle shot back, suggesting Kim was an alcoholic.
The limo fight is the most memorable moment from the iconic episode but there were a few other noteworthy moments, including when Lisa Vanderpump asked her longtime friend, Cedric, to move out of Villa Rosa, and Kim's fight with Taylor Armstrong.
The M Word (Season 6, Episode 4)
Lisa Rinna has never been afraid to stir the pot and that's exactly what she did in the Season 16 episode, "The M Word."
After housewife Yolanda Hadid opened up about her struggle with Lyme disease, Lisa decided she wasn't buying it.
During a conversation with Kyle and Lisa Vanderpump, Rinna suggested Yolanda may not be as sick as she was letting on and introduced "the M word," also known as Munchausen.
According to the NHS, Munchausen is "a rare psychological and behavioral condition in which somebody fabricates or induces symptoms of illness in themselves."
Rinna got a lot of backlash for the claim, but in a 2016 appearance on Watch What Happens Live, she said she doesn't regret bringing up the M word.
Amster-damn! (Season 5, Episode 16)
In Season 5, the ladies took a trip to Amsterdam and no surprise, there was drama.
One night at dinner, a fight broke out between Lisa Rinna and Kim Richards. The argument started out intense, with the two rehashing old wounds from earlier on in the season, but things took a turn for the worse after Kim brought up Lisa's husband.
Lisa snapped. She threw a wine glass on the table and yelled, "Don't ever go after my f***ing husband."
The whole scene was iconic, and it was one of the most memorable RHOBH episodes. From Kim calling Eileen Davidson "a beast" to Kyle Richards fleeing the scene, it was pure reality TV gold.
Dinner Party from Hell (Season 1, Episode 9)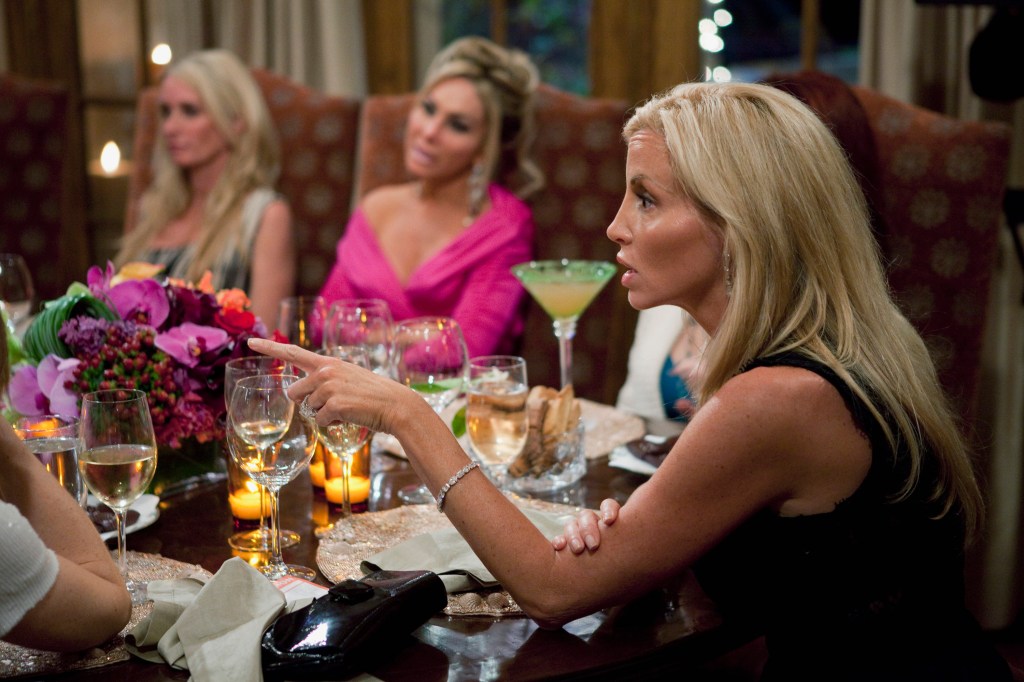 Camille "Grammer" Meyer's Season 1 dinner party is a favorite among RHOBH fans.
Toward the end of the first season, Camille attempted to bridge the gap between her and the other women by inviting them to a dinner party at her home. Camille also invited a few friends of her own, one of whom was a psychic named Allison DuBois.
When the ladies sat down to dinner, they started asking Allison questions about her profession and asked her to do a reading.
Allison refused at first but eventually relented, and her reads were explosive. She told Kyle her husband would "never emotionally fulfill" her and told Kyle's friend, Faye Resnick, to "Take a flying leap." And she did all of this while taking puffs from an electronic cigarette. Iconic.
TELL US – DID WE MISS ONE OF YOUR FAVORITES? WHAT IS YOUR FAVORITE EPISODE OF REAL HOUSEWIVES OF BEVERLY HILLS?