After a season full of denials, Dina Manzo has officially told the world she's done with Teresa Giudice.
The Real Housewives of New Jersey stars have been thick as thieves since the show aired in 2009. Since then, they've stuck side-by-side, and no one, not even Caroline Manzo, could break them up. Dina defended Tre, and Tre defended Dina — that's the way it always was.
But as of last summer, there's been an apparent rift in their friendship. As many know, excessive drama occurred at Teresa and Luis Ruelas' wedding. Not only did sources reveal that Tre fought incessantly with Melissa and Joe Gorga, but they also detailed her feud with Dina. Then, both Dina and Tre ignored the rumors. But now, after denying the allegations that their once sisterly bond had ended, Dina has seemingly confirmed by unfollowing Teresa on Instagram.
Dina and Tre are no longer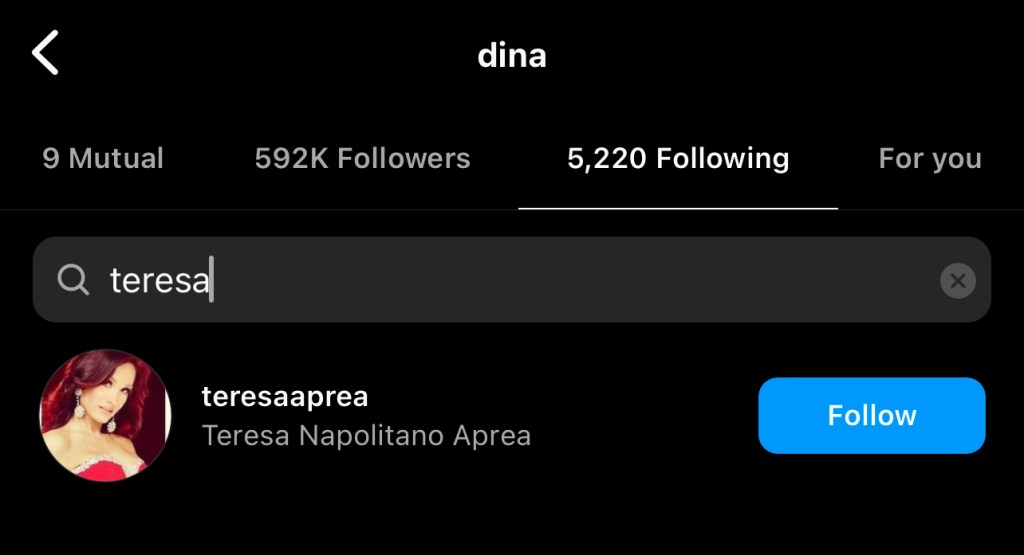 After looking through Dina's following list on Instagram, the former reality star has hit the unfollow button on her bestie Teresa's page. However, she's still following Gia Giudice, Audriana Giudice, and Joe Giudice.
Rumors surrounding their relationship have been circulating for a year now. At the last Jersey reunion, Joe spoke about the pair's alleged falling out — detailing a disagreement between Dina and Tre's husbands.
"Dina's husband, David [Cantin], called me because I'm friendly with David," Joe said. "'Pizza Gate' part two … and it f**ked up another relationship in Teresa's life."
Sources revealed that despite his statement, the two were still friends, and there was "no issue at all, zero issue."
Of course, we're still waiting for more details regarding Dina's decision to unfollow the Real Housewives OG. But, according to what people have been saying for the last year, it likely has something to do with Luis. However, their friendship is one of the many that Bravo fans adore — so we hope they can repair what's broken.
TELL US – CAN YOU BELIEVE DINA UNFOLLOWED TERESA? WHAT DO YOU THINK HAPPENED? DO YOU THINK JOE WAS TELLING THE TRUTH?