Project Runway continues, as the wonderful Rami was saved by Christian Siriano. He's thrilled, and so are his fellow competitors. It stands as a true sentiment to his personality that those competing against him are so happy to see him being kept around. But, will he sink or swim? There's never been a more perfect time to find out, as the captains and crew of the Below Deck franchise are here for the Client Challenge! Here's everything that happened in Project Runway All Stars, Season 20, Episode 9.
Oh captain, my captain
As Christian ushers the Project Runway designers to the Greenpoint Pier, they are met by a number of Below Deck Bravolebrities. Captain Lee Rosbach is among them, but sadly, he's not one of those they'll be designing for. Still, he helps randomly assign each All Star their client! Here are the pairings:
As this is a two-day challenge, there's plenty of time to perfect their designs. The All Stars are given 40 minutes to brainstorm with their clients, before they must get their outfits underway. Both Aesha and Daisy want a flattering and feminine design. Captain Jason, meanwhile, asks for Anna to infuse her Asian background, as he now lives in Bali.
Korto thinks Laurence is taking a "huge risk" with leather. She thinks she needs to balance the fashion, with uniform. Meanwhile, Prajjé is worried that Captain Sandy's need for "bling" in her uniform isn't what the judges will be looking for…
Christian arrives to dish out some advice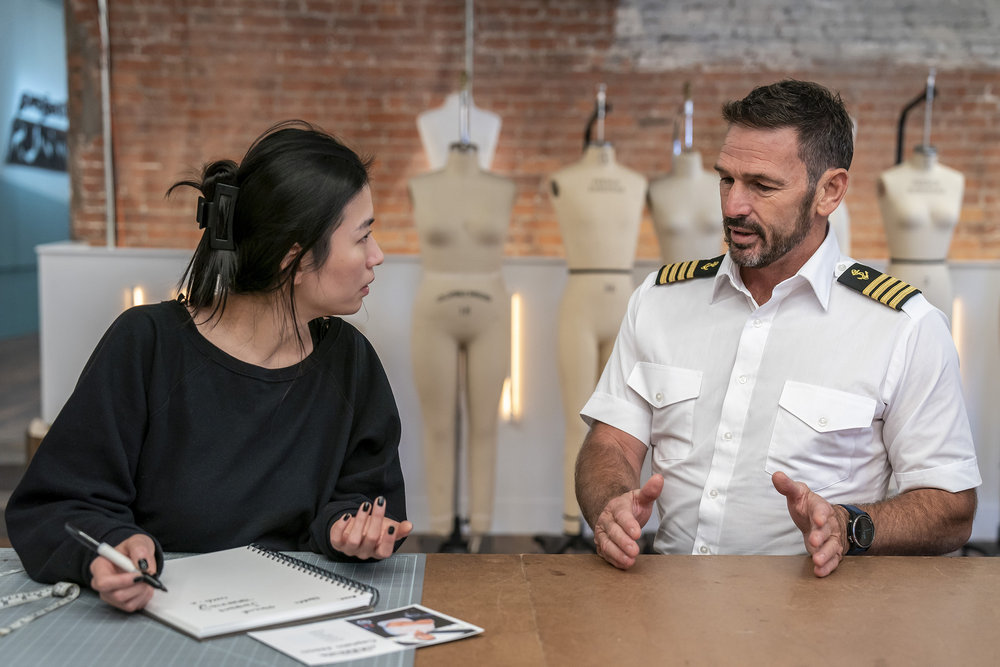 On the second day of design, Christian walks through the workroom doors. He thinks that Rami's details are awesome, but that the outfit could be separates. The dress he's working on might be "limiting." Bishme's design may be too "revealing," but when Bishme says that's what Aesha was looking for, so she can bring in some big tips from the yacht's clients, he backs down.
Prajjé is taking a "big risk," and as for Anna? "You need to really explain this to me," Christian says. Once she does, he seems a little more at peace, but warns, "It better be finished perfectly!" Then, the clients arrive for their fitting.
Christian warns Korto that her outfit is "pretty short." As for Brittany's fit around the neck? "It fits weird," he says. She's terrified that what she's made is too casual. All while Captain Sandy is going around the room, videoing the experience. She's like a fan. It's kinda endearing.
Shots, shots, shots!
As the second day comes to a close, the Below Deck crew invite the designers to the bar. When they get there, it's tequila shots for everybody. Anna seems to go overboard, with a little pushing from Gary. The two enjoy a flirt, both inside and outside the bar. It does seem at one point as though they might actually hook up. You really can't take Gary anywhere.
The next day, Anna is fine. No hangover! She's lucky, because it just so happens to be runway day. As the clients arrive for their final fitting, before hair and makeup, a little shade is thrown. Prajjé calls Kara Saun's look "over the top" in confessional, and is surprised there's no feathers. Elsewhere, Gary is trying to get Anna's attention, but she's in work mode! "No crush on Gary," she confirms in confessional.
Project Runway goes Below Deck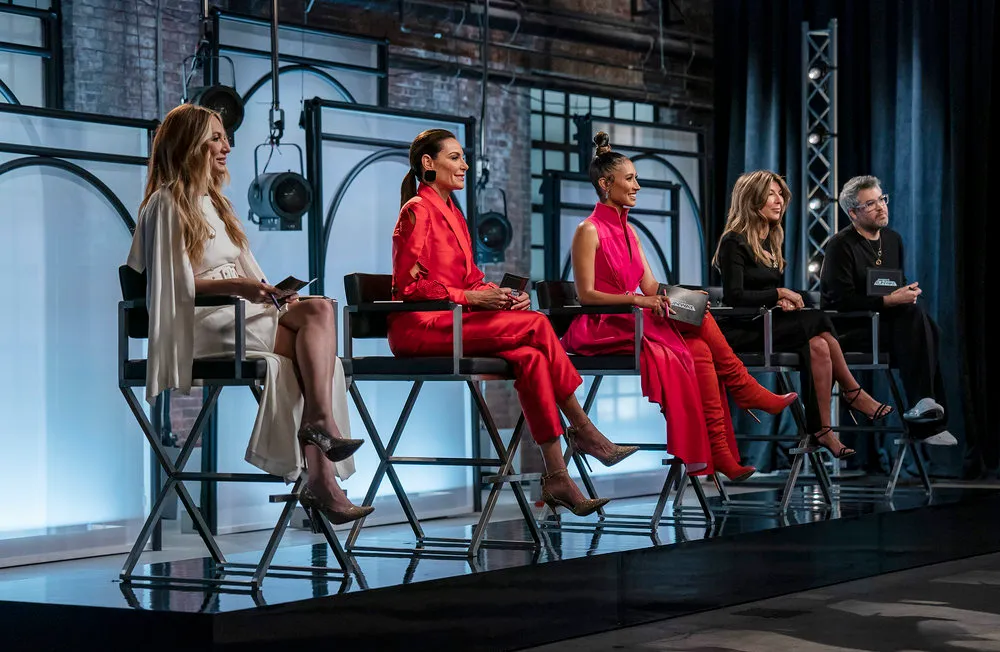 It's time for the runway! Nina Garcia has returned to the judging panel, alongside Elaine and Brandon. It's a super-sized panel this week, with guest judges Kate Chastain, and Luann de Lesseps. An awesome line-up.
Bishme's outfit is first up, and it's an instant success. Aesha looks confident wearing it, and it's a great fit. Classic, but fashion. Everything they asked for. Laurence's design is next, and it's a little disappointing. Gary only looks like a member of the crew when the jacket comes off. Then there's Korto's, whose design may be too casual. Still, she adds a neon yellow trim which really elevates the outfit.
Kara Saun's design is awesome, there's no denying it. But, is it a crew look? Absolutely not. Rami's next, and he has completely redeemed himself. Courtney looks like a leader. There's great attention to detail, and those shoulders are perfection. Brittany has also knocked it outta the park. Colin looks like an engineer, which is pretty handy! This is a design that looks comfortable.
Anna's design is the penultimate one to walk the runway, and I actually loved it. Jason looks great, and it meets what he asked for. Prajjé's outfit is the final one out, and it's all a bit much. Nothing comes together, and it feels flat.
What do the judges think?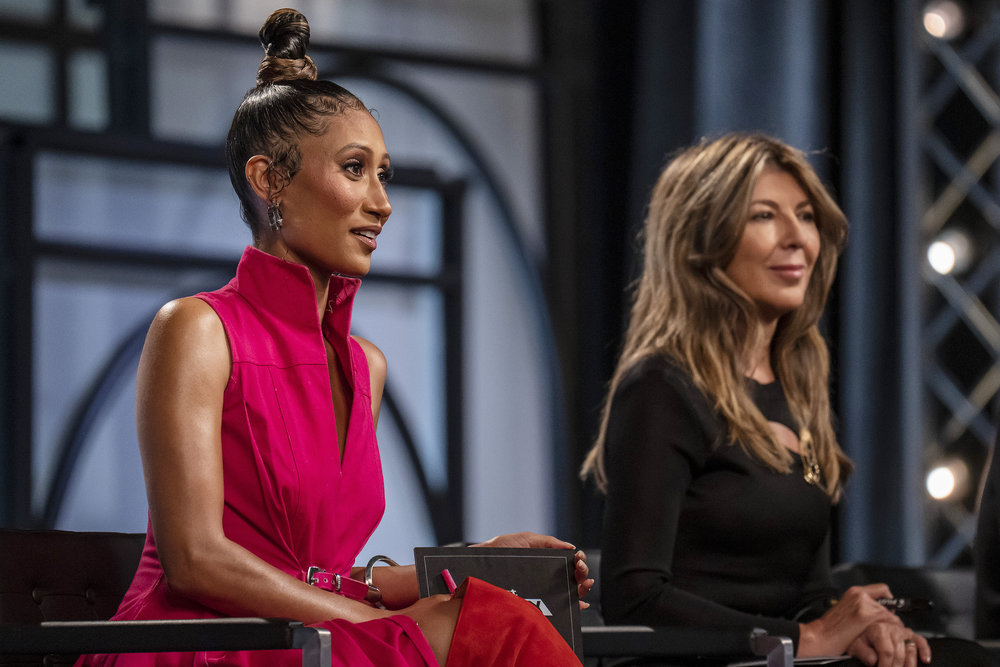 Kate can "definitely see" Rami's design on deck. She also has Korto's outfit in her top two of the night. Brandon disagrees a little with the latter assessment, as he's unsure of the "functionality." He also sees an issue in Anna's "fit and proportion." Captain Jason's outfit wasn't "believable" for Elaine.
Bishme is praised for using the perfect fabric. His mind! Luann thought the "anchor was everything" on Aesha's jacket, and Kate added the whole thing was "so dope." On the other hand, Prajjé's design was "costume-y," said Elaine. Nina found the print "distracting." Laurence also took some hits. Kate said the jacket was "confusing," and Elaine wanted her to push herself more when it came to design.
Kara Saun had "too much going on" for Elaine. Nina would confuse her client for one of the guests, rather than a member of the crew. Brittany brings it back to positivity, though. Her outfit was one that is "very presentable in front of guests," according to Kate.
Who won, and who was sent home?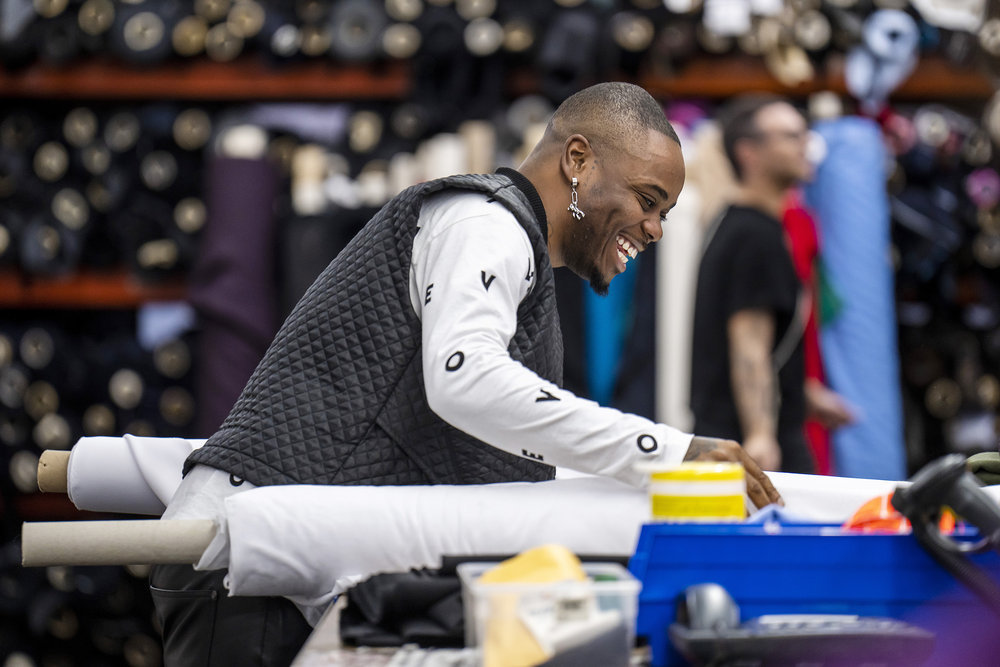 In the end, Bishme, Brittany, and Rami were named the top three All Stars of the week. Bishme ultimately won the competition, with Brittany and Rami being declared safe. They were joined by Laurence and Korto, meaning Anna, Prajjé, and Kara Saun made up the bottom three.
After some deliberation, Anna was sent home. Honestly, it felt a little unfair. She did exactly what the client wanted. What's the point of a client challenge if we don't listen to the client's feedback? He even pushed back on Anna's behalf on some of the criticism while he was up on stage.
In the end, Anna's Project Runway journey came to a close. She wasn't bitter. Instead, she vowed to "keep myself strong, and keep moving forward."
Next week: Another Project Runway first! Designers will be able to make whatever they want, and Prajjé quips, "bitch stole my look!" Bring it on.
Project Runway continues Thursdays at 9/8c on Bravo.
TELL US – WHAT WAS YOUR FAVORITE DESIGN OF THE WEEK? DID YOU LIKE SEEING THE BELOW DECK CAST ON PROJECT RUNWAY? WAS THE RIGHT PERSON SENT HOME?