If Real Housewives of New York alum Ramona Singer made a list of everyone she should apologize to, it would probably wrap around the circumference of the Earth. She's not known for being kind. Or respectful. And empathy does not seem to be a word in her vocabulary warehouse.
No one knows this better than Kristen Taekeman, who appeared with Ramona during Seasons 6 and 7. To say Ramona didn't like Kristen would be an understatement, but she doesn't like most people so it was okay. When Kristen wound up on the RHONY Legacy cast, Ramona had some thoughts. And then she apologized for those thoughts. Page Six has the details.
All aboard the Ramonacoaster, again
It's all rainbows and kittens between Ramona and Kristen, thanks to a private convo. According to the woman who received a glass in the face courtesy of the dignified Ms. Singer, all is well. Prior to heading out on the Legacy trip.
Kristen said, "We actually had a private phone conversation about it before, so we were good going in." Thankfully they were able to "clear the air" after Ramona shocked the world by dissing Kristen when her name was announced.
Back in May, chip off the old block Avery Singer said, "I just genuinely forgot who she [Kristen] was." Naturally, Mommy chimed in with, "Well, everyone did." Ramona went the extra mile when she added, "Why don't we have [alum] Aviva [Drescher]? Why do we have Kristen?" Such a source of love and light, that one.
But Kristen is wiser now and reminded Ramona she wasn't so forgetful when sending out invites to Avery's business launch party. And she pointed this out to Ramona on a now-deleted Instagram Story. It was glorious.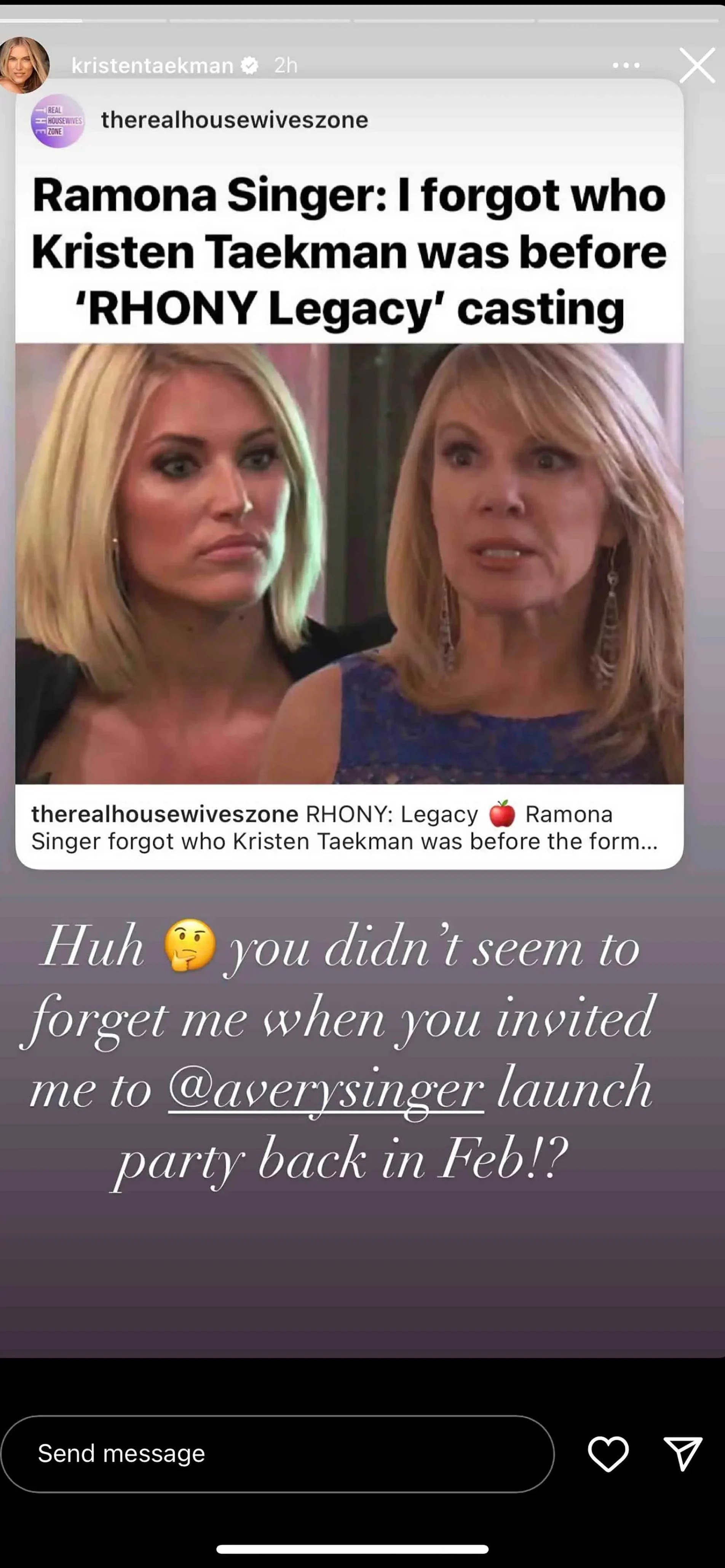 Despite this, Ramona reached out to Kristen before Legacy began filming to get herself out of hot water. "She apologized. She called me and she apologized, so that made me feel better going into it because … she said what she said and I said what I said," Kristen shared.
"And I think it was nice. So we went in with that being cleared, which is good," she added.
Fans will get to see RHUGT: RHONY Legacy set to air in December. Looks like the holidays will be filled with the sounds of Turtle Time!
TELL US – DO YOU THINK RAMONA REALLY CARES ABOUT KRISTEN? DO YOU THINK HER APOLOGY WAS GENUINE?