When a blonde opens up with "Material Girl" in Las Vegas, there are expectations that the rest of the concert will be decent. However, this might not be the case when it comes to the Real Housewives of Beverly Hills' Erika Jayne's residency. Erika has topped the Billboard Dance charts for years with her catchy club songs, but some don't feel that these tunes will translate well to a not-so-sold-out auditorium. 
Fans Find Erika's Show Uncomfortable
Sadly, Erika is not receiving the positive feedback she had hoped for about her newly opened Las Vegas residency. Multiple fans took to Reddit to comment on "Bet It All On The Blonde," with one noting, "It's like her wax figure is performing…her standing in the same exact spot the whole time or the 15 seconds I got through made me uncomfortable." There is no arguing that Erika looks stiff on stage, raising questions if the Ozempic, sorry, we mean menopause, caused her bones to become brittle. 
Another thread participant pointed out that it "Feels so gross to still be singing that 'it's expensive to me-e-e, looking this good don't come from free-e-e.' Like yep we're aware, you know who paid for you to look like this? The orphans and burn victims your husband stole money from…"
Erika Doesn't Have Enough Material
It has become painfully obvious that Erika doesn't have enough songs that people know or even care about to have a full set. Instead of releasing just two singles while on the Real Housewives of Beverly Hills, Erika should have thought of releasing a full CD. Erika performs her top songs, including XXPEN$IVE, How Many Fu*ks, and Rollercoaster. The show is 90 mins, and there are multiple breaks. Erika also had to place cover songs into the lineup, including Madonna, Kool & the Gang's Ladies Night and Chic's Le Freak, and Bruno Mars' Leave The Door Open. Sadly, her lack of movement or any real dance choreography made the performance quite boring and made her look like a wax figurine. 
Erika Isn't That Talented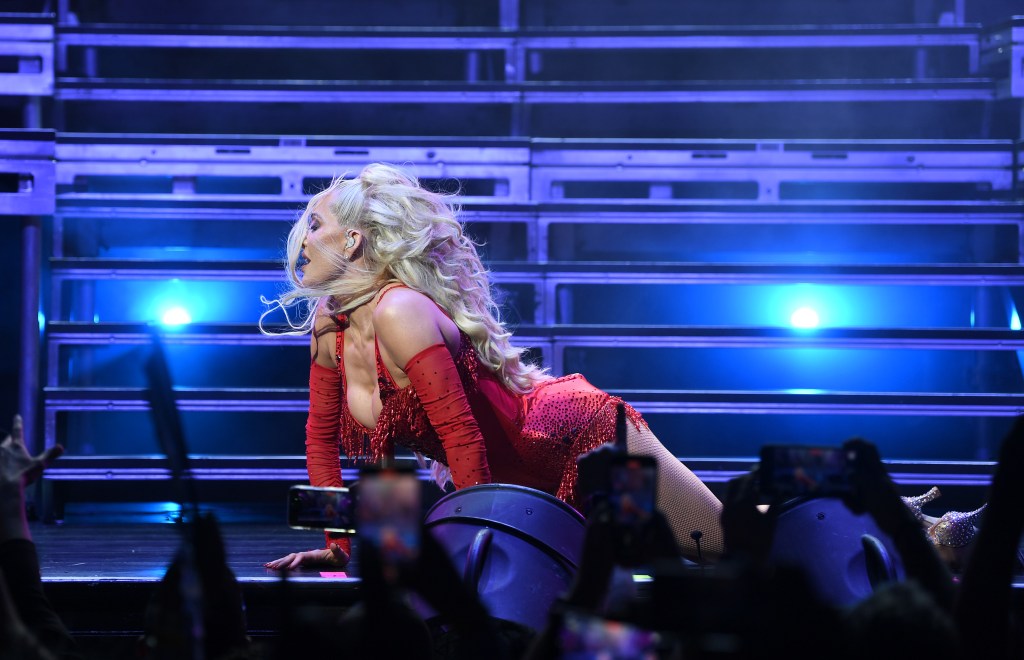 Following your dreams is admirable, and making it to a Las Vegas residency is nothing to poo poo. Still, it feels like the people buying tickets know they are not in for an exceptional vocal performance but rather a chance to get up close and personal with one of their favorite Real Housewives. During the fans' video, you can hear Erika's pitchy and nasal singing as well as heavy breathing at points. With high-quality background vocalists, backup dancers, and a wardrobe, it is easier to cover up Erika's lack of star power.
Tickets Aren't Selling
When House of Blues announced Bet It All On The Blonde, tickets were selling between $94-$194 (including taxes and fees.) However, this didn't cost the parking price at Mandalay Bay, which costs $15-$23. However, there have been reports that the auditorium hasn't been able to sell out, with tickets now going as low as $7. Not to mention, a lot of complimentary tickets have been handed out. While the show is provocative, it doesn't seem worth spending all that money on a one-hit wonder. 
RHOBH Co-Stars Don't Even Care About Seeing the Show
In August, the Real Housewives of Beverly Hills cast missed EJ's performance, but they later made an early September date. However, one Real Housewives star isn't holding back on her thoughts as Sutton Stracke recently annihilated Erika and her show. While talking to Page Six's Virtual Reali-Tea podcast, Sutton told listeners she had no plans on attending a show, saying, "I'm very busy this fall. I'm busy!" The mother of two severely burned Erika about her tickets, noting, "I thought they were $7! Would everyone like to go to the Erika Jayne concert? Because I think I can swing it."
Frankly, if Erika's own castmates aren't interested in going, why should we want to see her slowly gyrate in a cage as a fan blows her hair around? Honestly, we are a bit nervous she might overdo it and break something. 
TELL US – DO YOU HAVE TICKETS FOR ERIKA'S SHOW?