Last night on Real Housewives Of Atlanta, several of the ladies, led by Phaedra Parks, traveled to Washington DC to celebrate the anniversary of the Million Man March, while other ladies remained in Atlanta receiving million dollar guests.
Ayden helps Phaedra pack for the trip, which will involve meeting with several congress members, including Florida representative Frederica Wilson, whose organization inspired Phaedra's newfound passion, Saving Our Sons.
Kim Fields, along with her two sons, Porsha Williams, her two thot-ful daughters Coco and Chanel, and Sheree Whitfield (plus the now adult Kairo!) will also be attending.
CLICK THE CONTINUE READING BUTTON FOR MORE!
So, Phaedra is a single-parent with like 500 jobzzzzzzzzz , yet she still has time to run a foundation? Are we sure we're dealing with a mere human here? Is this some Hermione Granger time-hopping shit? When Jesus took the wheel, he apparently drove Phaedra to a higher level.
Since Ayden is 5, Phaedra packs his belongings in a Louis Vuitton duffel bag. Saving our sons from being materialistic Phaedra is not! I think Phaedra is a very involved mother and those boys definitely adore her – even if they are regaling her with farts! As the mother of sons, I can sympathize.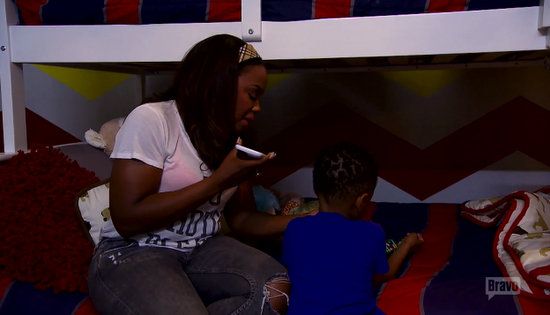 Saving face, Apollo calls from prison and has a parental conversation with Ayden about behaving in school and making good decisions. Apollo's parenting motto, is blessedly, "Do as I say, not as I do!" Phaedra archly describes their situation as "co-parenting."
Then everyone boards a plane for DC, except for Porsha who is standing at the Quick-Trip awaiting the arrival of the underground railroad. Luckily for her, DC actually has one of those thingies – it's called The Metro. You can ride it all the way to Potomac, Maryland, in fact!
Everybody knows that as the proprietress of 52 million jobzzzzz, including the author of a book on informative tips for the Southern Belle, Phaedra is always prepared – especially while traveling! She brought not only her sons to DC but her "team" – comprised of an assistant, hairdresser, and makeup artist – because everybody knows traveling with children is absolute hell! Kim did not get that memo! Did she consult Secrets Of A Southern Belle, Chapter infinity?
Kim, who is also traveling alone with her boys, brought only her iPad and a curling iron. #Teamz Naturally Kim is late and misses the bus to Capital Hill.
Back in Atlanta, Cynthia Bailey is dressed in head-to-toe army green to meet Kenya Moore at the deconstructed remains of her soon-to-be new home. Kenya emerges from the messy rubble concerned about the lack of progress. There's a metaphor in all this, right?  
Seriously Kenya's house, is like Phaedra's jobzzzz – they exist but are surrounded by shadows and no one is quite sure what we're looking at.  As of now Moore Manor resembles the next plot of American Horror Story, (starring NeNe Leakes?!) rather than Kenya's soon-to-be-home. Cynthia is afraid while climbing the rickety steps of Krayonce's delusion.
Kenya, back from her family reunion, tells a shocked Cynthia about her mother refusing to see her. On the bright side Kenya and her father's relationship improved.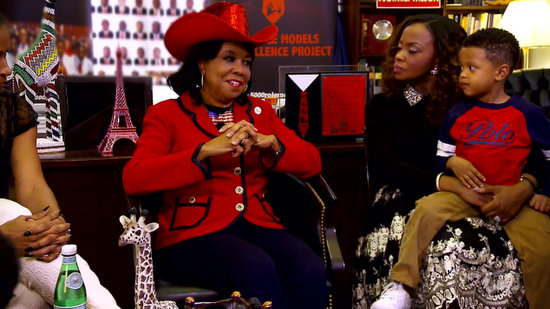 The ladies in DC meet with Phaedra's new mentor Frederica Wilson, who is wearing a red sequined cowboy hat and a patriotic-themed blazer. No, Capital Hill was not celebrating Dress Like Your Favorite Member Of the Village People day. At least I don't think. Porsha, is cosplaying Olivia Pope, but the real scandal is Kim!
Kim arrives late and frazzled, with her hair half up, and is dubbed "Toot Toot" by Frederica. Porsha assumed that was the sound of the underground railroad arriving. The congresswoman describes her organization, which has sent thousands of young black men to college, and discusses the crisis facing black men today, saying, "People do not like African-American boys," and therefore society does not have high expectations for them. An affronted Kim whisks her sons out of the room, complaining the conversation is too adult for 8-year-old Sebastian, who is old enough to understand more. "I don't have the luxury of sugarcoating reality with my sons," decrees Phaedra, blocking a call from FMC-Lexington.
Sheree is confused by "Toot Toot's" priorities and wonders if Kim needs to check the clock, boo because being a mother does not stop the rest of the world. Whoever heard of meeting a congresswoman and being late, then walking out. How dreadful!
Porsha, meanwhile, was inspired by The Man In The Mirror to get involved in the plight of the African-American community. Uhhhh…doesn't her family run the Hosea Williams Foundation? Charity starts at home, lady! And I don't mean by singing to yourself in the mirror.
While Phaedra is confronting broader issues at large, Kenya is confronting Aunt Lori about why she abruptly left Kenya's Family Reunion. Aunt Lori is frustrated because Kenya went to her mother's house unannounced, but Kenya argues that she has the right to speak to Patricia.
I think what was being edited out was 'on camera'.  I do believe Aunt Lori's main issue with the situation was Kenya showing up to her mother's house, unannounced, with a camera crew, and expected the woman to talk! I'm all for Kenya finding closure and demanding what answers she can from the mother who spent Kenya's life playing mind games with her, but I definitely don't think that should have been a camera moment. Hallmark Movie Channel this is not – it's softly-scripted real-ish life!
Aunt Lori echos Kenya's father in advising Kenya to let her mother go. Easier said than done for sure, but what else can Kenya do at this point? As Kenya describes a childhood of her mother completely ignoring her at family functions and the family not saying anything, my mouth dropped. Aunt Lori insisted they did confront Patricia, when Kenya was not there, but what could they do? How about not bringing a child to an event where her mother would pretend she didn't exist? In the end Kenya has found closure, and realizes she can count on Aunt Lori and her father.
Back in DC, it's time for a luncheon at the Congressional Black Caucus, which is scheduled for the exact same time Kim's kids start having tantrums. Sebastian because he is bored and Quincy because it's naptime. While Phaedra's team whisks her boys away to a more children-appropriate venue that does not serve frisse salad over political chat, Kim is sulking on the bus with McDonald's over being few prizes short of a Happy Meal.
Phaedra has no time to save Kim's child care, she's saving the nation! Sheree checks in on Kim, but has very little sympathy. Kim decides she'd rather save her sons from boredom by taking them back to the hotel.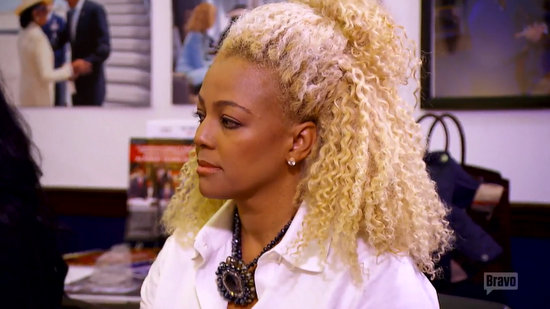 Kim grumbles that Phaedra's jaunt around DC is "not for kids" and I quite agree. Some qualified nannies needed to be showing the children around the Natural History Museum while Phaedra and the ladies hobnobbed on capital hill. They can all reconvene for dinner at Rainforest Café.
Speaking of family matters, Todd has big plans to open Kandi Burruss' family restaurant based on the recipes of the Old Lady Gang. Kandi doesn't seem to have any details about Todd's plans, and frets about her elderly aunts working in a restaurant.
Todd, who is responsible for one-third of Baby Tucker's existence (Dr. Jackie being the other involved party), is now heralded as a hero and worshipped by even Mama Joyce. Now if I were were Todd, I'd be afraid and wondering what dastardly tricks MJ had up the sleeves Kandi bought her. But perhaps being a grandmother again has softened Mama Joyce? Or psych meds have!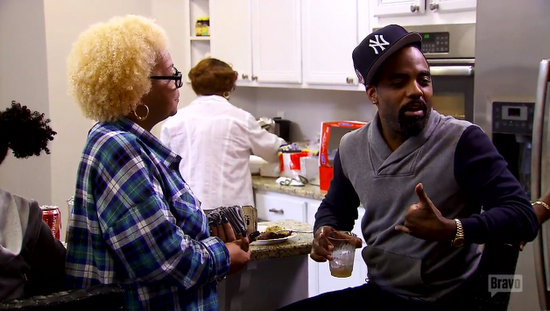 Todd pitches the restaurant, including the idea of the sign being a WANTED poster with the OLG's picture on it. Aunt Bertha is not game. Everyone else pretends to be excited. The cuisine will be southern. In my mind Kandi and Todd serve everything out of those ceramic cups made to look like Solo Cups, and all the other dishes are picnic-ware. Also, I mean I love Mac and Cheese as much as the next American girl, but what's so exciting about serving the same thing as Cracker Barrel?
In DC the ladies are attending the Million Man March. Again Kim has to leave early, this time because she is hosting a charity gala of her own back in Atlanta. 
Sheree's son Kairo arrives and everyone is shocked by the 6'6 tall 19-year-old he's become. Porsha, already wearing an inappropriately low-cut dress greets him with Coco and Chanel, helped along by Phaedra announcing that Kairo is "legal." She by SheHulk does not play. "Legal for what?!" Sheree snaps, checking Coco, Chanel, and Porsha right at the door. Sheree is definitely saving her son! Thank God!
At the march, Kim departs and Phaedra hauls her sons up on stage (to deafen them by proximity to the enormous audio system?) to hear speeches describe the plight of the African-American community, and mothers of slain sons describe the heartache. As Ayden and Dylan behave like mini adults, in the audience Porsha whines like a child because she's hungry and bored and no one brought snacks. I'm quite certain there's a hot dog cart around there, but she was pleasantly surprised when a nice woman handed her some Cheetos.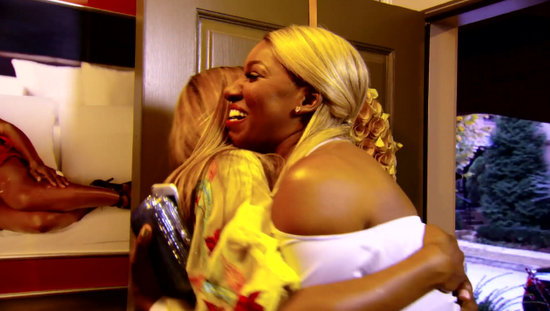 Oh, and speaking of surprises NeNe has reappeared. In her short absence NeNe's ego has only inflated, as has her delusion about what constitutes attractive hair and cleavage. Or dresses.
Cynthia greets NeNe wearing what appears to be a robe, and they are now friends again having missed each other tremendously and forgotten what they were even fighting over. Apparently Cynthia realized it was Peter who was ruining her marriage, not NeNe. Catching up over guacamole and champs, NeNe graciously agrees to unblock Cynthia on twitter and brags about allowing Kandi and Kenya to haggle over her crown as the queen of RHOA, but now NeNe will be reclaiming that title – BLOOP! – and if they don't like it she has a scepter they can fight.
Oof – I am not impressed with NeNe's ponytail. Nor whatever low-rent figure-skating costume she is wearing in the confessional interview. NeNe keeps talking about her boobs and drawing attention to them, saying she gave birth to twins, so maybe she and Phaedra got a two-for-one boob job deal?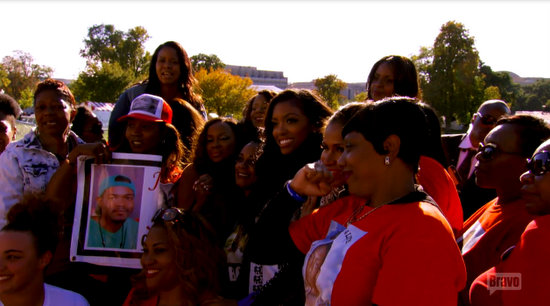 Anyway, NeNe is back to save Real Housewives Of Atlanta. And in DC, Phaedra closes the episode with an emotional moment from the mothers of other sons wrongly killed by police officers. I'm glad to see Bravo using their platform to draw attention to something truly important for a change and I do hope Phaedra is sincere in making a difference that goes beyond posting an Usie on instagram.
TELL US – WAS KIM BEING RUDE IN WASHINGTON? ARE YOU GLAD NENE IS BACK?
[Photo Credits: Bravo]