Kail Lowry is now the proud owner of a Kim Kardashian ass Brazilian Butt Lifted booty! 
The Teen Mom 2 star had the procedure done by famed plastic surgeon Dr. Michael Salzhauer (aka Dr. Miami), who also gave Kail a tummy tuck. 
CLICK THE CONTINUE READING BUTTON FOR MORE! WARNING: Photos May Not Be Safe For Work Or Kids!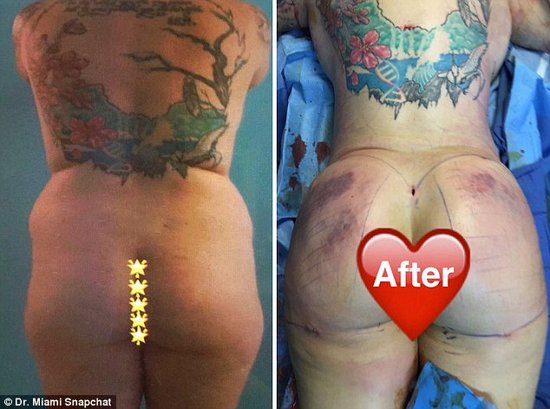 I don't know if this breaks patient/doctor confidentiality but Dr. Miami posted before and after shots of Kail's procedures on SnapChat for all the world to see. They were also on Instagram before he made his page private. 
PageSix revealed that Kail got a discount from the doctor, who also gave TM3's Briana DeJesus a boob job, in exchange for publicity. Kail hasn't revealed her results yet – she's still healing after having the procedure done last Sunday. At least Kail and Briana didn't try to get their work paid for via MyFreeImplants, like some Teen Mom stars… 
You can see another shot of Kail's work here. 
Kailyn, who has been working out and lost a significant amount of weight over the last year, defended her decision to get enhanced. She tweeted, "I actually Only care about the attention I get from [my] husband." Errrrmmmm… 
Moving along, MTV is now creating Teen Mom UK. After Farrah Abraham they want more?!
The Ashley's Reality Roundup revealed that MTV UK is currently casting for an 8-episode series that will chronicle "teen mums who want to share their story and experiences, and we will need the teen mums family to be involved and to be supportive of the project…" says the casting notice. 
"The U.K. version of the show will have the same core value of authenticity as the original and will follow a cast of teenage girls juggling their emotional teenage years with becoming a parent for the first time," says a MTV UK's Jill Offman about the new series. 
Apparently MTV UK has a history of taking popular US shows and reworking them for a British audience, such as Geordie Shore based on Jersey Shore. The promise to give Teen Mom UK "a fresh lease of life, combined with a unique British twist." 
TELL US – WHAT DO YOU THINK OF KAIL'S WORK? WOULD YOU WATCH TEEN MOM UK?
[Photo Credits:  Jeff Grossman/WENN.com & Snapchat]