On last night's episode of Teen Mom 2, we witnessed the first part of the reunion hosted by  Dr. Drew Pinsky and Nessa Diab. These two didn't waste any time, they jumped right into the drama in the first five minutes of the show. This was the first time many of the cast members saw each other since the drama last reunion.Grab a cocktail or a snack and let's mind their business for a little while longer!
The show opened up with Leah Messer and Chelsea Houska who are the only two moms who weren't involved in the drama last year. The rest of the moms refused to be on stage with one another this year. MTV was messy re-showing the video footage of Kailyn Lowry being grabbed after an explosive argument with Briana DeJesus. You would think Kailyn would have learned a lesson and stopped inciting beefs with other people. I think the only lesson she learned was to talk crap behind their back and avoid them at all costs. I guess she doesn't want to risk having her wig snatched again.
Leah & Chelsea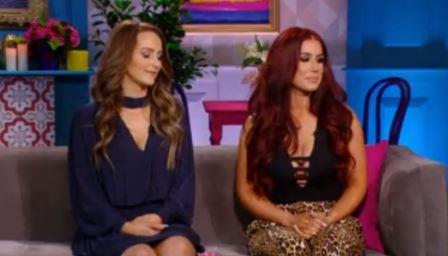 Leah was the first to sit on the couch to discuss her life and what we saw throughout the season. We got more of the tea about Leah's breakup with Jason Jordan. She was pretty tight-lipped during the season, but gave more details. Apparently, Jason called his ex-wife on Valentine's Day, despite not talking to Leah at all. I'm sure there is more to the story, but that tidbit of information alone, reveals a lot.
Leah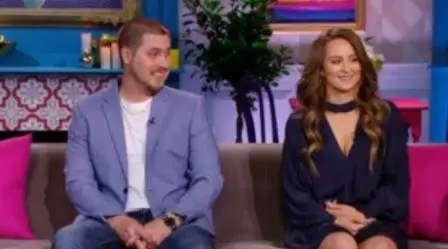 Jeremy Calvert joined the conversation and shed more light on Jason . He revealed that Jason was way more controlling than anyone would have guessed. When Jeremy would call Leah, she was forced to put her calls on speaker.
Jason felt he needed to monitor their calls. Wow… Nessa asks Jeremy about his relationship status and what's going on with him and Leah. Leah responds "This weekend we had fun."  Both play coy, but it is clear there is more to the story. I wouldn't be surprised if they shared one room while they were in town for the reunion. Hmm… I kind of like the thought of them back together. But, I am not totally sold yet. Stay tuned, we may have an official couple alert soon.
Leah's daughter, Addie joined the show via video chat to answer audience questions. This scene couldn't have been more adorable. Addie may have a future in show business. She was extremely poised for a child of her age. She is not only hilarious, but able to confidently answer every question. I love it!! I have said this before, but I am so proud of Leah. She has come a LONG way over the years. At one point she could barely get her kids to school. She has blossomed into a mature adult and a great mom.
Kailyn
Kailyn was next to sit on the hot seat. Nessa is shadyyyyyyyyyyyyyyy!!!! She introduces her by saying "Kailyn is raising three sons by three different fathers." There are no lies told, but I don't think anyone needed that reminder. Of course, it wouldn't be right if Kailyn didn't update us on who she hates now. She reveals that she left Chris Lopez because he humiliated her. Ummm… hasn't he been doing that all season?
She threw a baby shower for his best friend and someone who he cheated on her with attended. She sat next to the woman during the shower and no one told her. That was the last straw for her in the relationship. I  feel like the last straw should have been that he appeared to not want to be with you. But who am I?
Kailyn also discussed her relationship with her sister. She claims it is hard to prioritize their lives, which translates to confirmation she was only there for the show. At least, in my mind. In an interesting twist, Kailyn claims she would sit with Jenelle Evans over Briana. I thought she would refuse both, but I guess last year's fight makes that impossible. Kailyn wasn't offended by Jenelle torching her products because she expected her to do something of the sort. If that is the case, I wouldn't have sent her anything!
Briana
Briana revealed that Nova's father  Devoin Austin may not be all that he is cracked up to be after all. She hasn't talked to him in a while because he got drunk while watching Nova and her friends at the pool. This will be highlighted more next season, but I definitely understand her anger over the situation. Briana's boo, John Rodriguez came out to support his girlfriend and got grilled by the hosts. Nessa jumps straight to whether or not he wants to have kids with her. I'm glad John doesn't seem to fold under pressure because this is a reoccurring question. You would think people in Briana's life would discourage her from rushing to have another child.
Jenelle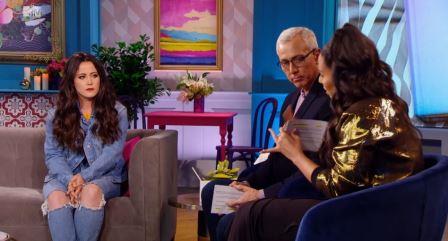 Now ladies and gentleman the interview you have been waiting for…Jenelle has made it to the stage. This season Jenelle has been plagued with drama which has subsequently caused her to lose her job on Teen Mom 2 and her children. She discusses Amber Portwood and how she felt she should have talked to her privately instead of on social media. Nessa is quick to check her about doing the same thing to her on social media. Apparently, she made several posts about Nessa's boyfriend, Colin Kaepernick.  Of course, Jenelle is quick to play victim and denied ever seeing the posts or knowing what she is talking about. She then began to play victim and cry and run off the stage. Ugh… good riddens.
MTV has coddled this nuisance to society for way too long and has made her believe she is beyond reproach. I'm sure part two will show Dr. Drew begging her to come back on stage, but I am over Jenelle's antics. Bye B!%@#, Bye! If you can't take the heat get out of the kitchen. Jenelle talks way to much crap to not be able to handle a confrontation about what she said.
TELL US-DO YOU THINK DEVOIN AUSTIN SHOULD GET A SECOND CHANCE AFTER THE POOL INCIDENT? WHO SAW KAILYN'S BREAK UP WITH CHRIS COMING? DO YOU WANT LEAH AND JEREMY TO GET BACK TOGETHER? WHAT DID YOU THINK OF JENELLE AND NESSA'S EXCHANGE?
[Photo Credit: MTV]