Big changes are about to come to Teresa Giudice's life and, according to her, big changes are also coming to Real Housewives Of New Jersey, but "It's all good!" 
In prison Teresa found her zen and since she had lots and lots of time on her hands to think about why she defrauded the government to practice yoga and learn to balance on her hands. Now Teresa plans to turn her newfound love into a new career as a yoga teacher. ""I'm in the process of getting certified," she reveals. Oh goodness – Teresa guiding me through inner peace. There is no namaste in that. Fabulicious Yoga, anyone?
Isn't the first premise of yoga being present. You know, in reality? Not reality TV, but actual non-delusional thinking reality? 
CLICK THE CONTINUE READING BUTTON FOR MORE!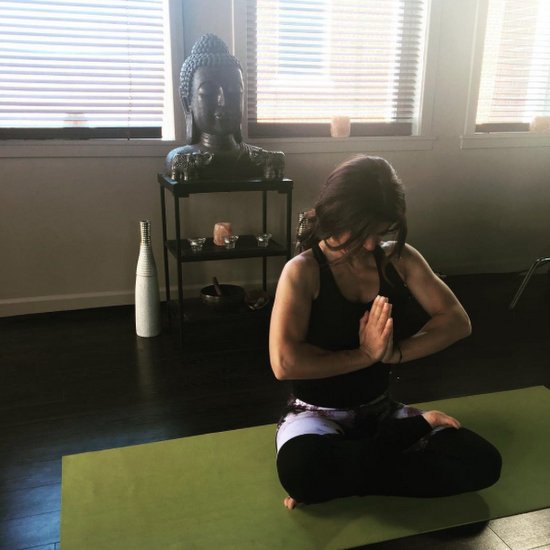 Teresa practices yoga
However, a new career doesn't mean Teresa isn't focused on her old career as a Real Housewife. We've seen the evolution of Teresa in astonishing ways over the course of her 6 seasons on Real Housewives Of New Jersey, and possibly the best is to come. 
"I have to say I'm excited about this season," Teresa tells Extra. "New people coming on and new blood, it's a fresh new lift to what we needed and I think everyone's going to be happy once they see it." This season will also see a return of Jacqueline Laurita. 
Now that we've gotten the good stuff out of the way, it's time to focus on the bad stuff Teresa is dealing with – like husband Joe Giudice leaving for prison later this month. Is Teresa prepared to become a single mom? "Unfortunately, I have no choice," she sighs. At least she'll probably get a Bravo spinoff out of it! #MoneyMoneyMoney
Before Joe leaves, the couple is devoted to making each day count. "We're just taking it day by day and just focusing on being with our daughters, and with each other," shares Teresa. "We're enjoying every minute that we have with each other." 
Which means no time for Dancing With The Stars. Teresa was rumored to be a contender for this season. She explains, "I'm filming for 'Housewives' and with my husband… it just wouldn't work. I would love to – that's one of my favorite shows!" There's always next season… unless Melissa beats her to it. OR better yet – have both Teresa and Melissa compete against each other. Actually, yeah, that would be awesome – make that happen ABC!
TELL US – ARE YOU SURPRISE BY TERESA'S NEWFOUND LOVE OF YOGA? ARE YOU EXCITED FOR THIS SEASON OF RHONJ?
[Photo Credits: Instagram & Instagram]