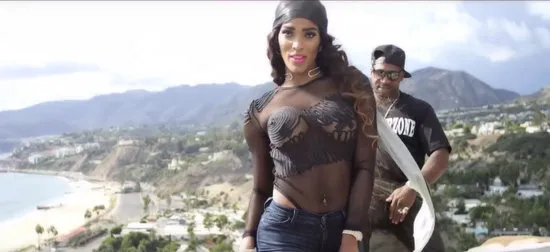 Lest you believe Joseline Hernandez's new music video "Church" is an ode to being fixed by Jesus (or Jesus at all), it's actually a lyrically gifted treatise (*sarcasm) about she herself being the church, the steeple, and everything in between. Apparently her dance moves and booty are so mesmerizing they inspire religious devotion, or something.  
The Love & Hip Hop Atlanta star personifies divine greatness by telling "daddy" she must go to work – work being a metaphor for what Joseline (and her ass) will give a man. All preached while rolling around the rocky beaches in a bikini, praising the Lord for her own fabulosity. 
CLICK THE CONTINUE READING BUTTON FOR MORE!
Naturally Stevie J makes several cameos in the video. Cause we need a little mix of heaven and hell? 
Some gems from Joseline's "Church" lyrics:
"You scared? Go to church. Let a b—h go to work. I make the boys go berserk. Every time I dance, he's staring at my ass. You gotta break bread, if I give you this work."
"Today, daddy, is when I show you how it's done. Come here, right quick. Let me show you something."
Perhaps I'm missing the point. Perhaps I'm missing the bible that guides me into spiritual center of how Joseline's church (and her definition of "work") work. 
Anyway, you can decide for yourself below!
TELL US – WHAT DO YOU THINK OF 'CHURCH'? AM I MISINTERPRETING THE WORD ACCORDING TO JOSELINE?
[Photo Credit: "Church"]