Like all things, Kenya Moore's reality and fiction get a little wonky. For months the Real Housewives Of Atlanta star has been busy working on Moore Manor and promising she's moving in any day now… Apparently everyone building a house in Atlanta is on Sheree Whitfield Time! 
Kenya is currently focusing on the master bathroom, where she installed a deep soaker tub, but all hasn't gone according to plan! Kenya shared that her latest setback revolved around counter tops.
CLICK THE CONTINUE READING BUTTON FOR MORE!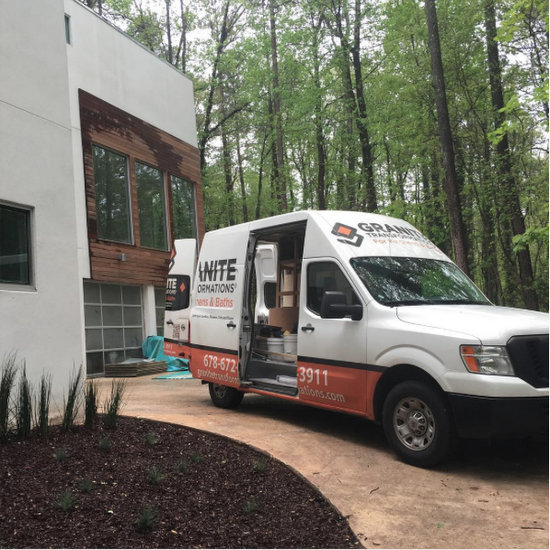 "Been waiting patiently for #granitetransformations to install my kitchen and bathroom Quartz so I can finally move in! They flew in their best installer from Italy just to make sure my kitchen and master bathroom is perfect!" Kenya shared on instagram. "I'm so excited! @granitetransformations #mooremanor #modernhomes #quartz #modernatlanta #kitchen #bath" [Credit: Instagram]
Last month Kenya held a moving sale to liquidate some of her unwanted assets – there was speculation that she was making room for boyfriend Matt Jordan to move in (or a baby!), and sure enough Kenya shared, then deleted, a photo of Matt's t-shirt hanging in one of the Moore Manor closets implying it was his closet. Hmmmm… 
Kenya herself has been planning a much more feminine place to hang her designer. She's planning a huge crystal waterfall chandelier.
"Master hers closet chandelier … Thoughts?" [Credit: Instagram]
Perhaps this will motivate Kenya's BFF Cynthia Bailey to do some renovations in her own dressing room. 
Still no word on when Kenya is officially moving in – but she promises that it will be soon! 
TELL US – WILL MOORE MANOR EVER BE DONE? DO YOU THINK MATT IS MOVING IN?
[Main Photo Credit: Instagram]