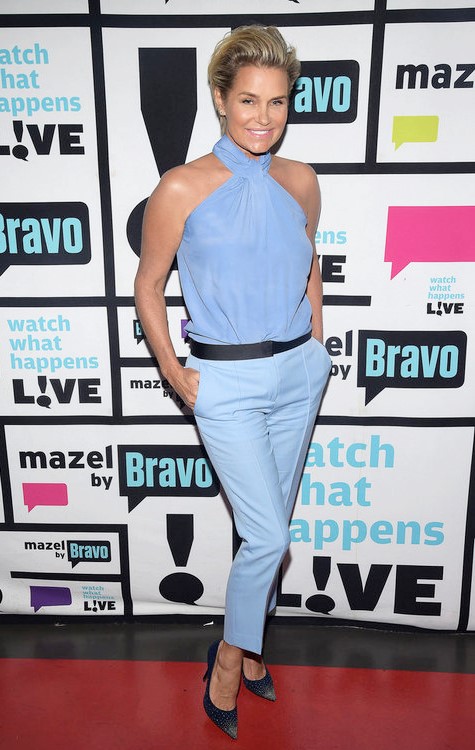 It's official. Yolanda Foster has secured a book deal to share her journey with the masses. And, believe it or not, there are more sick selfies to be seen.
"I just signed a deal," the Real Housewives of Beverly Hills star announced on the WWHL After Show. "So, I am, right now, trying to find a co-writer to do it with me. And I'll be focused on that for the next six months. I'm excited because I have so much to share. It's been such a long journey." #UNDERSTATEMENT
CLICK CONTINUE READING FOR MORE!
Earlier this year, Yolanda told The Daily Dish, "I have been wanting to write a book, obviously, for four years, but haven't had the brain power to do so. I've documented my entire journey with photographs because I learned, in today's world, everything is kind of visual. People don't really read that much anymore. Pictures really hit home."
Yolanda continued, "It's funny because the girls on the show kind of judge me for posting a picture with an IV – which is nothing compared the pictures that I have and the story that I have to tell. It's very detailed. It's about all the treatments that I've tried, all the different places that I've been in the world, but mainly it's about my spiritual journey that came with this."
On Tuesday, Yolanda told Andy, "Obviously, I would've wished that my friends would've trusted my journey and would've been part of it more than they were."
Are they real friends or are they superficial "Hollywood" friends? She can't have it both ways – if YoYo is going to dismiss some of her co-stars as "superficial friends" (and I'm not saying she's wrong), she can't then bitch that they don't do what "real friends" would be expected to do.
Yolanda, as humble as ever, went on to surmise that she's brought more awareness to Chronic Lyme Disease than any other person in the world. "I have opened the book of Lyme disease and brought more awareness to the disease more than probably anybody in the world. For that, I am grateful to Bravo at the end of the day, and that's what I kept focusing on."
"I owe it to the Lyme community," added Yolanda. "I have the platform. I owe it to them to get changes made with the CDC, change the guidelines, and have it become something that's paid for by insurances. There's a lot of people that suffer, like me, that can't get treatment because we are only allowed 28 days of antibiotics. It's a crime."
I'll pass. I'd rather "read" Kim Kardashian's book of selfies, Selfish, than read about Yolanda's journey and see more of Yolanda's sick selfies. For me, the "crime" here is that Yolanda held everything she's learned (which treatments worked, which didn't, which made her worse, etc.) in "the vault" until she inked a book deal.
TELL US: WILL YOU READ YOLANDA'S BOOK? GIVE US YOUR BEST TITLE SUGGESTIONS!

Photo Credit: Charles Sykes/Bravo