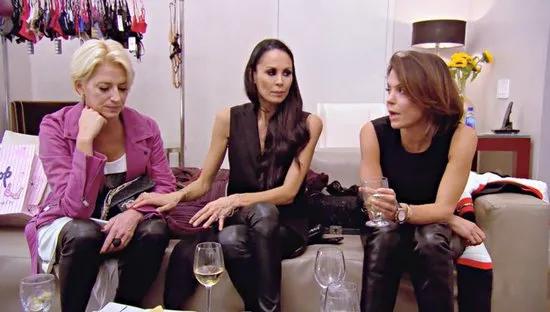 Is it just me or were the gods of timing totally working in Bravo's favor on the most recent episode of Real Housewives of New York? It's like the second Bethenny Frankel and Ramona Singer started talking smack about Dorinda Medley's hard-partying beau, he was RIGHT. THERE. Partying harder and yelling louder. Do you think the producers had him secretly hidden behind that bra rack the entire time? 
Of course, Bethenny is the queen of "I told you so," and she's also still wary of new addition Jules Wainstein. Someone younger and skinnier? She must be horrendous! (At least according to the laws of Skinnygirl).
CLICK THE CONTINUE READING BUTTON FOR MORE!   
Discussing the showdown (and reminding us all about how the drama ruined her birthday), Bethenny writes, "Ummmm how the hell do I write about this insane episode? Don't say I didn't warn you. Well, happy birthday to myself. And Jules, thanks for calling us 'elderly.' It's just what a woman wants to hear on her birthday."
Bethenny asserts, "I mean that was pure insanity. Need I explain it? I think it spoke for itself. I call 'em like I see 'em. I grew up in a crazy world, and let's just say I get a sense about these things."
She continues her Bravo blog, revealing, "I really am speechless. I feel badly for Dorinda for a multitude of reasons. I think what John said about Ramona was below the belt, and I think Jules made it crystal clear that I started it," adding, "But, to be clear, if what I said to Dorinda brought out that beast, then I am glad. It vindicated us for our sixth sense."
I have to agree with that statement. Bethenny and Ramona (and everyone else with a pair of eyeballs and a remote control) can see just how messy John is, and I don't doubt for a second he said the things Ramona claimed. That said, Bethenny speechless? Not now, not ever!
The RHONY star concludes," Honestly, I have no words. Just trust me when I say it keeps getting better, and next week is challenging for me."
Challenging? Do tell…
TELL US – WHAT DO YOU THINK OF BETHENNY'S BLOG? IS SHE RIGHT ABOUT JOHN? 
[Photo Credit: Bravo]