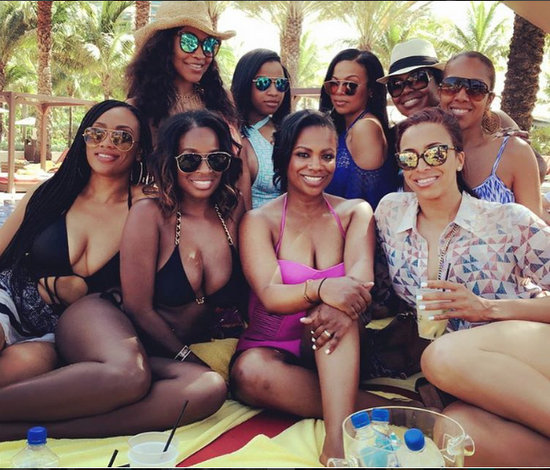 Kandi Burruss is going all out to celebrate her 40th birthday– and she wasn't alone! Kandi and several of her reality TV friends with May/June birthdays took a big trip to the Bahamas, bringing along spouses, kids, and personal assistants!
The Real Housewives Of Atlanta star was joined by friends Rasheeda Frost, Shamea Morton, Monyetta Shaw, Toya Wright and many more!
Photos of the Taurus/Gemini Bahamas Birthday Turn-up are below! 
CLICK CONTINUE READING FOR THE PHOTOS!
Some videos from the ladies trip are below!
Kandi shared, "Follow me on snap! #KandiBurruss #BahamaTakeover #MayBabies we had a dance battle against the hotel staff! @shameamorton won."
"We were in rare form this weekend! If you aren't following me on snap you missed a lot! Follow me on SC :KandiBurruss. Look at our soul train line. @shameamorton @monyettashaw @toyawright @rasheedadabosschick @carmoncambrice, Peaches, & @paisleyskyy We killed it!" 
"If u know me then you know I don't play with water," revealed Toya. "lol I conquered one of my biggest fears this weekend. #somuchfun #living #funtimes #theyaintlivin #itsbetterinbahamas #covecation ( I started going crazy when @thefauxpro went to far out tho.)" 
Monyetta wrote, "Celebrating the #maybabies on yesterday at this special brunch! Good times!!! I had a BLAST with these amazing women! Sending a special thanks to everyone for the beautiful welcome & birthday wishes!!! cc: @kandiburruss @rasheedadabosschick @shameamorton @thefauxpro @thepinkzebraboutique #Covecation #itsbetterinthebahamas #taurus #gemini #geminiseason #Bahamas #HappyBirthday Countdown to #may31" 
TELL US – WHO WAS THE BEST DRESSED IN THE BAHAMAS!
[Main Photo Credit: Instagram]