These former Real Housewives of Miami stars will really do whatever they can to have pop cultural relevancy. First you have Joanna Krupa for really doing the most and suing Brandi Glanville for comments that she made about Joanna's below the waist odor on Watch What Happens Live.
And now Lea Black decided to diss both Joanna and Brandi in a tweet in an obvious bid to get some attention. The ironic part about this whole thing is that Joanna made this way more dramatic and public than it ever was by dragging it out with this slander lawsuit. Because now, even more people are talking about the alleged scent of her vaginal area.
CLICK "CONTINUE READING" FOR MORE!
This whole story just reeks (I just had to use that word) of desperation on all accounts. It is the most ridiculous thing. But anyway, Lea decided to get some attention come for the former Real Housewives star in a tweet and Brandi responded – of course.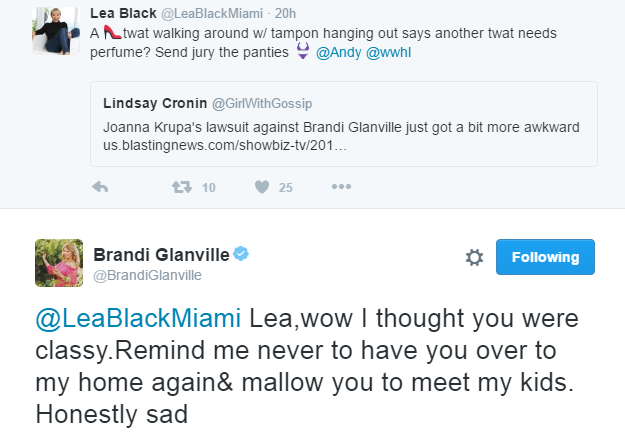 This whole thing is just sad. They all need to grow up and move on.
Lea needs to stop trying to be relevant in the Real Housewives world – or at least be a nicer person so more people like her. Also, Brandi should really give her tweets a quick read through before she sends them out – especially if she's trying to lay down the law with an insult.
TELL US – WHOSE SIDE ARE YOU ON? OR DO YOU THINK THIS WHOLE THING IS JUST RIDICULOUS?
Photo Credit: E!