Ever since Farrah Abraham appeared as a pregnant cheerleader on 16 & Pregnant, she has been heavily maligned by the media and TV viewers for everything from her teenage pregnancy, to her plastic surgery, to her sex tape. But by far the most predominant criticisms are about Farrah's mothering skills. These days, Farrah's daughter Sophia Abraham is following in her cheerleading footsteps while her on-again-off-again boyfriend Simon Saran is dishing on her parenting abilities.
CLICK "CONTINUE READING" FOR MORE
Although it is very easy to take digs at Farrah for her choices and shameless pursuit of overexposure, it's hard to know what to believe when it comes the constant gossip about the Teen Mom star. With that said, I can't help being curious about what Farrah's ex has to say about the chronically controversial TV personality.
It's hard to tell where Farrah and Simon stand with each other since their relationship really seems unclear at all times. In an exclusive interview with RadarOnline, Simon explained his relationship with Farrah, "It's definitely an adventure. Some really good moments and some really awful moments. But that's what keeps it interesting." That's a statement that the Teen Mom viewers would agree with.
RELATED: Farrah Abraham Talks God, Money, Parenting, and More
Even with their up and down relationship status, Simon has nothing but glowing reviews for Farrah as a mother, "Farrah does come under a lot of fire. But off cameras Farrah is an amazing mother to Sophia." I'm not sure what he means by "off camera." I would like to assume that he is alluding to MTV using the least flattering footage in the show's final edits – which is often the case with reality TV. It could also mean that Farrah plays up the drama for the sake of creating dramatic television. Hopefully, he did not mean to imply the latter.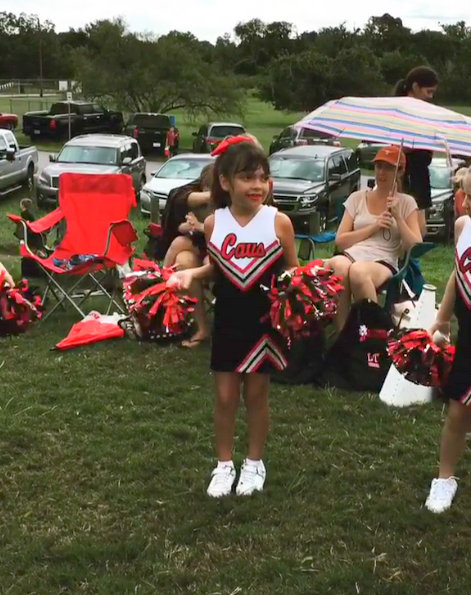 Simon was very clear when he commended Sophia for being a single mother when he remarked, "She plays both the mother and father role for Sophia. It takes a lot of strength." No matter what you have to say about Farrah, everyone can agree that she does take on a lot being a single parent. Obviously, her parenting abilities are up for debate with a lot of people, but it is definitely interesting to hear about someone defending her for once instead of the constant backlash that she receives.
RELATED: Farrah Abraham Channeling Her Inner Monster High Doll
Anyone who was watching 16 & pregnant back in the day has to remember Farrah rocking her school cheerleader uniform when she announced that she was pregnant, so life is really coming full circle now that Farrah's daughter has decided to start cheering as well. Farrah put up a video of Sophia doing her thing with the caption: "Love my cheer boss @sophialabraham. #proudmom #cheermom First game of the season! #football #cheerleading" The seven year old also posted a video from her own Instagram account with the words, "First Game! #cheer #football #cheerleader @farrah__abraham"
It's much easier for most people to criticize Farrah as a mom than to look for something good, but hopefully Simon's comments are accurate and Sophia is getting the mother that she deserves to raise her and getting her involved with an organized activity should be a good thing, at least in theory.
TELL US – WHAT DO YOU THINK ABOUT SIMON'S COMMENTS ABOUT FARRAH AS A MOTHER?
[Photo Credit: Instagram]