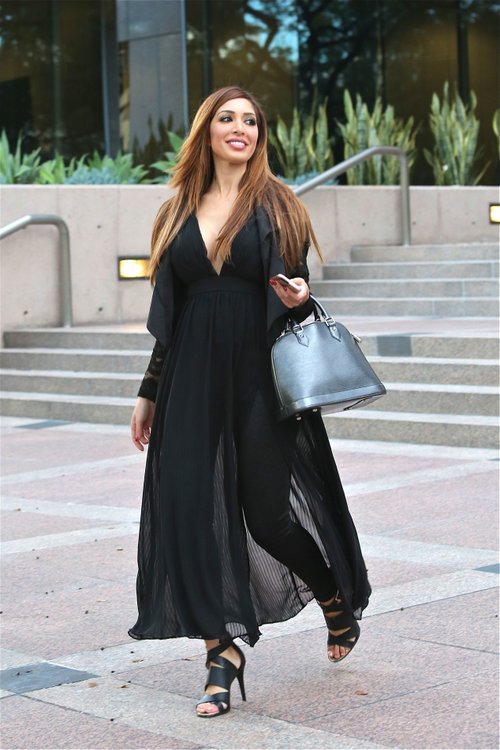 Farrah Abraham claims she was tricked into making her sex tape, Backdoor Teen Mom, but in a recently uncovered hilarious court filing, the Teen Mom OG star is being accused by Jonathan Lee Riches of secretly filming a sex tape with him, then blackmailing him by threatening to release it! And that's just the tip of the iceberg in this insanely bizarre case, riddled with absolutely nonsensical claims against Farrah. Is this, like, karma?
It certainly appears that in the delusional category Farrah has met her match! Sit down. Take deep breaths – it's this ridiculous. 
Jonathan Lee Riches claims that in 2012 he and Farrah had a rendezvous at, of all classy places, a Holiday Inn in Iowa. Faaaahncy. Unbeknowst to him, despite the fact that she was like on TV and stuff, Riches claims he had no idea that A) Farrah was underaged; and B) Farrah had secretly recorded their sexytimes. 
CLICK THE CONTINUE READING BUTTON FOR MORE!
Fast-forward to 2016, Riches filed court documents against Farrah saying she held onto the sexy footage and was attempting to blackmail him by shopping it around to purveyors of porn. GAG GAG GAG. 
In the court documents Riches alleges, "I was actually filmed without my consent by her and now Abraham is selling this illegal tape to the Adult Entertainment Industry for millions of dollars."
"Abraham tells me I have to pay her $1,000 a month in hush hush money not to expose our past relationship or she will call the police on me and press charges," the court documents, obtained by Radar Online, continue. 
If you think this claim is salacious, hold on – the loon is not done. 
Riches, who is even less connected to reality than Farrah, also claims he's the true father of Sophia – not Derek Underwood – and 'confesses' that  he "committed pedophile acts by getting Farrah Abraham pregnant when she was a teenager." Even more insane: He blames the entire thing on his purported "MENTOR" (his term), Josh Duggar! The what-the-f–kitude is truly astounding here! So this guy claims Josh convinced him to impregnate a teenaged Farah?!
RELATED – FARRAH & FAM VACATION IN HAWAII!
Riches is now seeking a restraining order against Farrah to forbid her from "selling, distributing or giving away this sex tape of us, total invasion of privacy." A judge dismissed the bizzar-o claims. Thankfully. 
Farrah spoke out denying any involvement with Riches. "This makes no sense and is not true clearly," babbled Farrah. "Everyone knows who Sophia's dad is. No one knows who this guy is." When FARRAH says something makes no sense, you know you've crossed way over the threshold of insanity! 
I actually feel sorry for Farrah that she even has to defend herself against this whack job! 
TELL US – DO BELIEVE RICHES BIZARRE CLAIMS HAVE ANY MERIT? 
[Photo Credit: WENN.com]