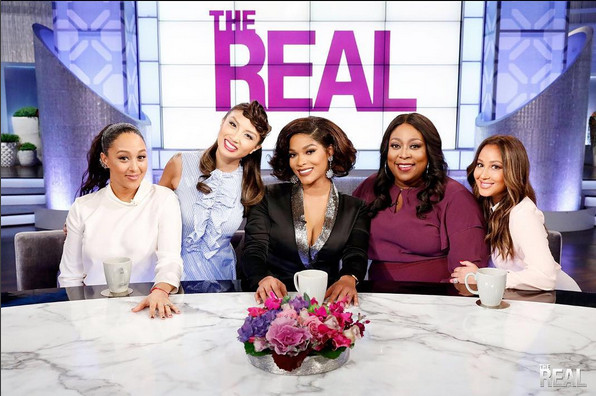 Love her or hate her, you can't argue that the self-proclaimed Puerto Rican princess is highly entertaining. Whether she's dogging her ex Stevie J. (or "Stevie Lame" as she calls him) or calling out her co-stars, Joseline Hernandez is always over the top.
Even though the Love & Hip Hop Atlanta star just had a baby with Stevie (oh the drama between these two!), she knows she has to keep the cash flow coming. Joseline has cleaned up rather nicely (that's an understatement, she looks gorgeous) for her recent guest hosting gig on The Real. In fact, she'll be on today spilling the latest gossip on her co-stars Rasheeda and Kirk Frost.
CLICK THE CONTINUE READING BUTTON FOR MORE!
When asked about the couple (who has had their fair share of ups and downs throughout the shows run…remember that motorcycle mow-down??), Joseline gushes, "I love Rasheeda. She's a good lady. And she's been married… I think they've been married for like fifteen years."
However, it is unclear whether Rasheeda will reciprocate that love when she hears what Joseline has to say. Joseline continues, '[T]his is what I always say about people that's doing reality TV. Don't come in there faking it. 'Cause guess what, it always come out in the light. So you come up in there, you know, for six years. You think, you know, you showing to the world, 'Oh we perfect. Nothing ever happened to us.' If you notice, on Love & Hip Hop, Rasheeda and Kirk is always the cleanest one. Right?"
I guess "clean" with this crew is all relative! Joseline reminds the audience, "[S]o they never have no tea going on," adding, "But guess what, when you faking it, the truth always come out. So you know what, I hear in Atlanta. I know a lot of people. You know, I stay in the streets. I keep my ears close to the street, okay. I got to know what's going on honey. I got to be prepared for them little…"
Finally, Joseline drops the bomb, announcing, "The word is that he do got a baby and you know, it's not from Rasheeda. It's from some ex-stripper that used to…"
She then jokes, "Honey, how do the strippers get their coins? Don't hate the game, hate the playa. No wait, don't hate the playa, hate the game." Joseline would certainly know, wouldn't she? Make sure to tune in to today's episode of The Real!
TELL US – WILL YOU WATCH JOSELINE DISH HER DIRT ON THE REAL? ARE YOU SURPRISED AT THIS GOSSIP SURROUNDING KIRK FROST?
Photo Credit: Instagram/Joseline
Save
Save
Save