Ding-dong the wicked dance teacher is gone! Abby Lee Miller huffed, and she puffed, and she screamed, but she couldn't blow the Dance Moms franchise down – and the cast is thrilled with her replacement, Cheryl Burke. There's been a lot of changes on Dance Moms, actually, and now former dancer Chloe Lukasiak is speaking out about her "high-stress and intense" experiences on the show with an inspirational new memoir.
Last month Abby Lee publicly quit the show she helped build, claiming that Lifetime execs and producers refused to give her creative credit for dances she choreographed for the ALDC troupe, featured on the show. In the past Abby has also complained that producers forced her to maintain her bully persona for ratings.
CLICK THE CONTINUE READING BUTTON FOR MORE!
Of course with Abby's ongoing legal issues, and possibly facing jail time, it probably was time for Dance Moms to have a plan B: enter former Dancing With The Stars pro Cheryl, who had a dancing shoes ready to step in! Hey – as a plus, we know that Cheryl can actually, you know, DANCE!
"The producers and the network are very pleased with her leadership," a source reveals, adding that Cheryl is "incredible to work with."
"She's amazing. She's tough as nails. She's no pushover. She's all about business," the insider tells ET. "She was positive and uplifting for the kids and the moms." Cheryl also gushed that so-far she's had a great experience working with production, the girls, and yes, even the moms!
RELATED –  Is Abby Already Ready To Return?
Since Abby abruptly left mid-season, Cheryl will complete filming the remainder of season 7 – which wraps next week. So far, there's no word if she'll return for season 8 – the show now films at the ALDC in LA – but sources hint that we may not be rid of Abby yet! She's still under contract with Lifetime for several more seasons, and of course, "Abby is always welcome to return to Dance Moms." Why am I feeling like this is all just one big massive PR stunt…
In other news, former ALDC star Chloe just announced the publication of an inspiration memoir/and self-help book geared towards teens titled Girl on Pointe: Chloe's Guide to Taking on the World.
Citing the her high-stress experiences dealing with the world of competitive dance, and reality TV, along with her experiences combating bullying and negativity, Chloe feels she's learned some valuable lessons that could help other girls. I agree – I mean, she survived Abby Lee and danced another day! "It's been a crazy journey so far," the teenager reminds us.
In an excerpt from the book, Chloe details the constant negativity in the Dance Moms atmosphere: "Looking back, my time on Dance Moms seems like a whirlwind of dancing …but also fighting. The parents were always fighting — with one another, with Abby. Anyone who's watched the show knows about these fights."
"It's something really close to my heart," Chloe tells People about sharing her story. "I've always been the self-proclaimed nerd of the group. I love reading and writing so this just seemed so natural and so right."
Of course, with all these lessons comes "ultimate behind-the-scenes" glimpses of Chloe's life and Dance Moms workings – including and her decision to exit the show. A decision Chloe says was largely because Abby mocked her health issues. "It didn't feel like it was a good environment for me to be in anymore. …I didn't expect to leave obviously," Chloe explains, "but after that happened my mom and I just kind of talked about it and it didn't seem right to go back."
RELATED – Maddie Ziegler Dishes On Dance Mom's "Fake" Drama!
Getting distance from the show and the toxic environment was the right decision for Chloe, who continued dancing with a new studio, and went on to star in movies and TV shows. "Everything happens for a reason so I was glad I left. I think it only would've gotten way worse. I don't think that would've been good for my mom or me, for our mental state."
Chloe adds that it wasn't all bad – the girls formed an incredible bond, and she is still friends with former co-stars like Nia and Brooke and Paige Hyland, who also left the show.
Chloe reveals that after the success of the first season the dancers "learned to make the most of the situation" and rely on each other. "Obviously, there was conflict. But we decided to ignore the bad; instead of listening to the fighting, we figured, 'let's just go have fun!'"
Since Abby's departure, Chloe has also returned to dancing with the ALDC – she loves working with Cheryl, who she describes as "so encouraging" and "really, really amazing." Some photos of Chloe dancing with the ALDC gang are below.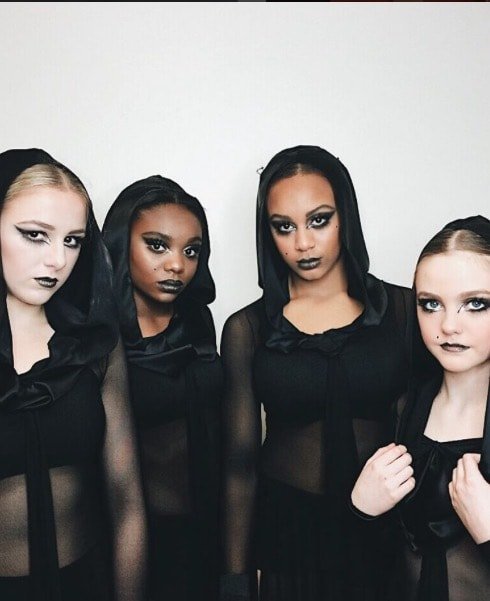 "Broke the curse #dancemoms," revealed Cheryl. [Credit]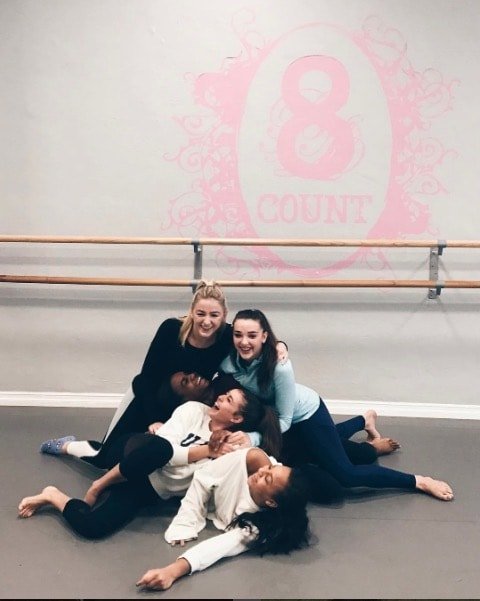 "Mah g's," shared Chloe. [Credit]
Chloe won't reveal whether or not her return will be featured on the show (duh – of course it will) nor does she have plans to return as a cast member. Perhaps it all depends on Abby…
TELL US – DO YOU THINK ABBY WILL RETURN? WILL YOU READ CHLOE'S BOOK? WOULD YOU LIKE TO SEE HER BACK ON DANCE MOMS?
[Photo Credit: Instagram]