Yolanda Hadid is like 90% well, but there's still a part of her that hasn't completely recovered from Lyme Disease. No, never that! But perhaps with this latest procedure, she's finally solved her medical mysteries?
The former Real Housewives Of Beverly Hills star has been doing whatever she can to completely heal herself, no matter where in the world she has to find a cure in order to help others battling chronic diseases. Now that Yolanda will be returning to reality TV with Model Moms, she certainly can't slump back to 60% functioning!
Yolanda has been in Switzerland completing the final stage in her Lyme journey with a long-awaited "cavitation surgery," which is some sort of addition to her previous mercury removing dental surgery. She shared the above photo of the procedure. 
As we know, Yolanda has always been a fan of alternative medicines and treatments – including relying on the healing power of sunlight and many vacations, and in her latest turned to "biological dentistry," which sounds like rich people talk for solid gold crowns and jaw massages?
RELATED – Yolanda Shares Her Painful Health Journey With Dr. Oz
Apparently now part of her Lyme suffering was caused by wisdom teeth drama. Yolanda previously removed her silicone implants because they were leaking into her blood stream causing further complications that impacted her Lyme recovery.
Yolanda shared a photo of the dental procedure, then jetted off to fulfill the ever-important "Body Mind and Soul" aspect of recovery at Lake Constance in the Alps. Of course no post-op is complete without the healing power of a racy thong bikini!  To prove to any future sugar daddies that she's still got it, I guess?!
"The final item on my to-do list to get back to 100 complete and vibrant health was to have cavitation surgery that I have put off for the past 4 years because I didn't really understand the correlation of dental health and recovering from chronic disease," Yolanda shared on Instagram. At least she didn't trot out her trusty white bathrobe this time!
She continued, "I [r]emoved all my Mercury amalgams and metal based crowns and changed bad root canals to zirconia implants, I slowly over the years detoxed with ion foot baths and cilantro oil drops orally. although my wisdom tooth extraction 7 years ago seemed a relatively minor procedure from the viewpoint of conventional dentistry, In biological dentistry they view jaw cavitation as a major interference field , a common complication particularly for patients who are already immuno-suppressed with high levels of inflammation like chronic Lyme patients. these cavitations creates a perfect space for infection to hide and therefor a continuous attack on the immune system."
Yolanda explained that, "This residual infection, known as a jaw neuralgia-inducing cavitational osteonecrosis (NICO) is often found at the sites of past wisdom tooth extraction so choose your dental care wisely and educate yourself about anything that goes in or out of your body………. #MyHealthJourney #RecoveringFromChronicDisease #TheDentalConnection #SwissBioHealth"
RELATED – David Foster Moving On Post-Divorce?!
And of course, th-th-thong-thong-thoooooooong. Who does Yo think she is – Brandi Glanville?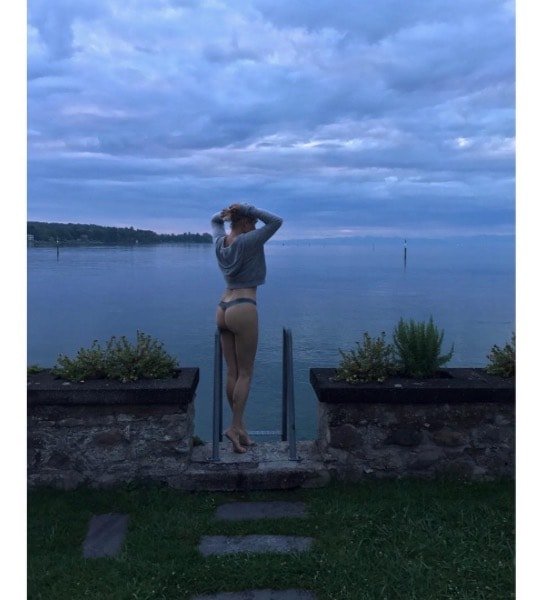 "<3 It's a beautiful, magical sunrise at the lake this morning, the water is quite cold but its such a great way to combat inflammation and feel the connection to Mother Earth…… #LakeConstance #MorningSwim #HealingPower #BodyMindAndSoul" [Credit: Instagram]
Is it wrong that even with the Lyme, I still want Yolanda's life? All those beautiful vacation destinations… [sigh].
TELL US – DO YOU THINK YOLANDA HAS FINALLY RECOVERED?
[Main Photo Credit: Instagram]