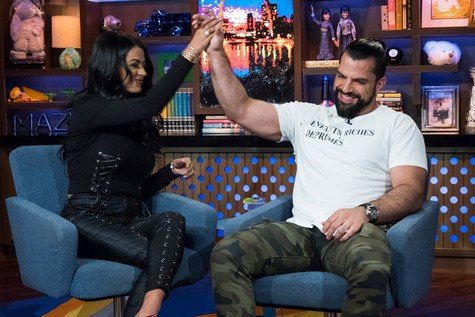 It is so tough to keep up with Golnesa "GG" Gharachedaghi. One second she's single. Then she's engaged. A minute later she's married. Then she's in the middle of a tumultuous divorce after a very short-live marriage with Shalom Yeroushalmi . Now GG is actually dating Shalom again. This is so surprising, yet not at all. The drama just never stops with the Shahs of Sunset cast.
Even Shervin Roohparvar who was a super lovable friend to GG Gharachedaghi last season with no story line of his own is in some deep shit this year. After Tara, a married woman, called out Shervin for sleeping with her. He denied denied denied. Now he's still denying, but admitting that he did get with a bunch of other girls even though he has a girlfriend.
GG and Shervin didn't hold back when they talked to Andy Cohen during their latest Watch What Happens Live appearance. Before addressing their own personal lives, GG and Shervin discussed Mike Shouhed's status with his ex wife Jessica Parido. GG theorized, "I felt like there was something still going on. I wasn't clear what it was, but there was something clearly still going on."
Andy asked if it would be a good idea for them to get back together. Shervin said, "I know for a fact there was something going on. I had a conversation with Mike about this. I know he definitely still cares for her and he always will. They tried and they just know that one's not meant to be."
The Shahs already filmed the reunion for this season. They didn't reveal much about it, but GG did say this about Shervin: "I was more scared for him than I was for myself." I figured most of the heat would be coming toward Asa Soltan Rahmati for disappearing the past two episodes.
I figured GG would take this interview as an opportunity to trash Shalom after he went off during the last Shahs of Sunset episode, but she actually revealed, "We're dating again." Such a roller coaster. It will be interesting to see how long this lasts.
A viewer really came for Shervin, asking, "How was Shervin able to stare straight into the camera after he already admitted it to GG?" Shervin said, "So I never admitted it to GG. That got a little convoluted. I said I met up with her. I stand by the fact that I had nothing to do with Tara. I did accept that there was a few girls, but it wasn't her." Yikes.
Still GG maintains that Shervin did admit to her that he got with Tara. She even said that Tara "used to be an escort."
Of course, GG and Shervin have not seen Asa's baby. And I doubt they ever will. At least not for a long time anyway. Andy asked if "the group is taking her wanting to be private out of proportion?" GG said, "Yes. I one hundred percent do. At the end of the day, MJ [Javid] is an out of proportion person. So yeah she's going to take things to a little bit more different level, but it's really nobody's business. Why she wanted to lie about that is beyond me." There's nothing wrong with being private, but why lie? And why take the chance of getting away with a lie on a reality TV show?
GG also shared that she and Asifa Mirza are no longer friends and haven't spoken in a long time.
RELATED: Golnesa "GG" Gharachedaghi's Ex Shalom Wants Spousal Support After Just 2 Months Of Marriage
TELL US- ARE YOU SURPRISED GG & SHALOM GOT BACK TOGETHER? DO YOU THINK SHERVIN GOT WITH TARA?
[Photo Credit: Charles Sykes/Bravo]