Kim Zolciak says NeNe Leakes is slandering her by calling her a racist, so she's hired an attorney. The Real Housewives Of Atlanta star also claims both she and daughter Brielle Biermann have faced threats as a result of NeNe overreacting to the cockroach video.
"I've hired legal counsel at this point. I don't take this lightly," Kim explains. "It's one thing, like I said, to kind of banter back and forth and have an opinion. This is far beyond just having an opinion."
"I sent it to the Housewives after a big situation in Barcelona. Again, we're filming a show. But I've had this video for a very long time, two, three months? I better be exact before she corrects me!" Kim blames Brielle for filming a SnapChat in NeNe's house, then posting it, where her followers noticed the roach. Afterwards, Brielle forwarded it to Kim.
Since NeNe's accusation, Kim's had to "make changes" in her "everyday life" like hiring additional security. "Brielle's gotten a lot of threats on Instagram," Kim adds. "I mean, it's been a little rough. That's why Brielle's here with me in California right now." Oh, yeah, so Brielle's famewhoring aspirations have nothing at all to do with it?
RELATED – Kim Has Kardashian Dreams!
For Kim, NeNe's reaction has "definitely" gone too far. "Sheree, NeNe, and I have known each other for 15 years, way before the show ever started, and there's just a line of respect – kids, things that we know about each other – that we just don't discuss. But now… I spoke too soon, obviously."
It's also negatively affected Kim's other children. "People are dying over racism. I mean, this is a major issue, so I don't want to hide any of this real life from them, but I definitely try to protect them as much as I can."
After this, Kim is completely done with NeNe. "I don't even think about her at this point. That's why I hired legal counsel – they're thinking about it, and not me." Kim adds that a recent tweet that read, "I see she got a refill again," with a pill bottle emoji was not directed at NeNe.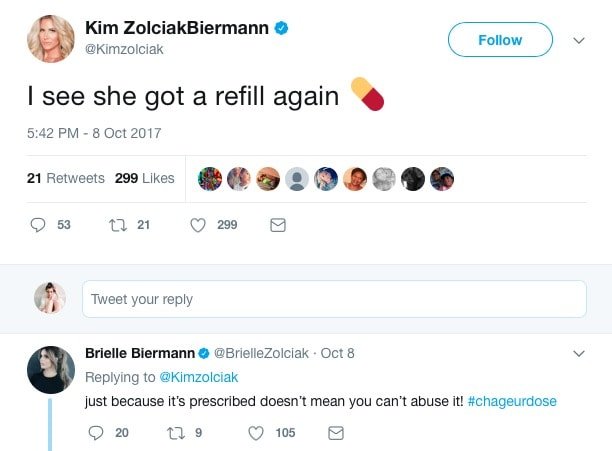 Despite the mess, Kim still has "no regrets" about returning to RHOA. "I'm a lot stronger and I'm not pregnant," she tells E! News. "Can you imagine being pregnant and all the screaming and wine glasses flying? I definitely enjoy it. It's fun, but there's definitely some moments where it's like 'Oh God, I did not miss this.'"
RELATED – Is Kroy Jealous Of Kim's Constant Tweeting?
Of why she's in the middle of so much drama, Kim shrugs, "I'm super blessed. I'm super happy. I have a great life, so I'd probably hate me too!" That's Kim – too blessed to be stressed!
TELL US – DO YOU AGREE WITH KIM HIRING AN ATTORNEY? DID NENE GO TOO FAR WITH THE RACISM ACCUSATION?
Photo Credit: Instagram