Boo Hoo – Jenelle Evans and David Eason don't like people saying they suck! They're tired of everyone accusing David of being abusive towards Kaiser. And well, everyone else.
By now we all know that the drama during the latest Teen Mom 2 reunion was out of control – mostly because of Jenelle and David, of course – but in Monday night's segment the terrible twosome stormed off the stage (ignoring the producers) when Dr. Drew confronted them about David's aggressive behavior, including how controlling he is towards Jenelle. Jenelle's mother also shares these same concerns!
However it was Nathan Griffin's mother Doris, a former child welfare worker, who shared that she's "terribly frightened" by what she perceives as David abusing his step-son. Doris claims Kaiser told her that David punched him. Nathan echoed that he had also seen bruises and questioned how much David is "overstepping his boundary" with Kaiser. Of course now JENELLE is turning it around to insinuate that Nathan and Doris are the ones leaving marks on Kaiser.
In a statement to People Jenelle said, "I doubt my husband would punch a kid in his face. For weeks I asked Doris every time Kaiser came home and if there was marks she always got super offensive in texts when I would ask her what happened to my son."
Perhaps if Jenelle didn't get knocked up with every guy she met on Tinder she wouldn't have so much baby daddy drama. But too late now, right?!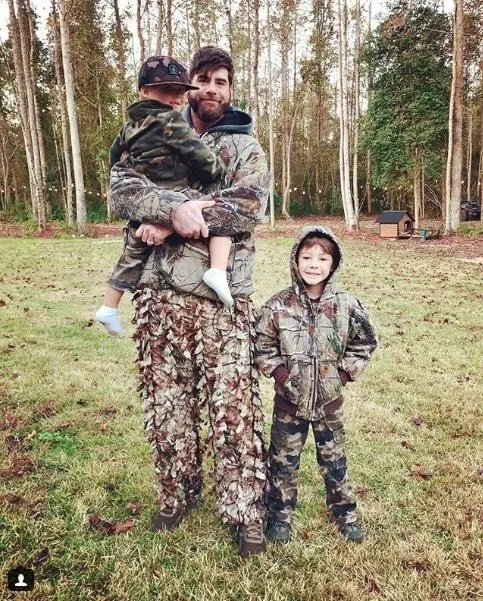 Jenelle also shared a rather disturbing photo of David taking Kaiser and Jace hunting. Um, they're 3 and 7… really?
TELL US  – DO YOU THINK DAVID IS TOO CONTROLLING? OR ARE FANS AND FRIENDS ONLY SEEING THE EDITED VERSIONS OF THEIR LIFE?

[Photo Credit: MTV]