It's been a rough season of Below Deck for Captain Lee Rosbach. He thought all had ended on a good note – and even promoted Nico Scholly to the much-coveted Bosun position, but Lee now reveals that if he'd known everything that was going on behind the scenes Nico never would've gotten those stripes! Yowzers.
In a tweet about his decision to promote Nico, Lee admitted, "I think betrayed would be a good adjective here. I got played. Doesn't happen often, but you be the judge. Not ashamed to admit it. #honestplayer"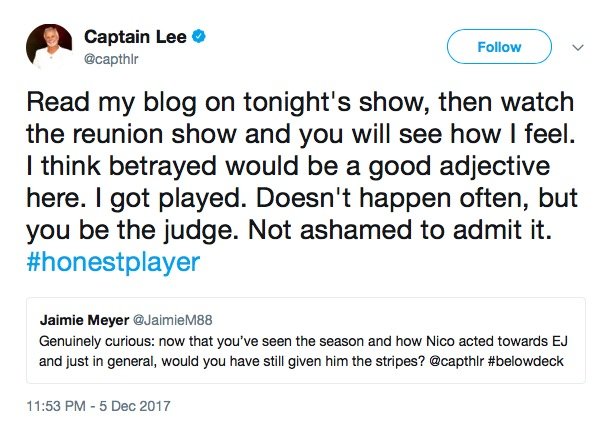 "You need to keep in mind I didn't see things unfolding as you did in real time," he added. "I saw them as the episodes unfolded. Not making excuses for myself, I should have been better than that, but I'm not perfect and the first to admit that."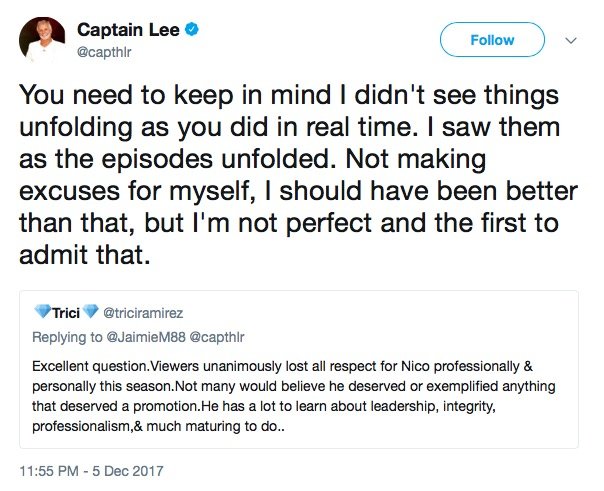 Captain Lee  also warned, "Wait for the reunion." Oh we will – OH. WE. WILL.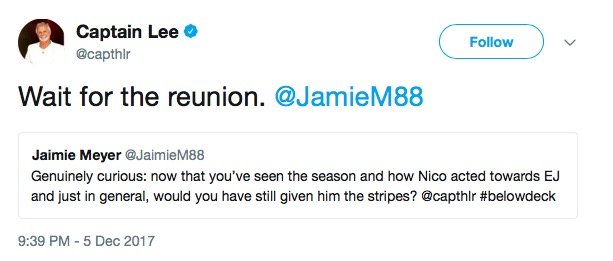 The good Captain went into more details in his blog, where he confessed to having "doubts" about whether the Valor crew would even make it through the charter season. "Wow, is all I can say. And we survived. I learned a lot this year as well."
"One of the things I learned is that just when you really think you may know someone, you can find out that you don't really know them at all," expands Captain Lee. "There was a lot of that this year. Some people surprised me in a good way, others not so much."
Predictably Lee doesn't spare anyone's feelings as he breaks down his final thoughts on each crew member.  The only person who earned an unequivocally glowing review was his beloved Kate Chastain.
But let's start with the bad. As in Nico! Captain Lee calls out his downlow dirty deeds, and is shocked by what he witnessed as the season unfolded. "I had such high hopes for you," begins Lee, "and to witness your behavior on board was extremely disappointing. Your behavior caught me so much by surprise that it left me speechless."
"Had someone come to me and told me that you were behaving in that fashion, I would have called them out on it, because I simply would not have believed it," Lee continues. "And you carried the charade right up to the very end. Obviously you got the promotion you so eagerly desired, but after watching you behave in this fashion, I'm wondering if I may have made a mistake. You did your job well on this last charter and I appreciate that. I just wish that same Nico had been with me all season, not just the last charter. That was the Nico I thought I knew."
I personally never thought Nico was very professional, skillful, or nice. On that note Captain Lee offers EJ Jansen a thank you for putting up with Nico's shenanigans. "Thank you my friend for coming on board into a difficult situation and handling it like a pro. I know it wasn't easy. Can't thank you enough for the help. You were such a big part of why this season was a success." Yes, an actual bosun – Nico, take note!
The other person getting seriously called out is Jen Howell. Obviously. Shockingly he begins by letting Jen know that she has "enormous potential" (Uh WHAT?!), but that's where the compliments end!
Captain Lee's life advice to Yachterella: "Maybe look back at some of your antics and really be honest. Sometimes you just have to let it go and stop playing the victim. Everyone in the world is not always wrong and you are not always right. It's not always someone else's fault. Once in a while you just have to suck it up and say, 'You know something, I really screwed that up. I learned something and now I'm ready to move forward.'" I think Jen needs a lot more help than that.
In contrast he praised Brianna Adekeye, from a professional standpoint, and of her promotion, remarked, "One promotion I would not second-guess." He was also impressed that Brianna never let her issues with Nico affect her work.
Lee also praised Baker Manning for being "a breath of fresh air" and totally professional. "You went about the task at hand, never complained, did your best to get along with everyone and understand when they were having difficulties and never said a bad word about anyone. I would consider you a top asset to have aboard. You did yourself proud this season." Yes, I agree – Baker may have been low-drama, but she was chill, fun, and refreshing in her approach. Not every person on a reality show needs to be a total train wreck. Ahem, Jen Howell…
And finally another glowing review for shining North Star of his eye: Kate. "She had a bad hand dealt her and never came to me once about it, just sucked it up and got the job done. And seeing that we had a record year for tips, she must have been doing something right. So Kate, a tip of the captain's hat to you for a difficult season and handling it like the pro you are."
TELL US – DID CAPTAIN LEE MAKE A MISTAKE IN PROMOTING NICO? DO YOU BELIEVE HE HAD KNOW IDEA WHAT WAS GOING ON BEHIND THE SCENES?
[Photo Credit: Bravo]