How do we say goodbye to a show that's given us so much in such a short time? We've learned how probation works, what not to wear to a Crips wedding, that you can trade cell phones for heroin in prison, that "Meet An Inmate" websites exist, and (my personal fave) how to look up random convicts on www.offender.state like it's a full time job.
Oh, Love After Lockup! You've given me so much, so I'll repay you with this final recap. Goodbye for now, and we'll see you again when WeTV rounds up a new herd of convicts and their delusional pen pals to light up our lives again. Until that day, I won't forget you. Like Alla says in her creepy card, our love is truly UNDISTRUCTABLE.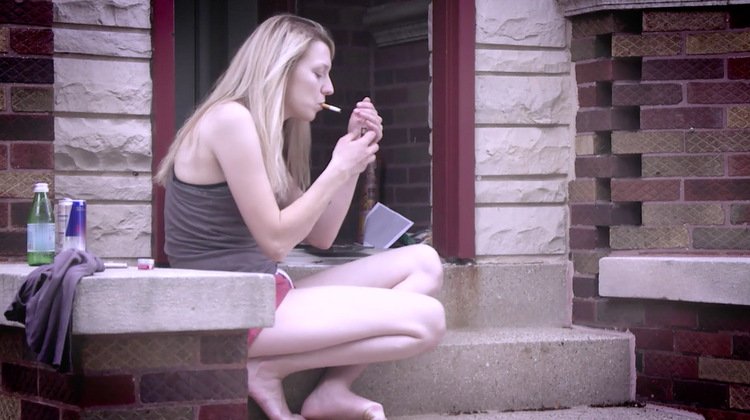 Since Alla's relapse, she's gone to treatment, leaving James to re-read the many letters she sent him from her prison cell. As he pines over his "dream girl" turning into a nightmare, he chuckles, "But isn't every nightmare a dream?" Um…say what, homie?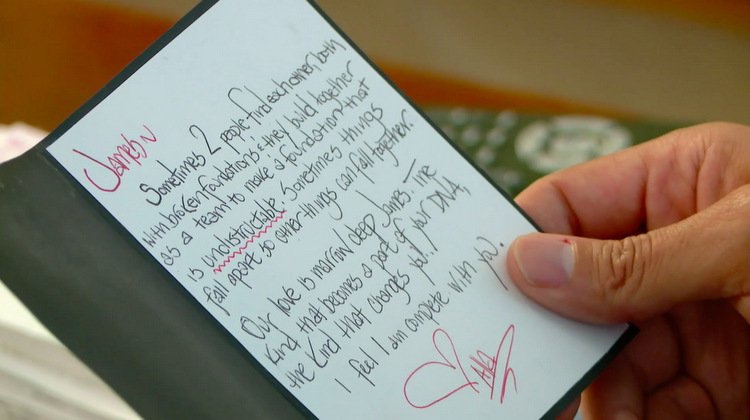 This botched attempt at poetry aside, can we talk for a moment about the card James reads – you know, the one where Alla appears to have drawn Slender Man on the front and describes their love as "marrow deep" and "undistructable" on the inside? In short, it is amazing. I plan to use it as my laptop wallpaper from this day forth. #PrisonArt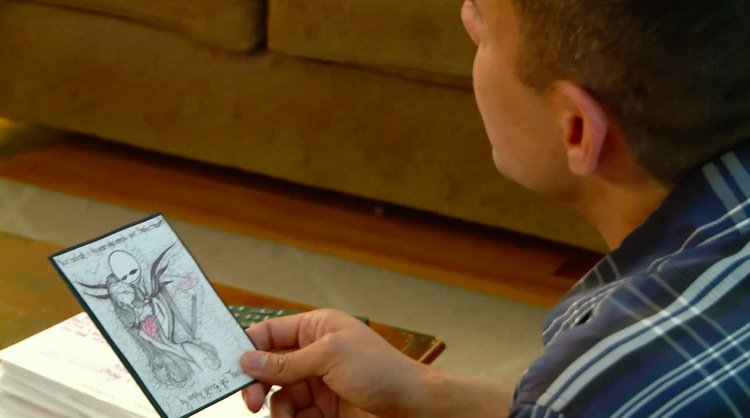 After James stops by Chris's house to let him know that, yes, he was right about Alla using again, we check in with Alla. She knows she has a problem, and sought out treatment immediately after her relapse, also telling her probation officer what was up. Since then, she's spending her time healing and smoking cigs on stoops.
Then in a crazy WeTV time-warp, we flash to three months later! WTF?! Anyhooooo…James and Alla are back together again! She's looking healthier than we've ever seen her, and seems committed to doing things right this time around. Alla knows she has demons to battle, but something tells me James doesn't fully register what they're up against.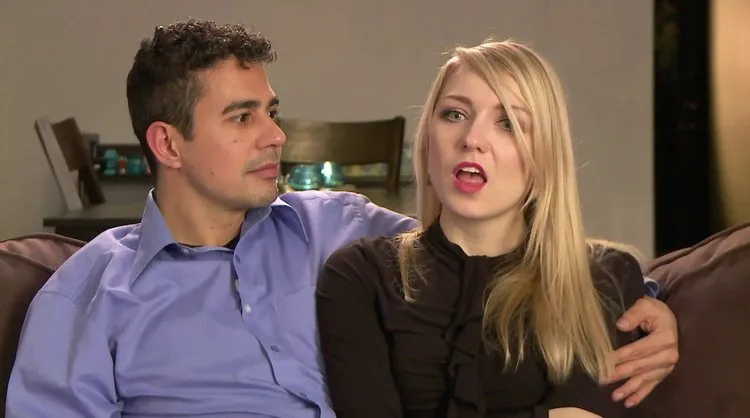 And sadly, it's a lot. Because we find out in the final credits that six weeks after filming wrapped, Alla violated her parole and was sent back to prison. James still believes she's his dream girl, and is committed to waiting for her – AGAIN. Ok, Alla. Time to get those magic markers out again, girl. You've got creepy cards to draw!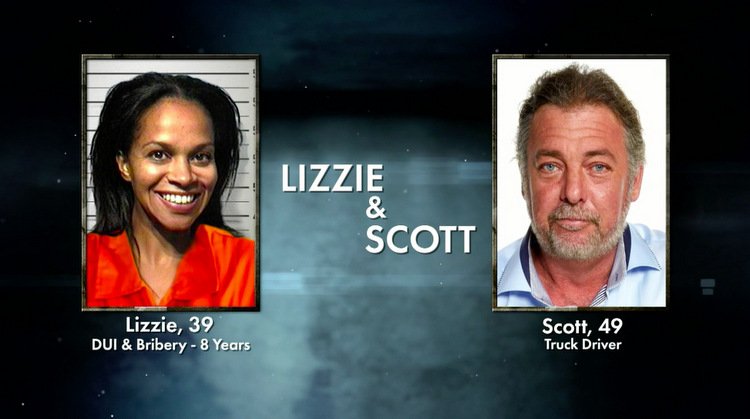 Speaking of waiting for dream girls, a very beaten down Scott is doing the same in Oxnard, CA, while he rifles through the literal wreckage of his life on the kitchen floor. He's willing to pay $14k to Lizzie's lawyer to get her charges knocked down, because he's a lost soul.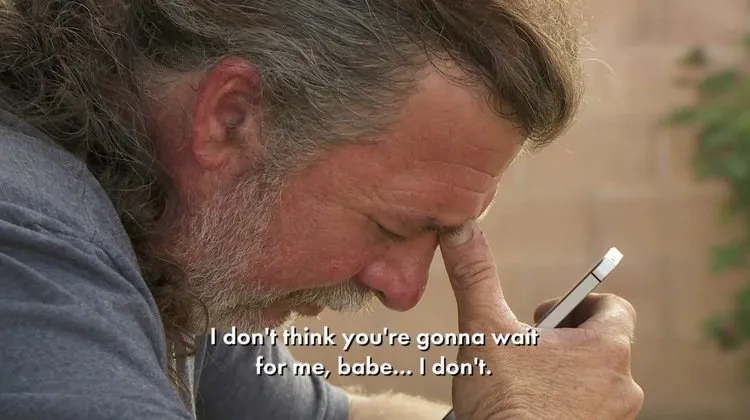 After he breaks the news to Lizzie about her facing 8-12 additional years for the drugs and contraband cell phone he paid for in her possession, she cries her best fake tears and begs him to wait for her. Scott cries real tears, swearing he'll wait as long as it takes. Which according to Google is 2021. So, I guess that $14k did its magic after all.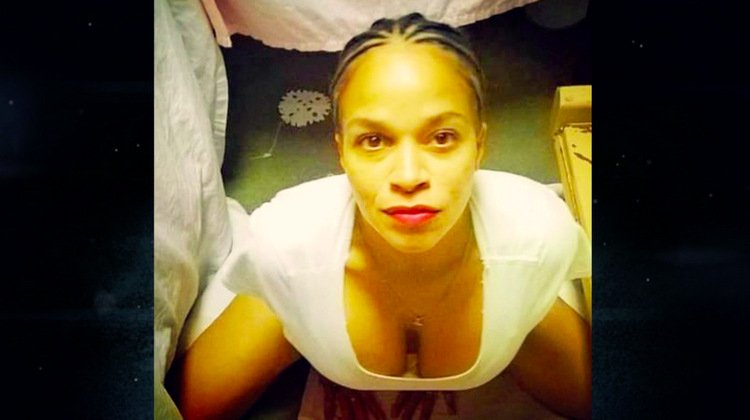 Let's hope Scott does the following by then: Gets into some good therapy, hoses himself down, and clips that fungal thumbnail off. Not necessarily in that order. In the mean time, Lizzie better get busy cutting out more paper snowflakes for her new cell in WI to use as a backdrop for sexy prison selfies.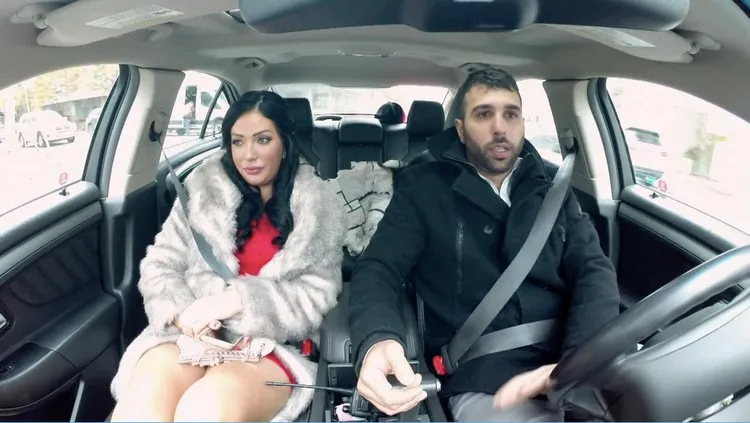 Since Dominic agreed to marry Mary in a quickie ceremony, she booked a minister ASAP to wed them on a depressing docked boat in Toronto. The dog will serve as witness. Dominic is petrified to go through with it, but much like his days in prison (where something seriously BAD must have happened to him ya'll), he just follows orders and does a perp walk all the way to the boat that will seal his fate.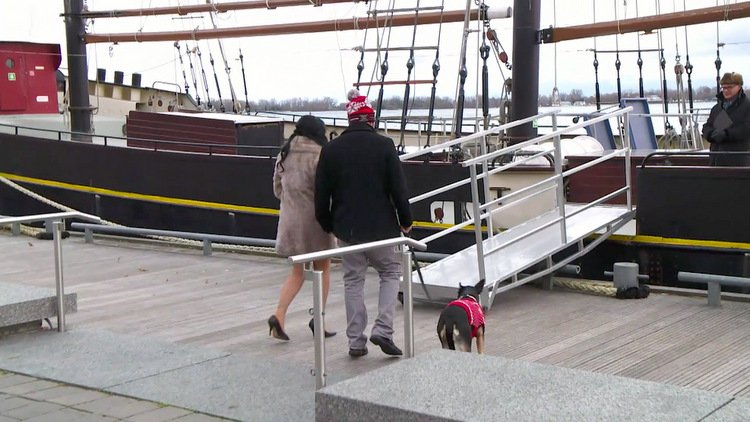 Mary is decked out in a red dress, heels she can't walk in, and an enormous fur coat for the occasion. Essentially, she looks like his fancy captor. And for real, you guys, Dominic legitimately looks like he's in a hostage situation in every f**king scene. Yo, Dom! Blink twice if you need help! This dude is TRAUMATIZED.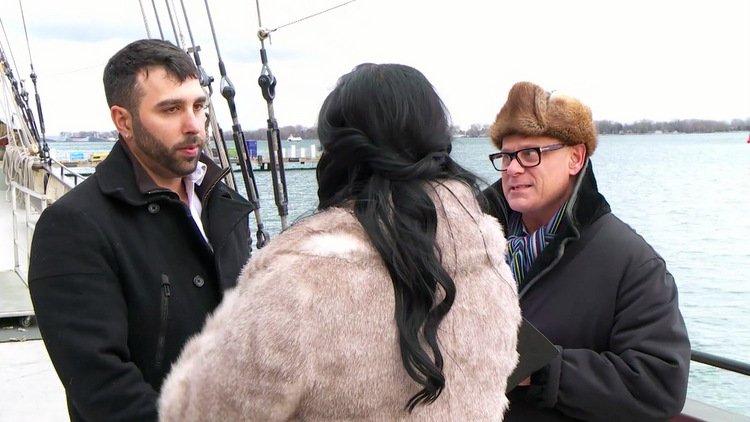 They trade "I do's" aboard the boat, then walk the literal plank back to their lives on dry land. LOL! I don't know if producers planned this nearly perfect metaphor for Dominic's journey, or what. But it's perfect – in a totally deranged Love After Lockup way. Producers who are about to make more of this trashtastic TV, I salute you.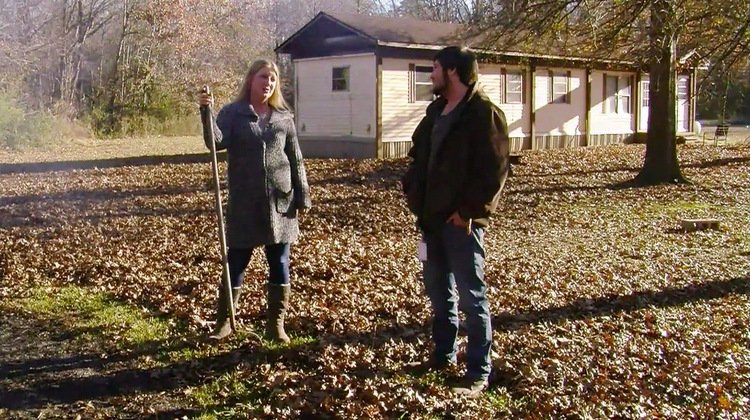 In the briefest love-affair-that-never-was, we check in with the pathetic Angela again, who is burning leaves outside her trailer and telling her son that 32-year old Tony is still her soul mate. Her son wears the look of every friend, family member, and viewer of this show. It is a look that says, "I pity you, I'm scared for you, and your life is a total disaster." In short, he's done here.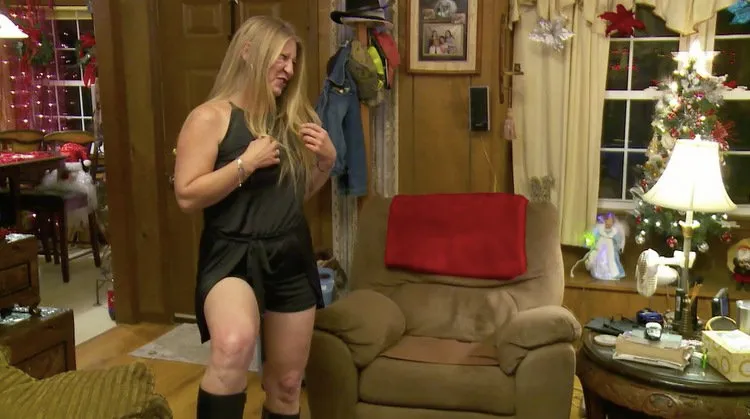 So Angela must seek comfort in her friends! Friends who also smoke 2+ packs a day, indulge her in sexy lady photo shoots, and have prison tales to tell! At fellow poor decision maker Brenda's house, Angela spins her sad story of woe that Tony didn't show up on release day and she was forced to scream, Are ya'll from prison? at the bus depot like the town lunatic.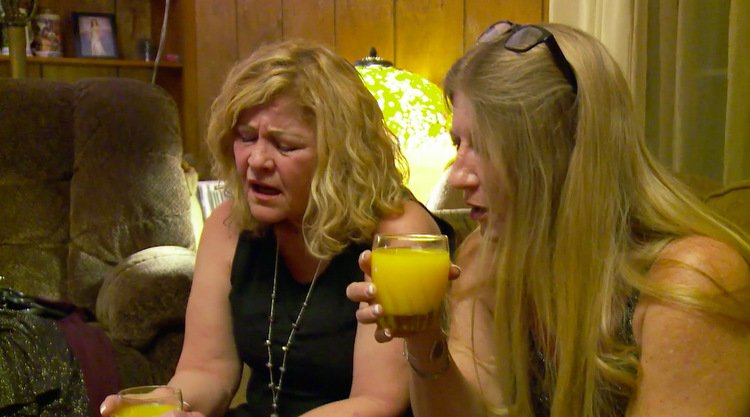 Brenda gets it. She was in prison once too, but her tale is a cautionary one. She admits that she kept several guys on the hook while in lockup because she needed the emotional (and financial) support. But once released, she dumped them flat. Her story should serve as a warning to the completely deluded Angela, but Ang isn't hearing it. Instead, she just stuffs hundreds of dollars of cash into envelopes for Tony while she keeps a meager $40 to live on back home. Because those commissary Hot Cheetos and Ramen packets aren't going to buy themselves!
Fix it Jesus. How do I get through this segment without punching my TV? Deep breaths. Okay, let's preface this whole sh*tshow situation by stating it plainly: Andrea is THE WORST. And in a shocking twist of events, I'm now rooting for 18-year felon Lamar to find someone better than her. (I'm also forming a mom posse to go rescue Andrea's kids if anyone's interested. House slippers optional.)
Before we get to the tornado of terrible decisions Andrea starts making, we see yet another car scene (for real: this crew is in the car for 80% of the show) in which Lamar is contemplating how to tell Andrea he can't move to Utah, and Nyla is asking Lamar about dropping soap in prison showers and if he ever got shanked. You know – family time!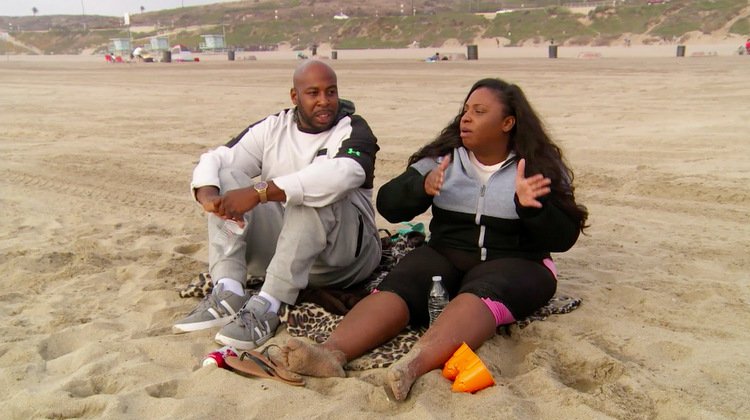 At the beach, Lamar finally breaks the news to Andrea, who reacts thusly: "Oh my god, I'm so confused! I have a lot to think about! I can't be moving my kids to California!!!" Two seconds later: "Hey kids, you're gonna live here now! We're getting MARRIED!" Three seconds later: "You better be happy about this. This is YOUR NEW DADDY!"
Seriously – Andrea's kids probably took longer to decide what they were going to order at Whataburger earlier than how they feel about being uprooted from their home, lives, friends, and school to move to LA and live with a stranger. Oh. My. God. #FreeNyla #FreeTennison #FreePriscilla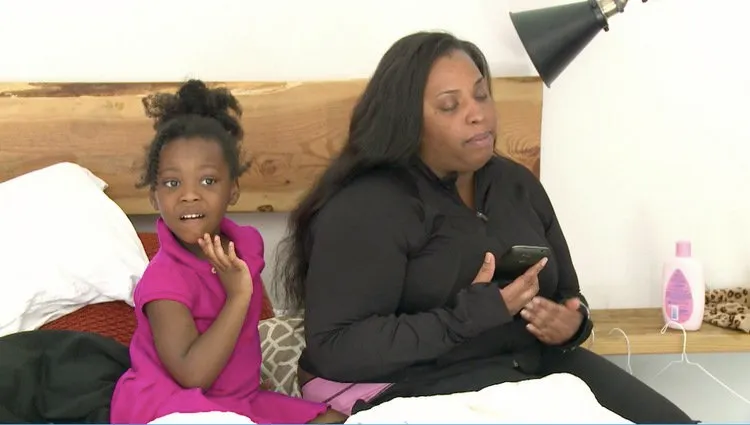 In another spooky time warp, we're thrust into wedding day itself! WHAT IS HAPPENING? Andrea has morphed from Crazy Mormon Lady into full-tilt Bridezilla, demanding her specially-designed shoes be shipped to her ASAP!!! Also, random Utah friends have suddenly been imported from back home, including AJ, who's obviously been practicing up on how to be an EVEN MORE HIDEOUS RACIST. Seriously, this chick needs to be beaten with Andrea's special shoes.
Andrea gives a big speech about how it's HER day, and nobody better mess it up – she doesn't care if their families get shot, they get shot, they shoot each other! Don't tell her about it! She's THE BRIDE!!!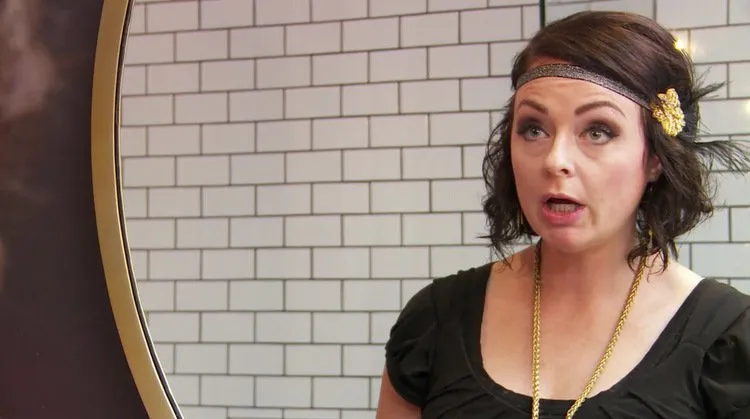 While she's speechifying, shoe-screaming, and taking four hours (past the wedding start time) to get ready, AJ is in the bathroom telling producers that she doesn't even know which one Lamar is because ALL BLACK GUYS LOOK THE SAME TO HER. <screaming emoji faces for dayyyyyys> Also, she's not happy with the marijuana smell that's stinking up her awful hairdo.
Pause here to tip our hats to the real hero of this wedding: Lamar's brave friend who had to walk this wretched b*tch down the aisle, refraining from tossing her off a cliff in the process. Here's to you, dude!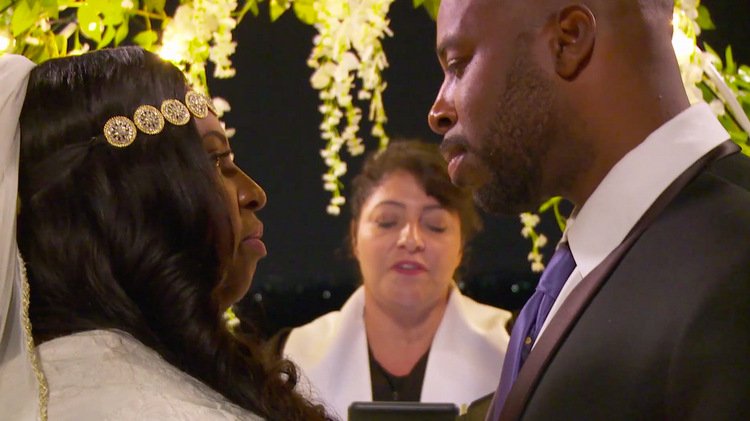 Andrea's kids are of course the most mature, lovely, and sane people at the wedding. As they stand by to watch their mother trade vows with Lamar, they can only hope their stepdad will be a more responsible parent than their biological mom – which I'm betting he will be. Andrea coos that Lamar is the love of her life and they're "all a family now!" – as if she and her kids weren't a family before? I can't with this broad. I CANNOT.
Special Alert: Andrea has been posting cryptic pics on social media with the hashtag #PregnancyProblems. Which begs the obvious question: Is this woman spawning AGAIN? Somebody get out there and deep dive on this one. We need answers!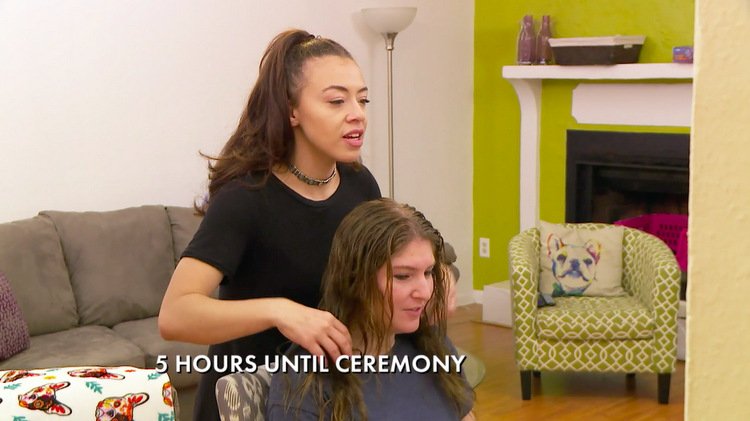 It's wedding day. So Johnna is getting her hair did by Dolly, who's making every attempt at cheering up the doomed bride. Johnna can't believe she's getting married in five hours to a guy she pressured into engagement straight outta prison. How'd that happen? Hmm.
She'll be wearing the dress she bought for her rehearsal dinner – a dinner that won't be happening since Johnna and Garrett decided to elope. Also hot happening: A bridal shower, a bachelorette party, bridesmaids and groomsmen, friends and family in attendance, and Starbucks coffee cups being smashed to the ground by Daddy Johnna. Panic washes over Johnna's face as she realizes the full picture of her super depressing wedding day.
But it's only when Johnna is getting ready in a restaurant bathroom across from the beach that the full realization hits her: This is not what she wants. Nope. She waited YEARS for this schmuck to get out of prison just to walk across a highway with some sort of makeshift umbrella-waitress-service and a weirdly hemmed wedding frock? I don't think so! A fairytale, it ain't. And this chick is ALL about the fairytale – even if it does involve a felon.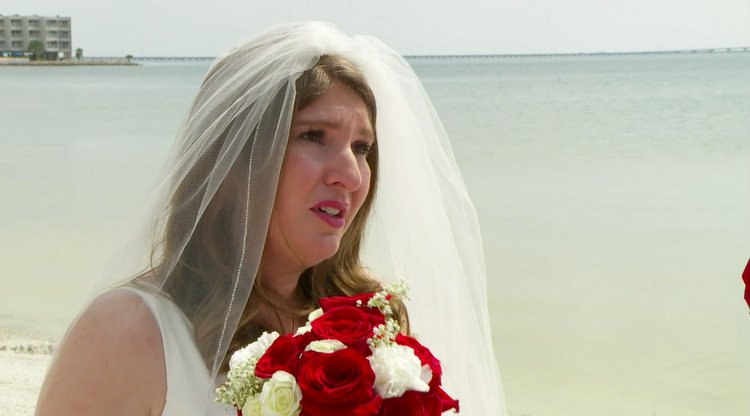 When Johnna and Garrett meet on the beach, Garrett grins because he tied his shoes and got dressed all on his own will have "security" now. But Johnna confesses that she doesn't want this sham wedding. "Don't make me do this!" cries the girl who practically forced her fiancé to propose, likely financed her own ring, and bought a house for Garrett before he was even a free man. Garrett's like, Um – NO PROB! His reaction is relief, which is very telling.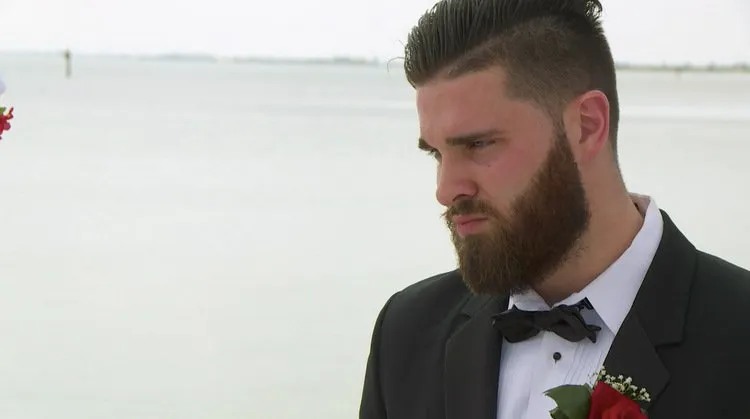 It's also telling that Garrett and Johnna broke up just 6 weeks after filming wrapped. And the details, which you can see all over the couples' social media pages, are MESS-Y. I have to admit after reading about the fallout post-show, I'm actually #TeamJohnna now. Who knew? Miracles DO happen! This show changes lives, people.
Until next season, let's hope that WeTV's call for more felons and fiancés is working its magic, that MeetAnInmate.com doesn't experience any technical difficulties, and that Scott and Angela find each other. Because they are actually each others' destiny.
Writer's Note: Check out my podcast Pink Shade With Erin Martin for more Reality TV talk (Housewives, 90 Day Fiance, Love After Lockup & more!) – plus a dash of cults & the supernatural. Available on Acast, Stitcher, and iTunes! 
TELL US: WILL MARY & DOMINIC LAST? WILL SCOTT, JAMES & ANGELA WAIT FOR THEIR PRISON LOVES? DID JOHNNA ACTUALLY DODGE A BULLET? IS ANDREA THE WORST PARENT EVER, OR WILL HER "NEW FAMILY" BE HAPPY IN LA? 
Photo Credit: WeTV