The Brooks Ayers cancer scandal had reach beyond the Real Housewives of Orange County fandom. This storyline made national news. Even non-Bravo viewers were voicing their opinions on Vicki Gunvalson's then-boyfriend.
Now, he's officially someone else's problem husband. That's right. Someone actually married Brooks Ayers. Brooks' new wife is a woman named Christy Groves and now I just want to know if she has cable… or internet access. I just can't imagine someone thinking that Brooks is a catch after everything he put Vicki (and the RHOC viewers) through. Maybe she's into those new teeth Vicki gave him. I just don't get the attraction at all.
In an interview with E! News, Brooks confirmed the news and declared, "I'm moving on with life. I've never been better." The new Mr. and Mrs. Ayers got married in French Lick, Indiana in front of their family members- who I have to assume are not Bravo viewers. I couldn't imagine a faithful Bravo viewer blessing this marriage, let alone attending the ceremony.
The two met a year and a half ago and Brooks bragged, "My world is completely different than it was almost three years ago, in a great way." Well, yeah. Someone's life is bound to change after being in a toxic relationship on reality TV and lying about cancer.
During the interview, Brooks was asked if he expected to hear from Vicki and he answered, "I hope not. I've moved on from all that drama for sure."
Sure, Vicki has moved on with boyfriend Steve Lodge, but apparently she was still very much in the know about Brooks' love life. She commented on a photo of the newly married couple on the Two Judgey Girls Instagram page with his wife's full name.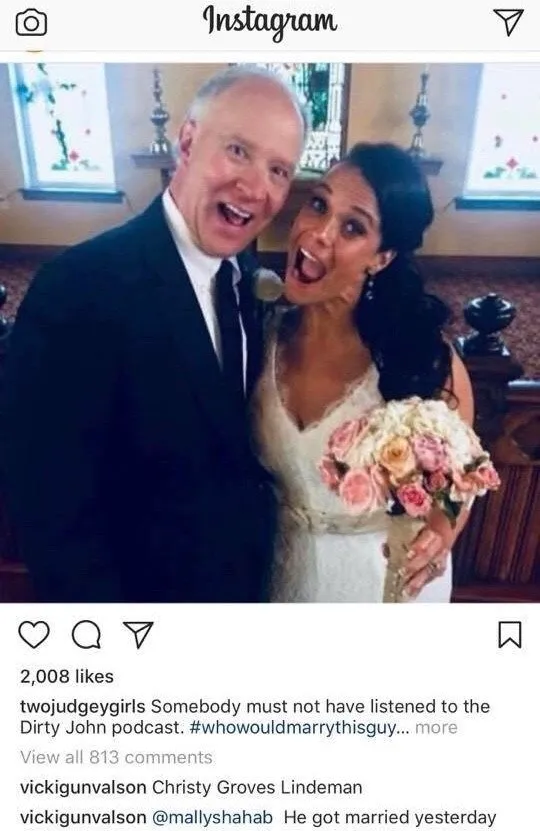 They are currently filming Season 13 of Real Housewives of Orange County, so I cannot help hoping this gets discussed and makes it into an episode or two.