Season 11 of Real Housewives of Atlanta has centered around NeNe Leakes coping with Gregg Leakes' cancer diagnosis. Gregg has always been the person to bring this cast together. He has been the one RHOA husband whose input is always welcomed by the group.
Short story long, Gregg can do no wrong as far as most viewers are concerned, minus that quick divorce. No one has a bad thing to say about Gregg, except for NeNe, apparently.
Of course, there are spats in every relationship. However, disagreements just shouldn't play out on Twitter, especially on very public Twitter accounts. NeNe really should have saved this rant for a group text with girls or some angry messages to Gregg himself.
NeNe began, "I would just think if I have or had cancer, I would see life so differently! Not being mean, grouchy and evil for no real reason! But that's me. Pray for me." Of course, she can't add all of the context to a single tweet, but that's quite the damning tweet.
One of her followers responded, "My dad is also battling cancer, the way he speaks to me is very cruel. It's so hard to go through that. But it's all unintentional. Look at it like this, no matter what you're going through always see the goodness of the Lord in everything. I hope this helps." NeNe responded, "I'm not sure I can do that."
Another
fan replied
, "Unfortunately the closest person receives the undeserved lashing out, stay strong Sis….just breathe." She
answered
, "Naw don't think I can do it."
The Real Housewives of Atlanta OG tweeted, "I'm ALWAYS the bad guy so I'll take that if you only knew."
Gregg
took to Instagram to
share his side of the story
. He wrote, "I never even [thought] about someday we might be in this position but here we are in the struggle of life Damn!"
Greg kept it positive. He wrote, "This woman right here has put a mountain on her back and carried it with grace. She's given so much of herself. You NeNe, steps up to the plate, bats and knock it out the park every time. Something a lot of women can't do or wouldn't."
He encouraged his followers, "So what she hit a wall and her cup run over! Pray for her, encourage her, lift her up. What good is tearing down gonna do? I'm not bed stricken and I'm not dying of cancer! I'm kicking cancer's ass."
Plot twist:
Gregg
is selling mugs
to
commemorate this public spat
. The mug has a photo of the couple and the words "Cancer #LovingLife #LivingLife #Stressless" along with the quote "never stop fighting."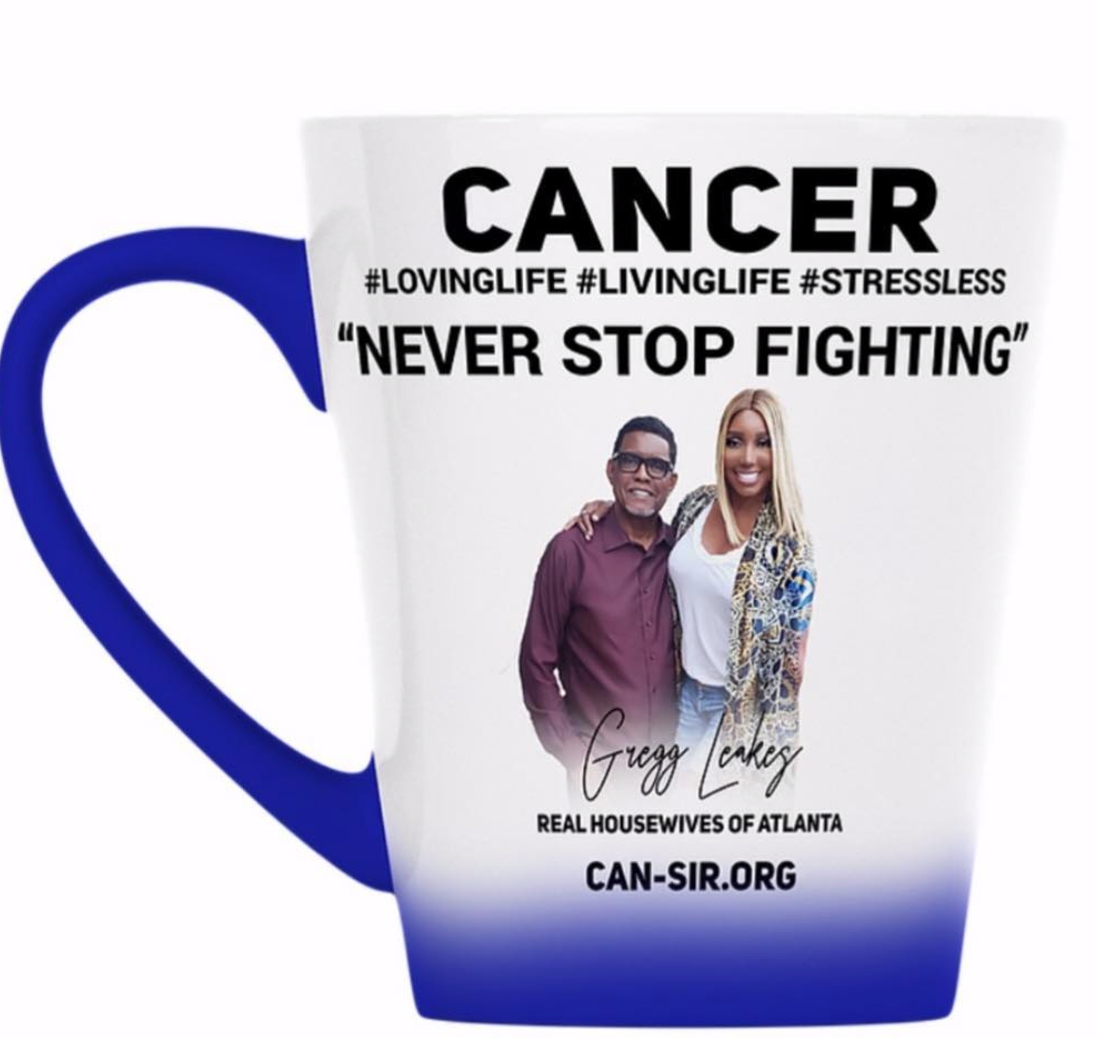 Was this all a publicity stunt? Or is the sudden production of these mugs merely a coincidence? Either way,
proceeds from the mugs
do benefit American Cancer Society.
Now, I'm just dying to know what set NeNe off in the first place and what happened after she posted all of those tweets.
TELL US- WHAT DO YOU THINK ABOUT NENE LEAKES' TWITTER RANT? HOW DO YOU FEEL ABOUT GREGG LEAKES' INSTAGRAM RESPONSE? WHAT DO YOU THINK ABOUT THE MUGS?