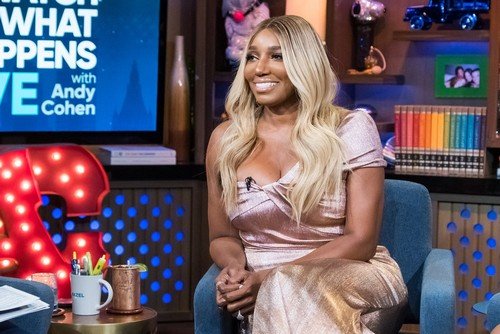 The fans have been waiting for the Real Housewives of Atlanta ladies to return for a long time, but that Season 11 premiere episode was just tough to watch. NeNe Leakes' was dealing with her husband Gregg Leakes' battle with cancer.
NeNe opened up about her family's cancer journey, Porsha Williams' new man Dennis McKinley, and get ready for this one: Kim Zolciak checking on Gregg during her appearance on last night's Watch What Happens Live.
After playing a clip from the premiere episode, Andy Cohen observed, "You didn't watch that clip. You were turning away." NeNe answered, "Yeah. I know that clip though." Andy told her, "You lived it. And you're still living it." NeNe was (understandably) more quiet than usual. Andy filled in the silence by remarking, "It's surprising and shocking because Gregg has always been the rock for you and a lot of the women on the show. What a journey you've been on." NeNe just told him, "Yeah."
Andy asked, "How has your life changed during the past few months?" NeNe's immediate response was "Oh my god."
NeNe explained, "The day that they told us that Gregg has cancer, my life changed in that moment. Being a caretaker is very hard. It's just been very difficult. I feel like that day I lost my husband because he's not with me. We don't do the things that we normally do together. It changed our life. We're not even in the same bedroom."
Throughout the episode, Andy and the viewers tried to instigate some shade by mentioning Kim, Kenya Moore, and Sheree Whitfield. NeNe remained tight lipped instead of giving her usual meme-worthy soundbites. Later NeNe shared, "When my husband and I announced that he had cancer, Kim reached out. We had a conversation and she sent over some gifts for Gregg." That's not all though. NeNe revealed, "She kept following up too. She kept texting me."
Andy responded, "That must have really meant a lot to you." NeNe confessed, "It really did. She sent us books, like you [did]." NeNe's former costar (and chronic frienemy) isn't the only one from the show who has been there for the Leakes family. NeNe shared, "I feel like it's been pretty equal. The girls have been very supportive."
At another point in the episode, Andy asked for NeNe's opinion on Porsha's whirlwind romance with Dennis. She admitted, "At the beginning, I thought Porsha was going way heavy, but I really like Dennis a lot."
As if pushing NeNe to shade Kim, Kenya, and Sheree throughout the episode wasn't enough. Andy hit NeNe with another topic that she probably wants to stay away from. He asked, "How are things going with your stand up career after having to deal with the controversy of last year?" She insisted, "I've been working, working, working. In fact, next week I think it is, you'll see me at the show."
What else can we expect this season? Now that Sheree is gone, NeNe named Marlo Hampton as the new "bone collector" on Real Housewives of Atlanta. Can someone hand Marlo a peach already? She's contributing a lot more to this show than most of the full-time cast members.
TELL US- ARE YOU SURPRISED THAT KIM ZOLCIAK CHECKED IN ON GREGG SEVERAL TIMES SINCE NENE ANNOUNCED HIS CANCER DIAGNOSIS?