On this week's episode of Teen Mom OG, we look back at the journey the five moms went through this season. The cast sat down with hosts Dr. Drew Pinsky and Nessa Diab, to chat. They discussed everything from mental health, children and divorces. This season, Amber Portwood even threatened to leave the show. As much as Amber may need a break, selfishly I don't want to deal with getting to know a new mom. Let's face it, new moms, Cheyenne Floyd and Bristol Palin, were train wrecks, each in their very own annoying way.
Maci Bookout got emotional when asked about memorable parts from the season. She can't look at anyone without seeing hurt, especially with all of the mom shaming online. She wishes the other moms could see themselves the way she sees them. This is clearly a reference to Amber, who has been plagued with depression and recently struggled with comments on social media about her parenting skills. The other moms come to the defense of Amber and try to uplift her spirits as she breaks down. I do feel for Amber, it is obvious she has many issues.  But at the same time, you either have to make the choice to get off social media or leave the show. As much as I hate to see her go (she is good TV), it's clear to me she isn't emotionally strong enough to handle it.
Amber
Amber discusses how hurt she is when she constantly explains her past and her mental state. Dr. Drew thanks her for shedding light on depression and asks her to expound on her thoughts on it. She describes a night when her depression had reached such a peak. Amber admits that she wanted to take her life. Then, she  angrily rants about how she is done with the show.  She was only given a week off for her stint with postpartum in comparison to castmate, Catelynn Baltierra who had a month. Dr. Drew reminded her Catelynn went to treatment and he could arrange that for her as well. Amber then shouts she is doing her stuff at home, with a nanny and a psychiatrist. It clearly isn't working as well as she proclaims.
Regardless, if Amber isn't going to stay on the show, I believe treatment might be very beneficial for her.  Dr. Drew says he would deeply miss her if she left. She cries that she doesn't feel like anyone would miss her. Her fans in the audience cheer to show their support. There will be people who love you and there will be people who don't.  You can't have money and fame and no judgment… it just doesn't work like that.
Maci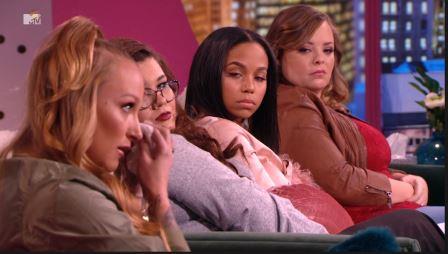 Dr. Drew talks with Maci about her newfound sense of confidence and happiness this season. She explains that she had struggles in her past, but being with her husband, Taylor McKinney has really grounded her. She felt like it was strange and scary; being so happy because of the dysfunction she dealt with in her past relationships.
Maci has always been my favorite on the show because she was the most mature. Regardless of what she struggled through personally, she always seemed to put Bentley first and really wants something for her life. I am glad that she found someone like her husband, Taylor who makes her feel happy and secure.
The conversation goes to the topic of Ryan Edwards and his use of drugs. Maci is happy that Ryan is in treatment, and it will make a difference in moving forward with him. Her relationship with Ryan's parents, Jen Edwards and Larry Edwards has also come a long way, but she feels they have more work to do.
Bristol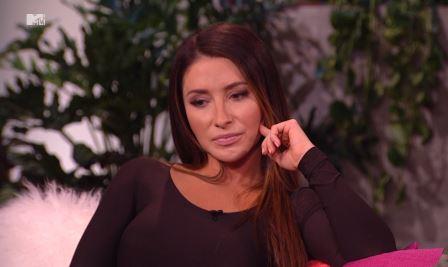 Bristol discusses her relationship with her ex-husband Dakota Meyer. They pretty much got engaged and got pregnant within a month of meeting. Insert side eye here. They broke up and ended up getting back together and married when their daughter was three months old. Then like a gift from heaven, Dr. Drew calls her out on her BS. He says that it seems like Dakota puts all of his faults out there and she seems to want to act like she is perfect. Bingo! MTV, give this man a raise!!! He even tells her that she seems very uptight. She claims that it's because she is guarded from being so severely judged from being a teen parent when her mother ran for office.
Bristol is just so unemotional and aggressive that it is hard to feel sorry for anyone like that. I really hope she undergoes some intense counseling before entering into another relationship and bringing the person around her children. 
Cheyenne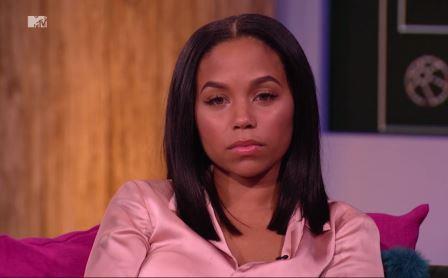 Cheyenne reveals that the father of her child, Cory Wharton wasn't around in the beginning of baby Ryder's life, because he didn't know.  When he did find out, he immediately stepped up as a good father. Her baby was conceived when she cheated on her boyfriend with Cory. She is questioned about whether they have continued to have physical encounters and her giggles give us the answer. She feels that "they" aren't ready to be in a relationship. When challenged, she admits it's really Cory who isn't ready to settle down. Duh!!!!  I really hope she doesn't look back one day and realize she wasted her youth chasing him. Cheyenne, just because he is a great dad, doesn't mean he will be a good boyfriend or husband.
Catelynn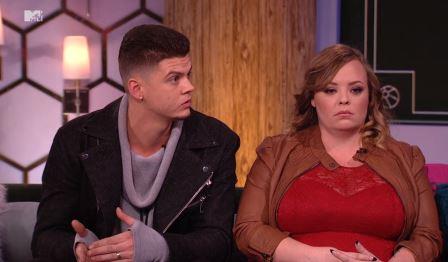 Catelynn discusses her relationship with her husband, Tyler Baltierra and their separation. She feels like Tyler had to do a lot when she was away and in treatment, so she is choosing to support him in the separation.
Tyler comes out and discusses his feeling on his marriage with Catelynn. He discusses his resentments towards his wife for being sick. He felt like he had so many responsibilities when she left he just wanted to rest when she returned. Tyler thinks Catelynn needed to take some level of accountability. He remembers her just sitting on the couch all day or not wanting to do basic things, like change her clothes for days. This is the reason he suggested the separation. Tyler thinks its necessary they figure out who they are individually and not be so codependent.
You can see Catelynn inwardly cringing, but she keeps repeating she wants to support him. Dr. Drew reminds them a lot of separations end in divorce.
I really feel bad for this couple. It's obvious that Tyler has been strong for so many through countless issues, but he just wants to be alone for a while. The catch is, since he has never been alone, who knows what will be the result when he gets a taste of freedom. I got the impression Catelynn is afraid to say anything to contradict Tyler, for fear that he will decide to completely leave her. I hope they are able to work things out, but I also understand if they aren't able to do so.
[Photo Credit: MTV]