Last night on Marriage Boot Camp: Hip Hop Edition, the couples contemplate who to blame for their issues. This should be interesting because I can't see Soulja Boy as the type to admit when he is wrong. If he isn't reminding us he is rich, he is screaming at his girlfriend, Nia Riley. They say patience is a virtue, but you have to be almost a saint to deal with his nonsense. She definitely is not a saint, but I don't think she is bad. During last night's Marriage Boot Camp: Hip Hop Edition episode, we found out which couples were able to take the heat… literally.
Lil Mo and Karl Dargan start the day arguing about the comments she made about him not having anything without her. He feels like her thinking is extremely disrespectful. I think they both are right, it's disrespectful to throw your wealth and fame in his face, but it's probably true. He may be a boxer, but I had never heard about him until he appeared on TV shows with his wife.
Lil Fizz and Tiffany Campbell hang outside the house after she starts complaining about the lack of affection she receives from him. Last time I checked, you weren't together. These two have ZERO chemistry, I think this is the only ex, he could get to sign on to this show. Tiffany, he's just not that into you. Please move on. Thank you, next!
The experts check in to see how the couples have fared on their first night of Marriage Boot Camp: Hip Hop Edition. The day's exercises will focus on blame. Each person writes down five things they blame their partner for in the relationship. Most people were able to rattle off five things off pretty quickly. The couples are called outside to see a stage is set up outside. Dr. V and Dr. Ish challenge the group to rap battle using lyrics that coincide with their five issues.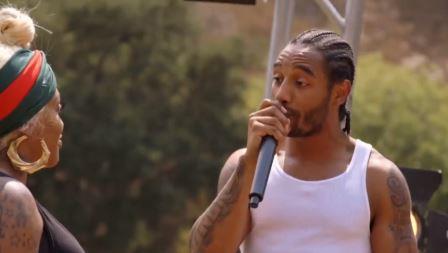 You can tell Lil Mo writes lyrics because she came up with a really good rap on the fly. Jessica Dime and Shawne Williams are next.  Shawne's whole song is basically, Jessica is too ratchet for him. I could have sworn they met before he proposed. Did he think she would magically morph into a Stepford wife?  Lil Fizz and Tiffany were boring. Wacka Flocka and Tammy Rivera did a cute rap and sealed it with a kiss. Soulja Boy was having fun with it, but Nia dropped some low blows. She told him he was the reason they lost their baby. Wow!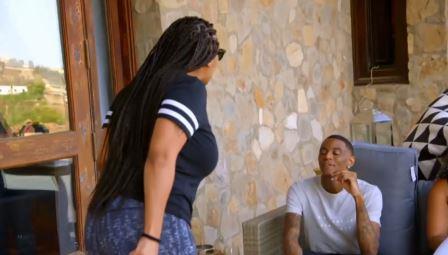 After the exercise, Nia tries to talk to Soulja Boy about their problems and he just walks away. She decides to talk to some of her other castmates about his childish behavior. Nia feels like she gets Soulja Boy more than she gets Dre. He comes outside and is clearly annoyed that she is telling everyone their business. Then, he starts screaming like a man child. She tries to walk away, but a shouting match ensues because she is tired of the way he talks to her. They begin to hurl insults at one another and then she drops a bomb. She turns to him and says "I'm going to leave, don't try to kill yourself, this time".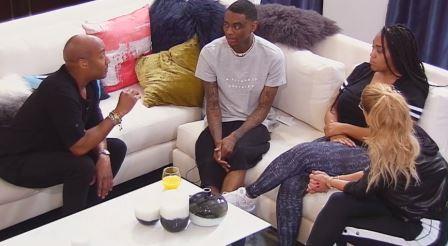 The experts realize that things have escalated and have an emergency counseling session. Soulja Boy has calmed down. The experts tell Nia, she was wrong to bring up his darkest moments in front of others. His feelings are hurt because she threw that in his face. Then, he blames her for his reaction. Of course, Dr. Ish tells him he is the only one who can control his reactions.
The experts tell them both that they are exhibiting immature behavior. They both agree and apologize to one another. I don't know how she can deal with this man. He became rich at a young age. You can tell he is accustomed to people not challenging him. This seems like a toxic relationship, where neither party knows how to love in a healthy manner.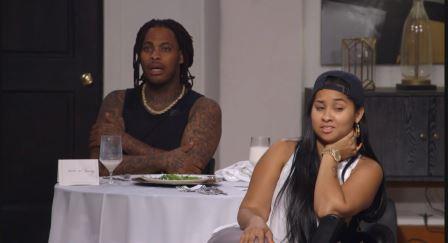 The couples are called to the Marriage Boot Camp room which is set up with banquet tables. The experts tell them to "eat their words". The participants can't stop eating until one of the parties accepts blame for the topic at hand.  The group is forced to eat everything from three pepper cheese, devil's peppers, red jalapenos, wasabi paste, and Thai chilies. This was absolutely hilarious. No one really wanted to take the blame; they just wanted to stop eating.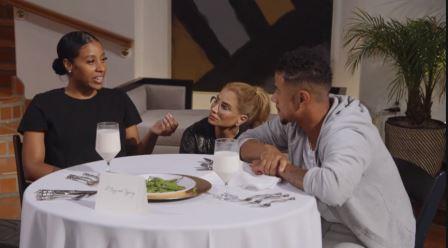 As if the heat wasn't turned up enough, Judge Lynn Toler shows up to dish out a punishment. The judge dishes out a fiery punishment to Lil Fizz, in the form of a plate of peppers he has to eat. He was chosen because he refused to take the blame for anything during the exercise. He sits there like a stubborn child who doesn't want to eat his dinner. After sitting for hours, he is left with a plate and no Tiffany. She tried to talk to him about their issues, but he doesn't seem to care. Sometimes in life, you just have to give up on a relationship. Bye, Lil Fizz
TELL US –DO YOU THINK SOULJA BOY HAS ANGER ISSUES? WAS NIA WRONG TO THROW HIS THOUGHTS OF SUICIDE, IN HIS FACE? WHO DO YOU THINK IS MOST OPEN TO THE EXERCISES ON MARRIAGE BOOTCAMP: HIP HOP EDITION? DO YOU THINK THE RIGHT PEOPLE TOOK BLAME? OR WERE THEY JUST TRYING TO DODGE THEIR FIERY PLATES? WILL ANY OF THESE MARRIAGE BOOT CAMP: HIP HOP EDITION COUPLES LAST?
[Photo Credit: We TV]