What can we say about a show that has it all, like Love After Lockup? I mean, we have Dr. Phil wisdom spouting forth from the mouth of Clint. We have video footage of Tracie in prison  shackles, happily showing off her new strain of Hepatitis B prison tattoo. We have Scott spending another $30k on his ex-con, then popping in some Party City vampire teeth to clean up his look. And everyone is suddenly pregnant. Basically, this is trash TV at its absolute finest. And if you aren't watching this show yet, I have just one question: WHY NOT? Please, I beg you…start living your best life and tune in with us.
There is so much to unpack this week, I almost don't know where to start. Okay, I do: It's in Scott's mouth hole, which I have crawled ALL UP INTO on freeze frame photos on my laptop to dissect exactly WTAF is going on in there. Yes, this is what I'm spending my time on after Friday night's shocking dentures reveal. We need answers, people. You're welcome. #Journalism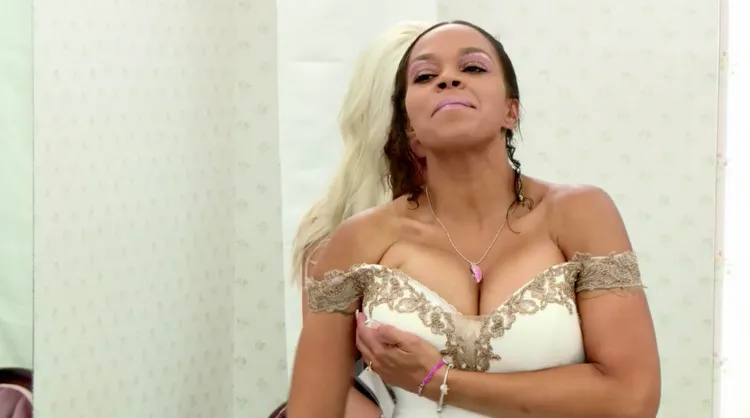 Scott & Lizzie
Before we get to the teeth situation, we visit a bridal shop with Lizzie and Jazmyne (whose name I still don't know how to spell). Lizzie is excited by the prospect of finally getting her "big day." She envisions stuffing her t*tties into an elegant gown, being whisked away in a horse drawn carriage, and trading vows with her beloved while butterflies flutter all around her arm tattoo. The only prob? It's Scott that will be waiting for her at the end of the aisle.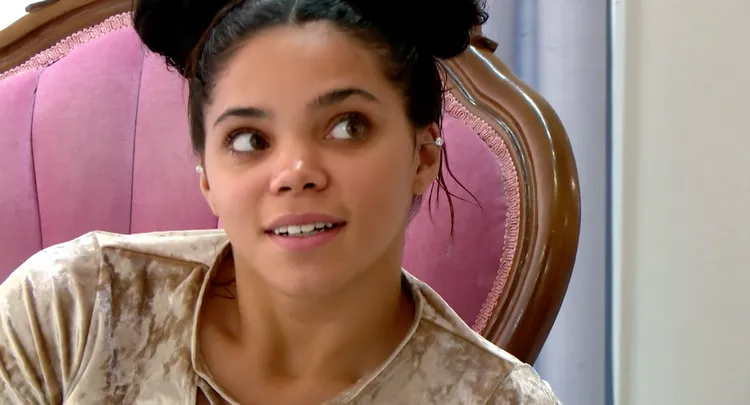 Jazmyne asks her mom flat out if she's happy with Scott, or if she's just using him for money and stability? Lizzie is obviously using Scott for the latter. She knows it, he knows it, the 1.5 million viewers of this show know it. But she skirts around the question, mumbling something about just "wanting to make Scott happy" because "he provides a good life for me."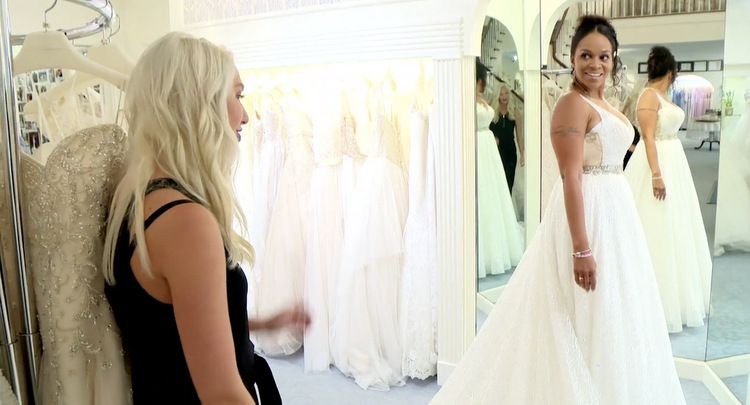 Well, he's also about to provide a new vehicle for her too – even though her ass can't even legally drive it, and he had to take out a million loans to finance it. Lizzie's had 8 DUI's and, even in Wisconsin, that ain't okay. (Hey – I'm in WI, myself, so I can say it. Haters, stand down!) But that doesn't stop Lizzie from oohing and ahhing about her brand new present, then taking it for a spin around the motel parking lot.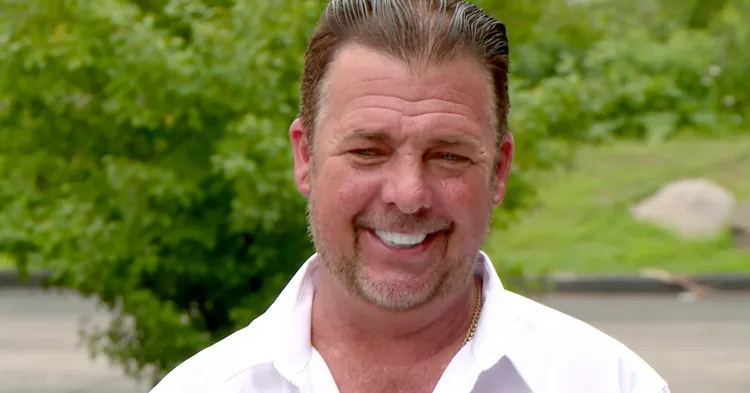 But this is totally unimportant in the face (literally) of what's happened to Scott. Because, y'all…HE HAS NEW TEETH. REPEAT: THIS MAN HAS A COMPLETELY NEW SET OF TEETH. But we need to talk about the specifics. First of all, it looks like he legit got them at Halloween store. Second, it's just frankly jarring to watch Scott talk/smile/exist with this new denture situation. And lastly, he says they hurt terribly because he "got them done quick and cheap."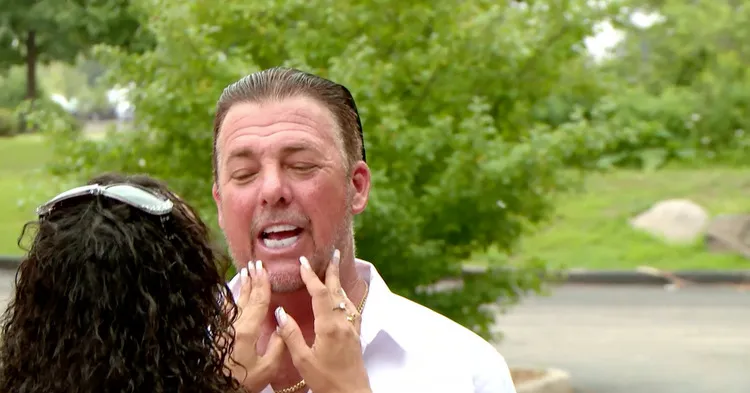 So let's get this straight. Lizzie gets $90k for her drug habit, a 4-bedroom house, a new car, any wedding gown of her choosing, a horse-drawn carriage, and butterflies. And Scott just gets THESE LOUSY F**KING PLASTIC ASS, SUPERGLUE LOOKING, VAMPIRE HAVIN, TWO HUNDRED DOLLAR, STRIP MALL DENTIST TEETH?!?
Look, I just cannot with this guy anymore. I. CAN. NOT.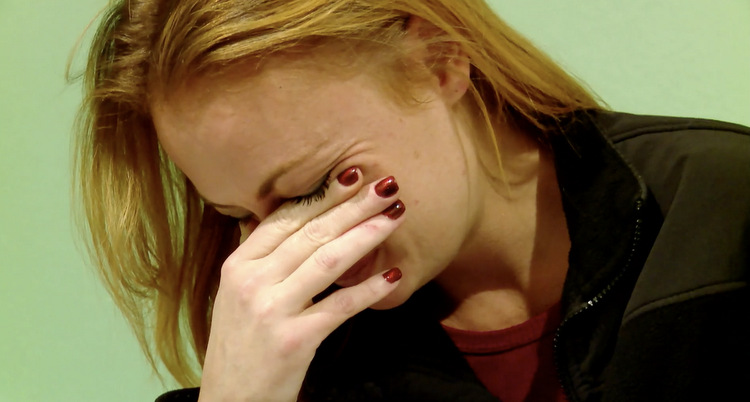 Caitlin & Matt
There's nothing to even joke about this week when it comes to poor Caitlin and what's happening in her life. Sadly, her mother suddenly passed away in her sleep, and Caitlin is understandably shaken to the core. She can't believe she's talking to funeral directors, and of course regrets not having more time with her mom to mend their relationship. Her grandparents, and now her mother, have all died in the past year, which is just totally heartbreaking. My heart truly goes out to her.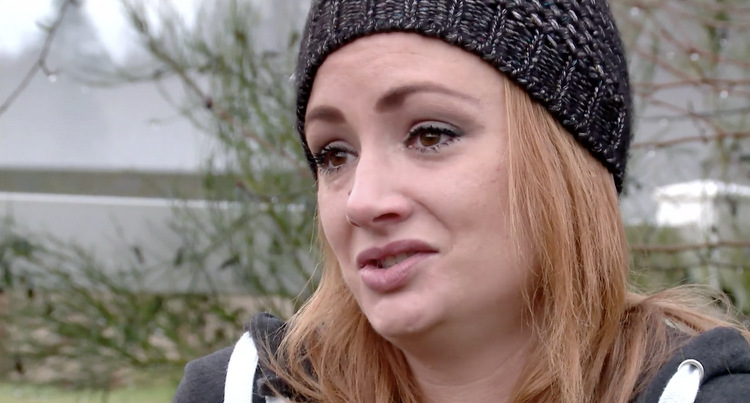 "Matt's my only family now," cries Caitlin, who's still hoping her fiance can man up and start…I don't know…having basic life skills? Not sure about those big dreams, but at least Matt pretended he was interested in engagement rings (besides roadside stink weeds) at a local jewelry store this week.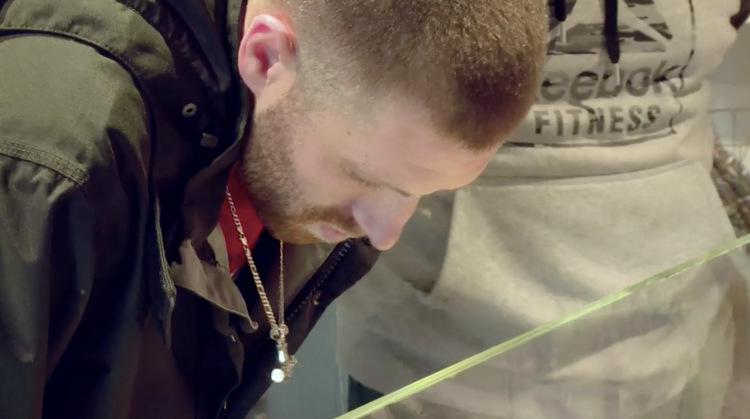 He's playing the part of supportive boyfriend, so good job. I guess? Sidekick Sam, who has become an important dope-smoking main character in this storyline, just shakes his head in disbelief when Matt talks about buying Caitlin a ring. Sadly, no four-minute vape inhalations are filmed this week, which is pretty much the only thing I'm living for when Sam comes on camera now. Maybe next time.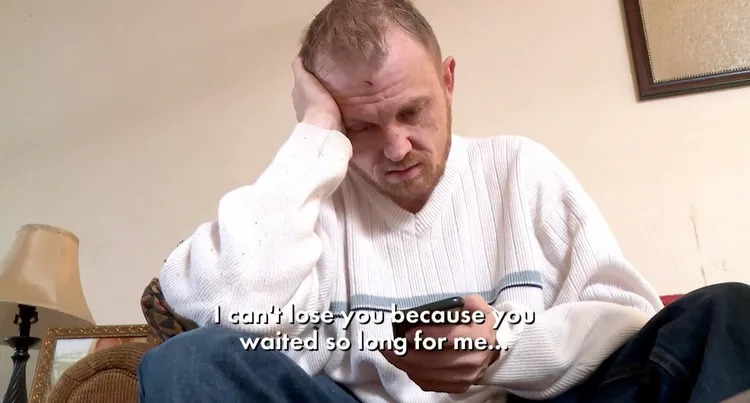 Tracie & Clint
Over at casa de la Clint, we watch our boy flip through extremely depressing photos of his wedding night, reminiscing on the magical six hours he shared with his new bride before she left him for some MOTHAF**KING CRACK. Since getting schooled by a lawyer, Clint is just sitting around, wondering wherefore art his goddess hast fled to now?! (Hint: Probably across state lines.) He remembers everything about her – the hue of her teeth, the smell of her crack pipe.
Also, Clint seems to have inflicted some sort of open wound on his forehead, and I'm not even gonna conjecture what that's all about. Suffice to say, beating his own head against the wall is one working theory.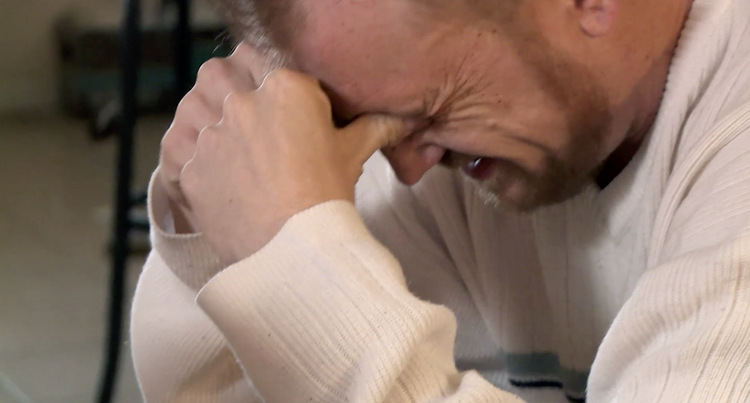 Then Clint shares words with us that we can only assume EVERY SINGLE ADULT in his life has comforted him with: "People make mistakes. That's why pencils have erasers!" He will forgive Tracie for anything, even getting arrested again – which, by the way, she has.
Tracie calls from a new jail, telling Clint she only got pulled over for speeding, and doesn't know what happened. Mmmmmmkay. In short, she's been violating parole on every level, and she's stuck in jail with no bond until her parole hearing (or officer? or someone?!?) gives her further instructions.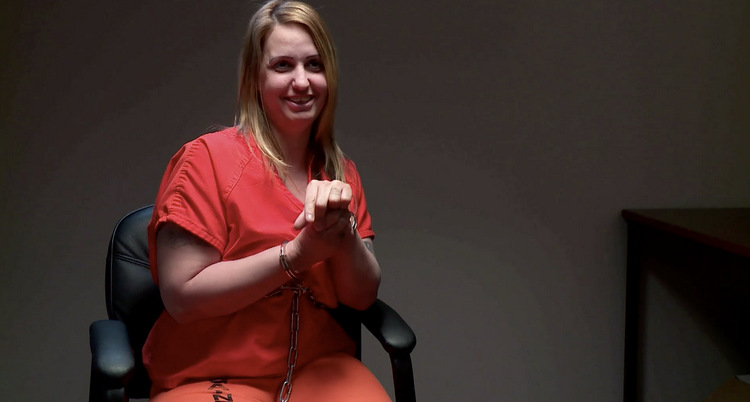 Clint is just psyched to hear that she doesn't want to divorce him, and will even do him the solid of putting him on her visitors list the next day so he can see her. He doesn't car about the rental car she abandoned; he certainly doesn't care about the multiple arrests. The only thing he cares about is seeing his goddess again!!!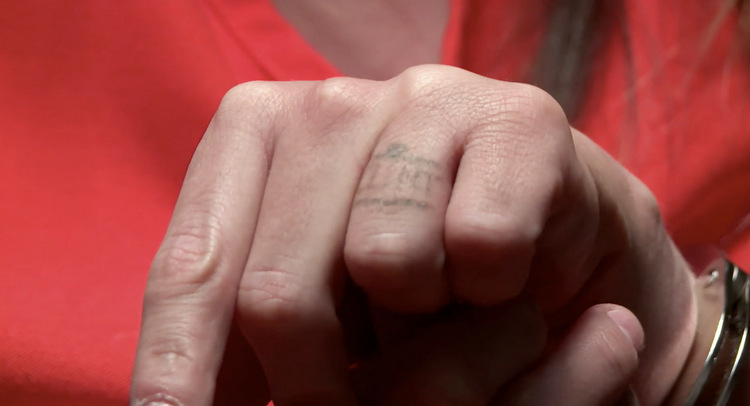 And Tracie, who is literally shackled to a chair during her in-custody segment, has an extra special surprise for him: A homemade tattoo of Clint's name on her finger, courtesy of her bunkmate, a rusty staple, pen ink, and shampoo. Dude. If that doesn't spell love-slash-staph-infection, I don't know what does. **sigh**
Brittany & Marcelino
All I know about this week's Brittany and Marcelino scenes is 1) she's pregnant, and 2) Marcelino gave us a sound bite that I plan on using every day of my life from this day forward: "She all up in the Kool Aid and doesn't even know the flavor!" It's really a go-to phrase for everyone in your life who needs to step right the f**k off.
At Marcelino's birthday barbecue, Brittany is a nervous wreck because she just found out she's pregnant, and her ex-girlfriend, Amanda, is coming to the party with a new woman. This new woman doesn't like Marcelino's tone when he starts talking about how "no WOMAN can give Brittany what a MAN" can, blah, blah, blah. So she tells him he sucks, then marches into the kitchen to tell Brittany her boyfriend sucks. News flash: We know.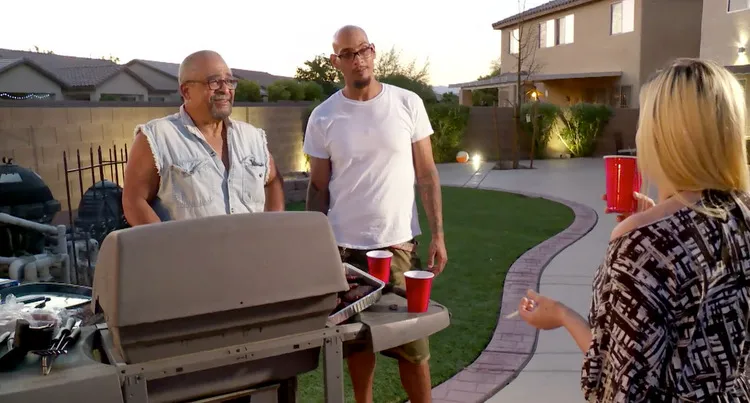 While Marcelino talks about this random chick getting stirred up in his Kool Aid, Brittany tries not to physically assault someone. Being pregnant and on parole is really cramping her style. Her friend, Sascha, calms her down, then mildly freaks out at the pregnancy news. Meanwhile, Marcelino ushers Amanda and her sidekick out of the party, still mumbling about his manhood. Which he's going to be proving for the rest of his life, given the insecure A-hole he is. Amanda's all, "GOOD LUCK WITH THAT!" to Brittany as she wanders off.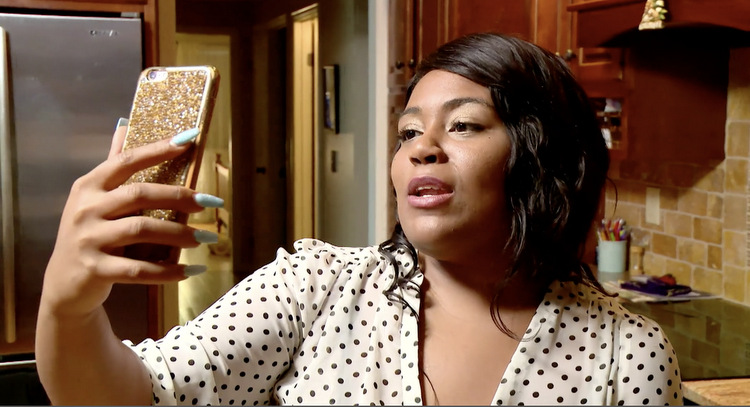 Megan & Michael & Sarah
Megan is not okay with Michael dipping out on their very serious relationship of one day, so she threatens plans to visit him in New York. Only one problem (besides the fact that he's married): Michael's mom and sister will be visiting at the same time, and Mama Michael has changed her tune about supporting this side piece nonsense.
After Michael talks in circles around Megan's questions, he stares at the wall like a serial killer, then resorts to Pacific Plan #142. He'll pick Megan up at the airport and "see how it goes." Yes, this is what it looks like to literally have no idea how cause and effect work. Fascinating! This show is like a goddamn science experiment.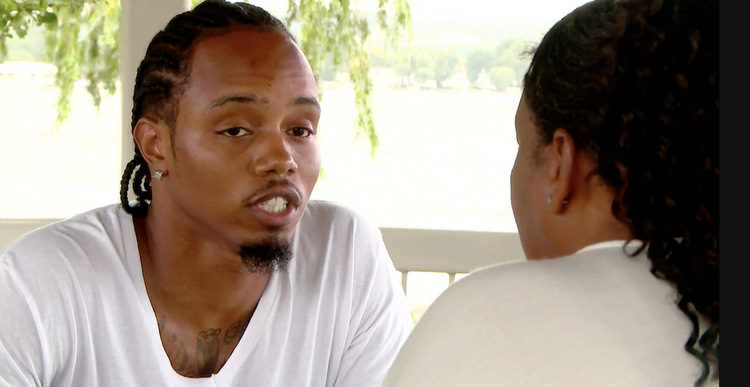 Sometime later, Michael spends the day with Sarah, his daughter, mom, and sister out by the lake. Meanwhile, Megan is in transit, ready to land in his town later that day. Until then, Michael better hope he listens to mom's words of wisdom. She sits him down for a one-on-one come to Jesus convo, telling her son that he needs to make it work with Sarah, who supported him through his ENTIRE prison sentence, is the mother of his child (and pregnant with baby number two!), and – oh! by the way – also his legal wife.
Michael's vacant eyes register the slightest hint of a smidge of cognition, possibly understanding that Megan's visit later that day is a not-so-hot idea. Thus, a new Pacific Plan takes shape! He shall pick Megan up at the airport, then dump her! Yeah, that's the ticket. Ahem, if he doesn't get arrested first…which, according to previews, he totally does.
Nom, nom, nom. I'm eating my popcorn, ready for this glorious sh*tshow to unfold. Meet you back here next week to catch up with these felons and feel superior about every single life choice I've ever made, including that nose ring in 1993.  
Writer's Note: Check out my podcast Pink Shade With Erin Martin for more Reality TV talk (Housewives, 90 Day Fiance, Exclusive Interviews & more!). Available on Acast, Stitcher, & iTunes! Visit pinkshadewitherinmartin.com for all links.
TELL US: WILL CLINT AND HIS GODDESS BE REUNITED? CAN MATT SHAPE UP? WHAT'S UP WITH SARAH AND BRITTANY BOTH BEING PREGNANT SO FAST?!? WILL WE EVER GET TO SEE THIS MEGAN-SARAH CONFRONTATION? THOUGHTS ON SCOTT'S NEW TEETH? (REALLY, WE NEED TO DISCUSS THAT.)
[Photo Credit: WEtv]