Last night on Marriage Boot Camp: Hip Hop Edition, Karl Dargan tried desperately to explain why he was up after midnight talking to another woman. I must say, he is totally committed to lying and denying everything to his wife.  The experts question why Lil Mo would stay in this marriage. Dr. Ish brings out photographic evidence from the cameras that captured his moment of infidelity with a woman he claimed was his "sister." Lil Mo leaves her meeting with the experts and shares the photo and the story with the whole house. Most would be embarrassed, but she doesn't seem to be!
Lil Mo realizes Karl never came to bed and is asleep on the couch downstairs. She brings him back to their room to get some answers. Karl goes back to sleep to deflect from the conversation. The next morning, they engage in a shouting match. Things take a turn for the worst when Karl tries to slam the door on Lil Mo as she tries to confront him. He is clearly in denial and wants to ignore the problem rather than discuss it. They both step away from the camera. She begs Karl to say something to give her peace of mind. I was sad to see her so desperate to be loved. She let him publicly embarrass and disrespect her and their relationship. She gives him an out and even kisses him, despite him admitting the truth. SMH….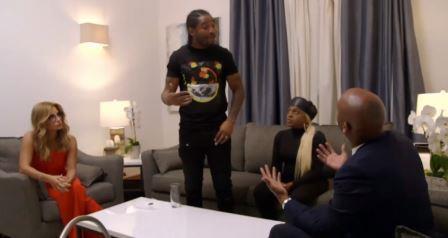 Soulja Boy has to sleep on the couch for his punishment from Judge Lynn Toler.  The next morning, he returns to the room that morning to speak with Nia Riley about their relationship. He makes it clear, that if they aren't together, he doesn't want to be friends. I don't know what to say about this relationship. This is probably one of the most toxic relationships, I have seen on TV. Neither seems to be able to effectively communicate with or stay away from the other.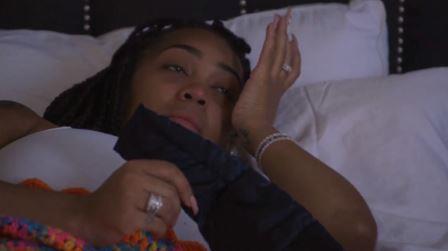 The experts reveal to the couples that they will be diving into their pasts and childhood trauma. Immediately Tiffany Campbell becomes emotional because she didn't have a good childhood. The couples are asked to spray paint pictures of good and bad memories. Nia reveals that she lost her virginity due to rape. My heart broke for her and it started to make sense why she endures so much verbal abuse. Soulja Boy breaks down speaking about losing his mother. Dr. Ish relates this to why he may be so fearful of losing Nia.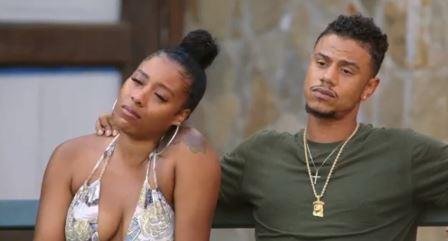 Tammy Rivera talks about all of the people in her family were killed due to violence. Waka Flocka speaks about his brother who was killed by a drunk driver. Jessica Dime becomes emotional talking about her father.
Lil Mo recounts being molested as a young girl and how she didn't tell because she was scared her father would go to jail for retaliation. Tiffany shares that she and her mother were abused by her mom's ex-boyfriend.  Lil Fizz talks about how he felt forced to do music to support others and make them happy. It's clear this group has endured a lot of pain throughout their lives. I was happy to see everyone was open and took the drill seriously. The stories helped to understand each person and how they may relate to their current relationships.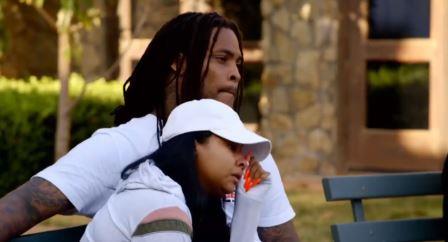 After lunch, the group goes outside to see a group of kids. One by one, a child comes out to represent each person's childhood self. There wasn't a dry eye during this drill. I even teared up hearing what these adults endured as children. I think this is the first time that I watched this series and no one was hesitant to share some of their painful memories.
Later that evening, Soulja Boy and Nia get into a loud fight in their bedroom. It's clear that Soulja needs constant attention. He acts out when he doesn't receive his way, like a child. Nia is still suffering from pain from the past and these two just don't seem to be able to get on the same page. I guess we will have to wait until next week's episode of Marriage Boot Camp: Hip Hop Edition to see exactly how this goes down.
TELL US- WERE YOU SURPRISED THAT ALL OF THE CAST MEMBERS WERE SO OPEN? DO YOU THINK ANY OF THE COUPLES MADE MAJOR PROGRESS DURING THIS EPISODE?
[Photo Credit: We TV]