Last night on Marriage Boot Camp: Hip Hop Edition, Karl Dargan faced the music for his FaceTime rendezvous with his mistress downstairs as his wife, Lil Mo slept upstairs. It's as if this man doesn't know he is in a house with CAMERAS to fix his marriage. He actually asks the woman to tell him she loves him before he goes back to bed. If Lil Fizz hadn't walked into the kitchen who knows what else would have been said. Wow… SMH. This man has no respect for his wife or their relationship.
The experts view the tape. Dr. Ish asks who he was talking to and he has the nerve to say it was his sister. Ummm….My brother has NEVER called me at 2 AM and asked me to say I love him.  Weird, that he would even use his sister as an excuse. After, Dr. Ish tells Karl he has to tell his wife about the conversation. Then, He runs to his room to let Lil Mo "they can see everything." Of course, she and everyone knew this house was full of cameras, except for Karl apparently.
Soulja Boy is in his feelings again. Sigh! After he walks in on Nia Riley having lunch with Lil Fizz AND Tiffany Campbell and instantly is jealous. He doesn't feel she should be sitting with him because of the rumors about their relationship. Of course, he has a tantrum and sits outside alone. When Nia goes to check on him he angrily tells her that the people in the house get on his nerves. He then follows her in the house and accuses her of slamming the door in his face. Ugh…
Soulja Boy, is Lil Fizz, who literally got a show for being the baby daddy of someone and not for his music career, that big of a threat? Please go take a nap and have some graham crackers. You look like a toddler.  Everyone in the house is confused about Soulja Boy is acting crazy again. Sadly, Nia runs from the room and cries that she wants to go home. After, Shawne Williams tries to give Soulja Boy some advice. He encourages him to be mature.
The experts have the group play Sexter, which is a spin on twister and truth and girl. Apparently, Soulja Boy must have temporarily gone insane. He tells Shawne and Lil Fizz they can't touch his girl.  Consequently, Jessica Dime and Shawne Williams simultaneously yell in his face about his attitude. Jessica even says she can beat his a$$. I laughed so hard because I think she is right. Then, Soulja Boy gets a lesson in respect from Shawne who is offended he would think he would disrespect him or Nia. By the end of the exercise, he looks like a scolded child.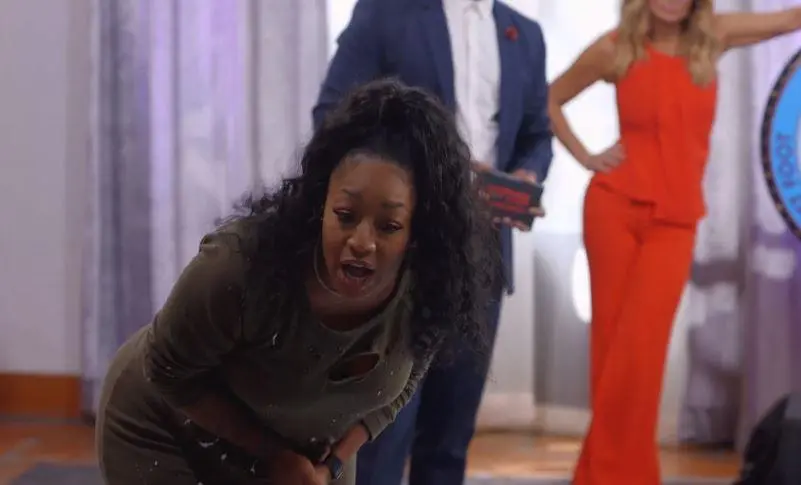 Tammy Rivera has a sit-down talk with Nia. She tells her that she recognizes the fear in her face. It's clear that he intimidates her by shouting her into submission. Meanwhile, Lil Mo talks to Dr. V about the possibility that Karl is entertaining another woman. She reveals she is really tired of being disappointed and she knows something isn't right.  She approaches Karl and gives him one last chance to come clean. He claims everyone knows he is married. Whether she knows you are married or not, doesn't absolve you of cheating.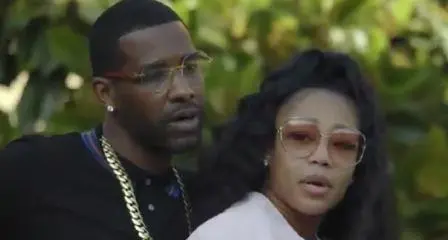 The second exercise is "sex-charades." Each couple will have to imitate different sex positions and discuss their experiences. Lil Fizz and Tiffany find out they react better to touch and they should incorporate that into their regular conversations. Then, Jessica reveals that she never experienced an orgasm before Shawne. Ironically, Lil Mo says she is definitely satisfied with her husband and that is why she hasn't cheated. Tammy wants to incorporate a woman at times into the bedroom. Soulja Boy apologizes for his behavior earlier. Nia doesn't believe his apology. She doesn't think he is willing to change. Frankly, I don't either. He needs individual counseling even more than couple's counseling.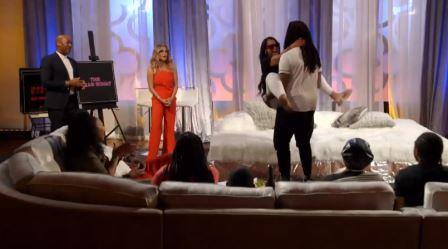 Judge Lynn Toler addresses the group on what she saw earlier in the day. As expected, she has choice words for Karl, who everyone knows is cheating on his wife. He was given all day to come clean. This meeting is his last chance before consequences are given. Then, Judge Toler asks who should be punished and everyone says Soulja Boy. Finally, Judge Toler hits the nail on the head when she says he allows his fear to manifest into anger and he is pushing Nia away. He is given the punishment of a pillow and blanket to sleep alone for the night.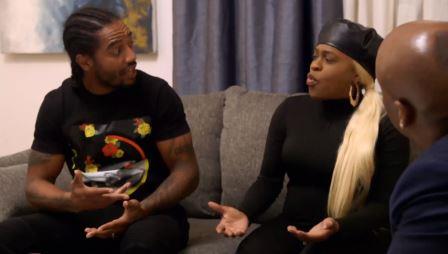 Lil Mo and Karl are pulled away and his antics the night before are discussed. Karl immediately become defensive and starts yelling. He doesn't want Dr. Ish or Dr. V to say what happened. He tries to over talk both of them. Lil Mo is enraged and realizes he was talking to a woman who put some things on the internet about him in the past. Wow. This is just crazy. He is so stupid and disrespectful. I know this is Lil Mo's third marriage but it may be time to find the fourth.
TELL US –DO YOU THINK NIA SHOULD AVOID LIL FIZZ? IS SOULJA BOY TAKING THE LIL FIZZ AND NIA DRAMA OUT OF PROPORTION? DO YOU THINK JESSICA DIME COULD BEAT UP SOULJA BOY? SHOULD LIL MO DIVORCE  HER HUSBAND, KARL OR WORK IT OUT?
[Photo Credit: We TV]