Last night's episode of Marriage Bootcamp: Hip Hop Edition was full of drama and jealousy. What will happen when you swap partners with a group of insecure and egotistical personalities? I can already see the smoke before the fire ignites. Soulja Boy gets up to attempt to make slop breakfast for the house. The end result actually didn't look bad and he did it with swag. It's sad. He can be nice to others in the house, but so rude to his girlfriend Nia Riley.
The couples are called to the Marriage Boot Camp room and everyone praises Soulja Boy for cooking breakfast. The couples are shocked when they are immediately whisked into a chaotic social media junket. They are hit with tough questions designed to rattle them. The press touches on everything from cheating, stripping, prolonged engagements and everything in between. Waka Flocka and Tammy Rivera become the most defensive in the group, after being asked to explain infidelity in their marriage. Waka even threatens one of the members of the  press, who he felt disrespected his wife.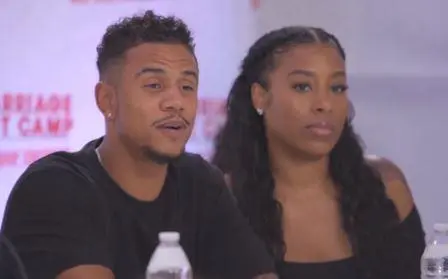 Things heat up when old deleted tweets are revisited. Nia is asked about her past with Lil Fizz, when a picture resurfaces. Lil Fizz is asked why he has never posted pictures of Tiffany Campbell on Instagram. His response is that posting pictures with women doesn't fit into his brand. Chile please, what brand? I could have sworn his fame died when his group dismantled in the early 2000's.
Soulja Boy had some of the most disrespectful and degrading tweets about Nia. Whenever he gets mad, he puts her on blast in front of his followers. I wouldn't be able to be friends, let alone in a relationship with someone who is so immature and insensitive. After the conference, Nia is upset and embarrassed by the tweets. The girls try to support her and understand why she stays with him.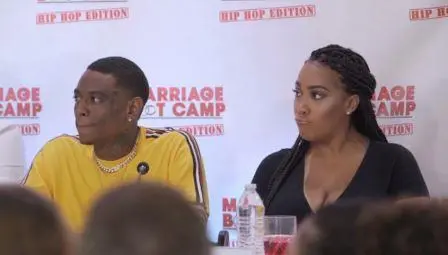 The experts tell the Marriage Boot Camp couples they should be cognizant of their digital selves versus who they are in reality. Their next exercise is to swap partners and attend a poolside dinner. This should definitely be interesting considering how explosive and jealous some of the people in the house appear to be.
Each new couple is assigned tasks to set up for the party. Tiffany and Waka will create place cards and flower arrangements. Tiffany reveals that Lil Fizz has never bought her flowers. Duh! He has basically told you that he was only using you for sex and you are not good enough to meet his son. Lil Mo and Soulja Boy are cooking dinner and things are going smoothly. I guess he knows he can't disrespect her the way he does with Nia. Tammy teaches Shawne Williams how to finesse his words with Jessica Dime so they don't offend her.
The guys come to pick up their dates and I have no idea what Lil Mo has on. She looks like Liberace reincarnated as someone's old aunt with an ill-fitting sequined pants suit. Jealousy is rearing its ugly head as people witness their significant others interacting with their dates. Waka is charming the pants off of Tiffany. Tammy, pay close attention. He is showing you what he does for his mistresses. Insert side eye!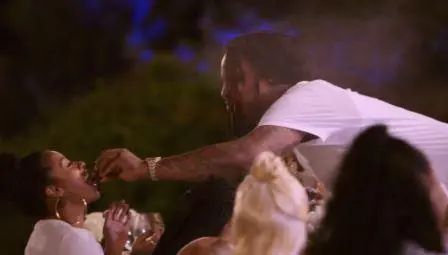 The experts crash the dates and find out what they have learned from this experience. I think each person was matched with someone who complemented their weaknesses in their relationship. Dr. Ish points out that Lil Fizz and Nia smiled the most in the house together. Judge Lynn Toler shows up to dish out some criticism. Lil Mo breaks down talking about how she needs Karl Dargan to be there for her since he is her only true friend.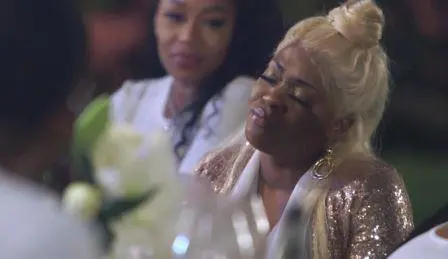 Judge Lynn challenges the group to get on social media and tell their followers something real about themselves. Tammy reveals her need to let go of control. Shawne posts that Jessica is classier than him based on the way she handled herself at the conference. Nia says she isn't as forgiving as she thought and this does not sit well with Soulja Boy. He asks if she wants to forgive him or break up.
Nia is feeling a lot of hurt from the past and this exercise must have brought it back to the surface. Soulja is irate and feels like Lil Fizz must have said something to make her have this sudden change of heart. I think she just realized that her relationship isn't normal.
TELL US –DO YOU THINK THERE IS MORE THAN JUST FRIENDSHIP BETWEEN NIA AND LIL FIZZ? WHY DO YOU THINK WAKA FLOCKA BECAME SO DEFENSIVE ABOUT HIS CHEATING WAYS? WHAT WAS YOUR FAVORITE PART OF THE MARRIAGE BOOT CAMP: HIP HOP EDITION EPISODE?                        
[Photo Credit: We TV]