Last night on Marriage Boot Camp Hip Hop Edition, things get interesting when the couples have a surprise lie detector test. The couples are put on the hot seat and DECEPTION is definitely indicated for some! The Bootcampers go out as single men and women for a night of debauchery at the club. Relationships will be put to the test. Will this exercise make them stronger? Or will it expose more secrets?
Judge Lynn Toler lets the couples know its lie detector day. A group of men and women in black stand in the front of the room and look at the couples like they are inmates.  Everyone is allowed to give their partner one yes or no question. Tammy Rivera asks if she is enough "woman" for her husband. Her question is revised to find out if Waka Flocka can be committed. We already know that may not be true. He has cheated on her a thousand times. Waka asks if Tammy trusts him. He better not fail this test or his wife may go crazy on national television.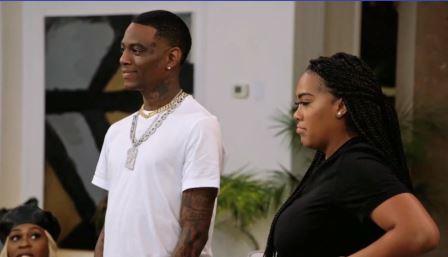 Soulja Boy wants to know if Nia Riley loves him. Judge Lynn instead wants to know if Nia only stays with him for money. Nia is concerned that Soulja is still upset that she had a baby with someone else. Her question is replaced with whether Soulja Boy intends to propose within the next year.
Lil Fizz wants to know if Tiffany Campbell is dating another man. In turn, she wants to know the same. Well, this was a waste of a lie detector test. We all know they aren't really together. I don't know why they can't just ask each other this question directly. This is the only "couple" that is technically single.
Jessica Dime wants to know if she will be married within a year. Shawne Williams wants to know if she has cheated on him since they have been together. Wow… So Shawne doesn't fully trust Jessica. Interesting, the cracks are beginning to show.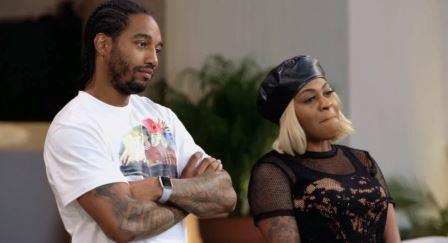 Karl Dargan wants to know if Lil Mo trusts him. Ummmm… no. This man was caught cheating on national television. Who in their right mind would trust him? Karl will have to address if he lied about who he was Face Timing in the kitchen. Yesssssssssss… I can't wait for the lie detector to start to smoke with all the lies that will be told. I honestly think Lil Mo knows her husband is a cheater, but doesn't want to be alone.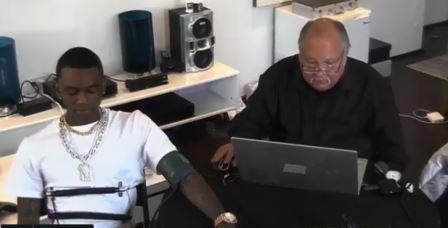 The couples nervously await their turn in the hot seat. Lil Fizz talks to a few of the girls and shares his confusion with Tiffany's actions. He has literally treated her like crap the entire season. Why the heck does he care if she is dating anyone else? SMH…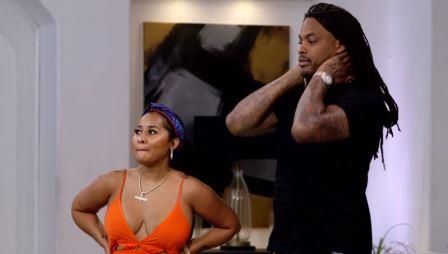 The results are in!!!! Waka Flocka actually told the truth. He can actually be committed to his wife. Hmm… we may need to ask him to share his definition of commitment. Tammy admitted she didn't trust her husband. I don't blame her!
Nia was confirmed that she wasn't a gold digger. She doesn't just stay with this fool just for his money. Her family already has money. This was a stupid question. Soulja Boy said he would propose to Nia in a year and was telling the truth.
Tiffany finally admits she dated another man. She claims she has only gone on three dates with him. Okay…so what? Why does it matter at this point? What was the purpose of all of her whining and crying about Fizz if you have another man? I say move on and be happy. Lil Fizz failed when asked if was dating someone exclusively. Nexxttttttttttttttttt. I am sick of them already.
Lil Mo said that she didn't think Karl was currently cheating and no deception was indicated. Karl apparently didn't lie about who he was talking to on Face Time. The test shockingly confirmed he was telling the truth. The experts question if anyone taught him how to beat a lie detector test. I am really questioning the validity of these tests. Karl is DEFINITELY cheating on his wife. I don't care what this test says. Who talks to a woman late at night asks her does she love him???
Shawne passed when he said he will marry Jessica in the next year. Shockingly, the test confirmed Jessica has cheated. This is just weird, everyone who is obviously a cheater passed and the one I thought wasn't a cheater apparently is one. I think everyone should be retested with a new team.
Dr. Ish and Dr. V take the couples rings and deem each person single for the night. Everyone has a "hall pass"  and will be going to the club. Each group has a party bus and the drinks are flowing. Lil Fizz feels like it's his bachelor party after Tiffany's revelation. Insert eye roll emoji here. Unbeknownst to the couples, they are all taken to the same strip club. The girls join the guys and end up calling it a night early. Of course…. the questionable ones weren't able cheat. Tammy sees Waka talking to another woman and goes off. I guess he already forgot he pledged his commitment earlier in the day.
TELL US –DO YOU THINK JESSICA REALLY CHEATED? ARE YOU SURPRISED TIFFANY HAS BEEN DATING ANOTHER MAN? DO YOU THINK KARL FOUND A WAY TO BEAT THE LIE DETECTOR? WHAT WAS YOUR FAVORITE PART OF THIS MARRIAGE BOOT CAMP: HIP HOP EDITION EPISODE?
[Photo Credit: We TV]