Last night was part two of Porsha Williams' spinoff Porsha's Having A Baby, which we all know is a prequel to Porsha's Getting Married, aka the Prenup Drama will rage on.
Porsha is literally 30,000 weeks pregnant and spending her remaining days eating any and every product made from pork. There's a bacon, there's sausage, there's ham steak, there's honey baked ham, there's salami, there's eggs cooked in bacon grease, there's apple sauce with ham… Wasn't Porsha vegan at some point?!
It seems like Porsha is focusing on food to avoid all the very real issues in her life. Like Dennis McKinley is living in the basement, and Dennis' mother, Gina, is literally and figuratively moving in as well, and no one is sure who exactly invited her! Maybe Gina can go into the basement with the rest of Dennis's stuff?
Since last episode Mama Gina has gotten a TV makeover. Gina is now all glammed up, and in cute clothes as opposed to her usual sweats. Just one more way to compete with Mama Diane, clearly! With this new look comes a new, and even more demanding attitude. The first order of business should be to clean up the clutter that is literally all over Porsha's house -including the giant pile of unwrapped shower gifts and the giant pile of still wrapped shower gifts!
Instead, she and Dennis go interview nannies. Along for the decision-making process are both Mama Gina and Mama Diane. Why?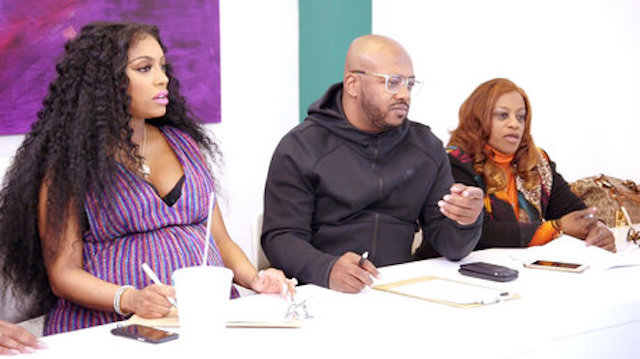 The nanny interviews consist of two people who are totally unfit: a "Manny" whose only childcare experience was being a lifeguard (but he can cook gourmet meals!) and a hot, young woman who babysat a few times and looks really really nervous when Mama Gina asks if she'll be able to detach from her phone enough to watch the baby. She also wore an Adidas tracksuit to the interview. Dennis likes her because she has youthful energy "Like Beyonce" Um, no. The obvious winner is a grandma who sang church hymns during the interview and might scare the actual overbearing, micromanaging grandmas away.
The housing situation is another huge issue. This isn't going to be soothed by a few joyful songs and a nap. Although Porsha is taking many of those! Dennis has still not rescinded his offer on the party house with the pool. He actually wants Porsha to look at it again before making the final decision. She's not budging, not off the stoop, not away from her hot dog, and certainly not out of The Loop. Dennis is very out of the loop, one might say, about this new reality! He is a family man now which means happy wife, happy life!
Porsha isn't just furious about the house. She's pissed over Dennis' duplicity in putting in a secret offer on this new house so matter how nice it is she'll never accept it. Also now their mothers know all is not perfect in PKinnley-Land. And Mama Gina is going to definitely use this information to her advantage!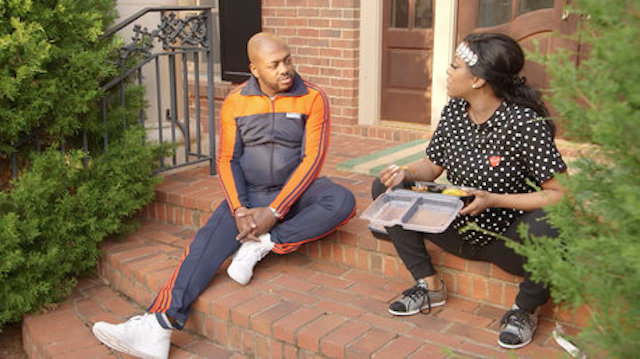 Lauren Williams encourages Dennis and Porsha to return to Dr. Sherry for some counseling. They need a neutral third party to iron out some of these issues (re: not a mother-in-law). But first, the nursery has to be constructed. Yes, for a house they're possibly not living in after a few months, Porsha and Dennis hired an interior design team who's literally adding bookshelves and recessed lighting to PJ's new crib. Porsha even wants a wet bar so she and the other mommies can have "mother's milk" time while PJ and other babies play. Lord…
For now, Porsha will have to be content with a cocktail of Gatorade and apple sauce. She even keeps a mini-fridge in her bedroom so she can eat it in bed.
When the nursery is completed Mama Gina comes by for the reveal and chooses this opportunity to confront Porsha about wedding plans and why the prenup isn't being ironed out. What a way to inaugurate PJ's room!
Gina strongly believes that Porsha and Dennis should have a small ceremony now to seal the deal instead of waiting to have their big New Year's wedding. "Do you want to be a baby mama or a wife?" she demands while Porsha furiously rocks in the nursing rocker.
Porsha actually wants Mama Gina to accept that for now she and Dennis have a spiritual marriage so as not to add any extra stress in the last stages of her pregnancy. MOST importantly Porsha does not want their mothers involved in her private business with Dennis. Which includes wedding plans and prenup agreements.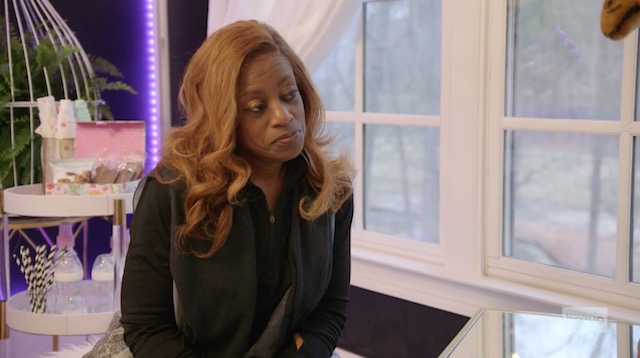 Gina does not agree. At all. Eventually, Dennis has to literally come and break them up. He puts Porsha to bed with apple sauce and some soothing words. Then, he reminds Mama Gina, once again, that even though she's showing a mother's love she's acting like a helicopter mother on the playground. This helicopter is not looking for a landing pad, though. So, this is far from over!
Even though Dennis is the one who lied about selling his house and instead rented it out, and put an offer in on a house without consulting Porsha, no one is on her side in the housing situation. Mostly because after demanding Dennis move into her house way out in the Loop – it's so far away from civilization Dennis actually saw a deer – Porsha still hasn't made any room for Dennis. Or his stuff! Porsha did make sure to hand Dennis a rental agreement though, as a way of ensuring that he'll be paying for half her mortgage! This was after Dennis refused to add his name to the deed as a co-owner. He would rather not start thinking of the suburbs as their forever home.
Dennis believed there was a definite timeline for how long they would stay in Porsha's house before transitioning to a family home they could develop together as equal partners. However, Porsha is still adamantly against moving. She thinks "years" is that definite timeline.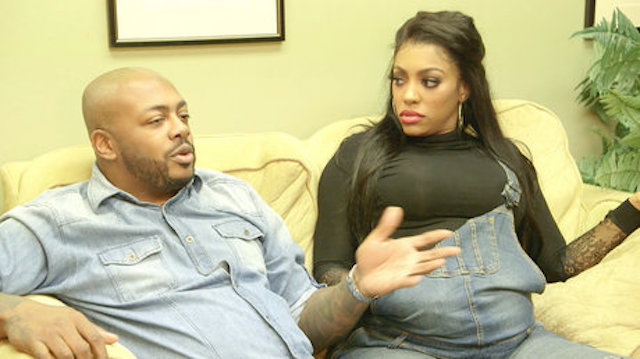 Dr. Sherry is shocked by all this information. Especially when she learns Porsha has five bedrooms. But Dr. Sherry is MOST shocked when she hears the plan for both mothers to temporarily move into two of those bedrooms after PJ arrives. Which means Dennis is still in the basement indefinitely while the women take over! He'll probably be glad he's down there hiding. Dr. Sherry wants them back ASAP and next time they return she wants Dennis's undergarments out of the ductwork and into the dressers upstairs!
This wasn't the most surprising thing we learned last night though! The biggest revelation is that Porsha chose the name Pilar, because it's the name of Dennis' ex-girlfriend and is already tattooed on his arm! Porsha is all about recycling lately! Recycling her house, her baby name, Dennis' tattoo… Obviously, this is another plan Dennis is not on board with, but he's quickly figuring out that he's never going to win any battles in this love and war.
Next week is the season finale and we finally meet baby Pilar!
TELL US – WHO IS BEING CRAZIER ABOUT THE LIVING SITUATION: DENNIS OR PORSHA? IS MAMA GINA TOO INVOLVED?
[Photo Credits: Bravo]