Last night was the premiere of Porsha Williams' special Porsha's Having A Baby! I dunno – I kinda loved it. It was everything we adore about Porsha: zany, outlandish, clueless, and fun. The show opened with a fairy tale about hot dogs, so you know it was going to be ridiculous good, and it also made me really appreciate Dennis McKinley. (Am I wrong? Should I be admitting this?)
Porsha and Dennis are in hog heaven. Literally since the only thing Porsha is consuming is honey baked ham, but reality and real life are getting in the way. Reality like where to live, having a baby in about 5 minutes, and mama drama, so even though it's not all hot dogs and hot photo shoots, it starts out that way!
Porsha is 5 weeks out from her due date, and she is PREG-NANT. Her stomach has dropped so that she has to sit with her legs permanently spread like a gangster in a movie and shuffling to and from the kitchen leaves her short of breath. I remember those days and I do not envy her!
Of course this hasn't stopped Porsha from wearing heels and wanting to do a sexy maternity photoshoot — except she can barely get on the bed. She has to be rolled on, like a log, then Dennis has to do gymnast mount – he needed one of those spring boards vaulters use – then drag Porsha across the satin sheets. It was definitely the most exercise either of them had done in weeks. Porsha wants Dennis to feed her hot dogs. It was reminiscent of Phaedra Parks' infamous pickle photo shoot, except with less clothes, and Dennis looking just as pregnant as Porsha is.
Please tell me this isn't the bed these two are sleeping in every night, and if so, let's hope they've invested in bed steps.
After her taxing photo shoots of lying around being fed hot dogs, Porsha is still hungry so she drowns some fruit in whipped cream and sprawls out on the sofa, exhausted. Eating for two is hard to do!
Dennis is now driving Porsha to and from work every day since they both work in the city, but live in the Loop. Also, I predict Porsha's stomach is too big to fit behind the wheel! Dennis doesn't mind driving his future wife, but he does mind having an hour+ long commute. It's one of the many things Dennis doesn't like about 'moving in' to Porsha Palace. Another thing Dennis doesn't like is that his closet space is literally the unfinished basement like this is Chateau Sheree he's squatting in. How does Dennis have so many clothes? And so many hideous ones! It was so bad that Porsha found white leather jeans which were probably from the original Yeezy Collection.
Anyway, Dennis is itching to move to a home where he feels more comfortable and that belongs to both of them, so he doesn't feel like the houseguest. Porsha has no intention of giving up the house she earned after her harrowing divorce from Kordell Stewart left her broke and forced to start completely over.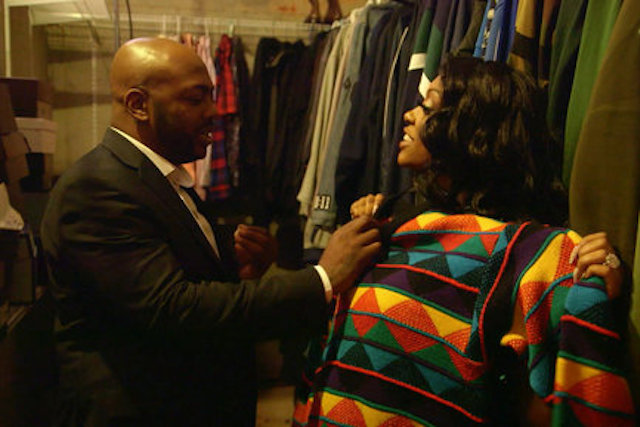 Shamea Morton and Porsha's sister Lauren come over to help her do a belly mold. Shamea's baby, Shya is a couple of months old so she brought Shya's nanny with her. Porsha hasn't given much thought to getting a nanny and assumed she could just get one like she's ordering off the Taco Bell menu at the drive-thru. Shamea has to explain that you need to interview these people and also figure out a schedule. Just like when your fiance moves into your house you have to clear space in one of your closets for his belongings so he's not accidentally wearing insulation to work because he can't see or find anything in your unfinished basement! Both of these things are shocking to Porsha…
But not as shocking as when Dennis surprises her the next day by making an appointment with a real estate agent to look at houses in Buckhead, much closer to the city.
The house Dennis likes has a pool in the basement. He can already hear the music from the parties he'll be throwing as PJ naps upstairs. Porsha is NOT, in any way, on board with this plan or this house – unless Dennis is hosting a Baby Shark pool party for mommy and me swim lessons. That house is a total safety hazard but it doesn't stop Dennis from secretly putting in an offer without consulting Porsha… She doesn't find out about until dinner with their moms there to witness her meltdown.
Porsha has nothing prepared for PJ, and the reason she's not making time to interview nannies is because she assumes her mom and Dennis' mom Gina will be there, waiting on them hand and foot, for the six weeks after delivery. Literally, she has them both moving in, unbeknownst to Diane and Gina. They want to help, of course, but intermittently – not constantly! These glam'mas have lives too!
Porsha invites Gina and Diane over for dinner, along with Lauren, so everyone can discuss putting their lives on hold for Princess Porsha PJ. In Porsha's opinion, nothing is more important than the moms catering to her every whim, especially since she will be recovering from a c-section, which means she can't move for over a month. And where will Dennis be during all this time? Swimming in the basement?! He can help!
Porsha's plan is that she will lie around, watching TV, etc. while the moms cook, clean, and babysit. Then they can bring PJ to her when she needs to eat. Lauren is horrified and reminds Porsha that she will need to be bonding with her daughter and also that she sounds like a lazy, entitled brat. Porsha even surprises Gina by letting her know that Dennis is giving her 6 weeks off from Hot Dog Heaven to be the full-time unpaid nanny. I wonder if Diane took a month off to cater to Lauren after she had her baby? I'm going to go with NO.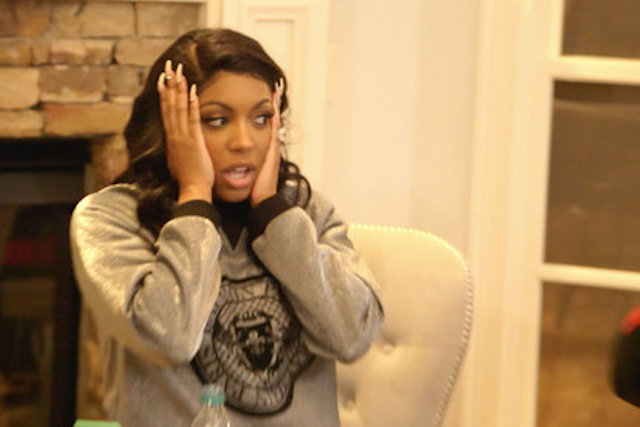 Porsha gets that 'Surprise your life is over!' served back to her big time when Dennis drops the news that he put in an offer on the Buckhead house. And, even more surprising, he never sold his house, but is just renting it out. Another thing Dennis never told her.
Porsha, who can barely huff and puff to the fridge, gets a burst of supersonic energy to sprint all the way upstairs and sob in her bedroom. OK, so yeah, Dennis is being completely unreasonable about the house, and not backing Porsha up to his mama. Dennis sat there hiding behind that Solo Cup, to leave Porsha hanging out to dry, solo, pretending she as the only one who wanted the moms to be moving in!
Upstairs Lauren, then Gina, and finally Diane (who is clearly over Porsha's immaturity) come upstairs to comfort her. Porsha says Dennis' antics, while meant to be a nice surprise, have her reminding her of the way Kordell lied and manipulated her. Porsha is also frustrated that Dennis is a total mama's boy and Gina has not cut the apron strings, but the problem, as Dennis barely articulated even with help from his "theosaurus" (a dinosaur found in libraries), is that Porsha is a "mama's girl" too. YEP. They both need to grow up and quick!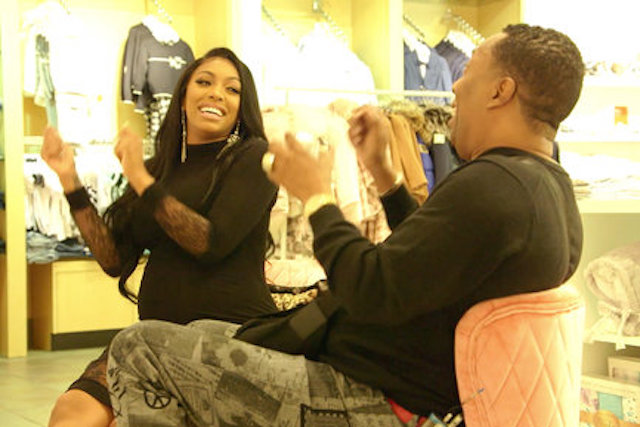 Porsha doesn't have maternity leave, nannies, or housing worked out, but she does have plenty of time to choose the perfect outfit for bringing PJ home form the hospital. She and Gary With Da Tea, her work wife from Dish Nation, meet at a designer baby boutique. Gary is hilarious and the perfect foil to Porsha. He's also co-planing her baby shower. Another thing Porsha has plenty of time to micromanage – especially after the tacky disaster of her gender reveal!
The day before the shower Dennis, Porsha and Lauren meet with the planner to go over the plans. And, then surprise (again), Mama Gina shows up, wearing her Original Hot Dog Factory outfit. One thing I appreciate about Mama Gina is that she looks like a real mom and is not all pretentious swanning around in too-tight dresses, gussied up like she's the Real Housewife. One thing I don't like about Mama Gina is that Porsha is right: she HAS NOT cut the apron strings. She has shades of Mama Joyce in her…
Gina pulls Dennis aside to lecture him about how he (meaning her) needs to be the leader of his family by telling Porsha to get rid of their house and move into the one he's buying. Gina believes she should be the one to talk to Porsha about what it means to be a wife. Dennis, to his credit, is COMPLETELY against this plan. He informs his mother that he's not threatened by Porsha's success or independence. He will not be telling her to sell her house. They are grown people who do not need their parents involved in their lives unless it's to change PJ's diapers all hours of the day and night!
Meanwhile Porsha confides to Lauren that if Dennis's main issue with the house is that it's owned by her, then she has a problem with that. Luckily for her Dennis' main problem is that it's 200 hours away from civilization – and in the same neighborhood as NeNe Leakes. (Yuck).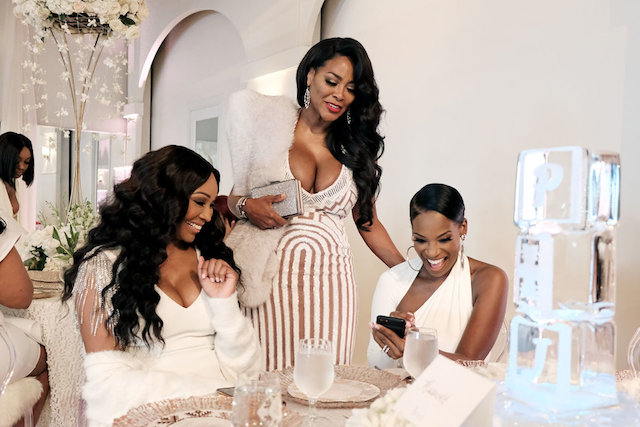 Porsha invited all the Real Housewives Of Atlanta to her shower – and also some former Housewives like Kenya Moore. Porsha and Kenya have been bonding over motherhood, recently. Kenya has been calling her weekly to check in and give her the scoop on new motherhood. It has made them see each other in a new light. Even Marlo Hampton managed to show up and not cause drama with Kenya, which is literally the most surprising thing that happened last night! NeNe, was obviously, not there…
The shower is just as over-the-top and outlandish as you might expect. Porsha wears a custom-made rose gold dress. It was basically a fishing net with fake flowers sewn all over it. Meanwhile, everyone else wore white. Gary introduced Porsha to her friends and family. Then, she twerked out like she was Beyonce opening her own show.
Borrowing from Phaedra again, Porsha had ballerinas came out to perform. Followed by Dennis… who decided to do his own stand-up comedy set for the shower. Except he's clearly NOT a comedian! First, Dennis compared Porsha to their dog which cries and pees everywhere. Then, he wondered how smart, reasonable Lauren is the single one. Then, he roasted his mama, finally.
Gary was forced to hold up a giant poster board with the word "LAUGH" written on it. So, the shocked and confused guests understood what was going on.
Dennis righted himself and talked about how much he loved and appreciated Porsha, his future wife. It was all lovely and sweet and I truly do believe these two belong together. They are perfect. Now get your house figured out and leave your mamas alone!
TELL US – WAS DENNIS BEING SNEAKY WITH THE HOUSE? IS MAMA GINA TOO INVOLVED?
[Photo Credits: Bravo]